Big Ten's top 25 players: 20-16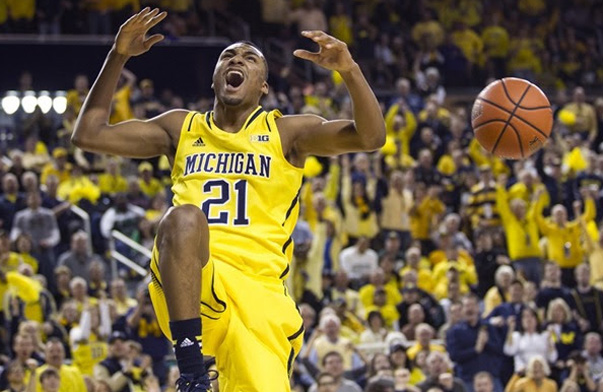 With the official start of practice less than four weeks away, UM Hoops and Inside the Hall have again partnered to bring you a preseason breakdown of the top 25 players in the Big Ten for the 2014-2015 season.
Our selection process involved much deliberation to arrive at a list we hope will provide plenty of reaction and debate. The series will be broken into five parts and our second installment of players 20-16 is available below: (Previously: 25-21)
20. Zak Irvin, Michigan (6-foot-6, wing, sophomore)
15.4 mpg, 6.7 ppg, 1.3 rpg, 0.4 apg, 0.2 spg, 59.1 eFG percentage
Last year we had Zak Irvin a bit overrated at No. 22 entering the season, but we also had his teammate Nik Stauskas dramatically underrated at No. 18. Irvin had a good freshman season – averaging 6.7 points off the bench while knocking down 43 percent on his three-point attempts – but he'll have much bigger expectations as a sophomore. If Michigan's trip to Italy was any bellwether, he's ready to make the jump. Irvin averaged a team-high 20.8 points per game, shooting 70 percent on 2s and 67 percent on 3s in four games overseas. As a freshman, Irvin fell in love with the three-point shot. Three out of every four shot attempts last season was from long-range and he managed 146 three-point attempts despite only playing 38 percent of available minutes. Irvin will score a lot this season, simply because he'll have so many more opportunities as he steps into the starting lineup, but don't expect him to make a Stauskas-like leap into a complete playmaker just yet.
19. Deandre Mathieu, Minnesota (5-foot-9, guard, senior)
30.1 mpg, 12.0 ppg, 2.7 rpg, 4.2 apg, 1.6 spg, 54.4 eFG percentage
The smallest player on our top 25 list, Mathieu had an impressive debut season for the Gophers last year. His assist rate of 31.1 percent is the best among returning Big Ten players and he also has the uncanny ability to score in and around the paint despite his stature. Mathieu shot 50 percent from three-point range last season, but only 14 percent of his field goal attempts were from long distance. Just over 70 percent of his shot attempts came within 12 feet, where he converted at a 54 percent clip. While we admire his courage to finish around the basket, improving his confidence and effectiveness from long distance should help diversify his game.
18. Traevon Jackson, Wisconsin (6-foot-3, guard, senior)
30.8 mpg, 10.7 ppg, 3.8 rpg, 4.0 apg, 0.7 spg, 46.4 eFG percentage
Jackson was one of the most-improved players in the Big Ten last season. He increased his scoring (10.7 points per game from 6.9 as a sophomore), assists (4.0 assists per game from 2.8) and rebounds (3.8 from 2.5) while playing just three more minutes per game. He didn't grab the headlines of Frank Kaminsky or Sam Dekker, but he was the point guard and leader of the Big Ten's representative at the Final Four last season. Jackson is a great ball screen guard and more often than not he's the player tasked with making something out of nothing late in the shot clock for the Badgers. Jackson ended 2013-14 on a sour note — missing a free throw and midrange jumper in the final 30 seconds of Wisconsin's loss to Kentucky — but he should take the next step this season with the opportunity to lead a very talented Wisconsin offense.
17. Denzel Valentine, Michigan State (6-foot-5, guard, junior)
29.4 mpg, 8,0 ppg, 6.0 rpg, 3.8 apg, 1.0 spg, 48.8 eFG percentage
Valentine is one of the more polarizing players on our top 25 list. At his best he's capable of rattling off Magic Johnson-esque passes and knocking down 3s from the corner. At his worst, he's forcing the issue and battling an awful turnover problem. Despite his ups and downs, the ball is going to be in Valentine's hands quite a bit this season. Keith Appling, Gary Harris and Adreian Payne are all gone and Valentine is the most-utilized Spartan returning this season. Branden Dawson is a good player, but he's not the sort of forward that you can run your offense through. Despite his ups and downs, Valentine is most comfortable in that sort of role. He will have to make some dramatic improvements to carry the 2014-15 Spartans offense, but Tom Izzo thinks Valentine will "be a star" and that's Valentine's most-important endorsement this summer.
16. D'Angelo Russell, Ohio State (6-foot-5, guard, freshman)
McDonald's All-American, Jordan Brand All-Star
Russell is the highest rated incoming freshman in the Big Ten and there's a major opportunity to make an impact in the Ohio State offense after the departure of LaQuinton Ross. Ross used 28 percent of Ohio State's offensive possessions last season and while Shannon Scott, Sam Thompson and Marc Loving are good players, they aren't alpha-scorers. Russell is and his combination of size, athleticism and versatility should fit nicely with an Ohio State roster that has plenty of nice pieces, especially on defense, but needs a focal point on the offensive end. The 2014 Buckeyes were ranked just 128th nationally in adjusted offensive efficiency, Thad Matta's worst offense during his 10 seasons in Columbus, and some additional firepower in the backcourt could be a quick fix.
Filed to: 2014-2015 Big Ten preview