Announcement primer: 2015 forward Juwan Morgan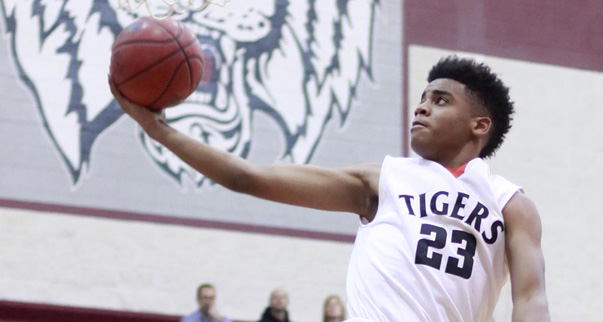 On Wednesday evening, class of 2015 Waynesville (Mo.) forward Juwan Morgan will announce his college decision in his high school's gymnasium. The decision is expected to come at approximately 7:23 p.m. EST.
Here's our primer for the announcement with everything you need to know:
The essentials
Forward, 6-9, 220-pounds, Waynesville (Mo.), MoKan Elite
247Composite: 4-star (87); ESPN: 4-star (NR); Rivals: 4-star (105); Scout: 4-star (97)
Offers: Arkansas, California, Creighton, Harvard, Indiana, Iowa, Missouri, Missouri State, Northwestern, Penn State, Princeton, Stanford, Tulsa, UTEP, Wake Forest, Washington, Western Kentucky, Vanderbilt
Official visits: Indiana, Vanderbilt
The primary contenders
While Morgan initially set up visits to Creighton, Indiana, Stanford, Washington and Vanderbilt, the only official visits he made were to Nashville and Bloomington. He spoke very highly of both visits in multiple interviews.
· The Indiana recruitment: The Hoosier staff began making a strong run at Morgan early in the summer and scouted him extensively in July as he traveled the country with MoKan Elite, a Nike-affiliated AAU program. Associate head coach Steve McClain successfully recruited Alec Burks, now of the Utah Jazz, from MoKan while at Colorado and has a strong relationship with the program's founder, Matt Suther. Indiana hosted Morgan for an unofficial visit in June and received his final official visit last weekend.
· The Vanderbilt recruitment: The Commodores received the first shot at an official visit from Morgan and shortly after that trip, he decided to move up his visit to Indiana. That sparked some speculation that Vanderbilt had established itself as his leader as a result of the visit, but Morgan never confirmed that notion in any of his comments.
The timing
As noted above, Morgan opted to move his Indiana visit up from late September to last weekend following his trip to Nashville. It's clear from that decision that Indiana and Vanderbilt are his top two schools and that he'll choose one of those two. Changing visit dates isn't at all uncommon as Hoosier fans may remember that last fall, Robert Johnson made a similar choice and opted to speed up the process rather than letting it drag out all fall.
In a press release from the school, Waynesville coach Chris Pilz said Morgan is excited to make his decision public: "This is an exciting time for Juwan, his family, his fellow students and the entire community. Juwan has received hundreds of messages via Twitter in the past few days. Fans from multiple schools are encouraging him to pick their university. Everyone is asking him to reveal his school choice."
The fit
· At Indiana: Based on his post-visit comments, it's clear that Morgan got along well with the Indiana players and feels that he would fit in well. It's also clear that the frontcourt is an area that Indiana needs to address in the class of 2015 and landing a top 100 prospect would be a solid coup. Morgan also spoke in specifics about how he would fit in with the ball screens that IU runs as well as the staff's plan for him from a player development perspective.
· At Vanderbilt: It's no secret that Vanderbilt has taken a major step back in the last two seasons, but the program did reel in a solid 2014 recruiting group and already has a pair of 3-star commitments in the class of 2015. Whether there's more immediate playing time available in Nashville is up for debate, but it's certainly a big part of Vanderbilt's pitch along with academics.
Morgan highlights
How to follow the announcement
We'll have a reporter on site gathering reaction and will also have a quick story posted as soon as the announcement is made.
Additionally, below is a link to our Twitter account to monitor and a link to a live stream.
In closing, please remember this is the college decision of a high school kid. Please adhere to the comment standards that have been set forth over the past seven years here on Inside the Hall regardless of the outcome.
Filed to: Juwan Morgan