2015 forward Juwan Morgan completes Indiana official visit, sets decision date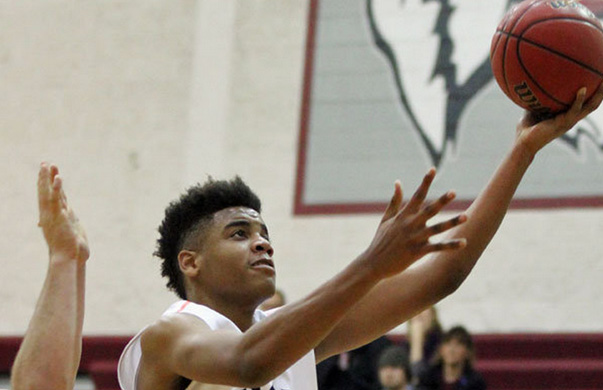 Only a day after finishing his official visit to Indiana, class of 2015 forward Juwan Morgan has confirmed to Inside the Hall he will be announcing his college decision this Wednesday.
The No. 87 prospect in the 2015 class (according to the 247Sports Composite) will be choosing between the Hoosiers and Vanderbilt, a school he took an official visit to in late August. He said the announcement will come at 6:30 p.m. CT at his high school in Waynesville, Missouri.
"I had that feeling about each school that you get when you know it's the place," he told Inside the Hall. "I'll sit with my parents and talk more about it."
Morgan made the decision to announce this week just hours after returning to Missouri from his official visit to Indiana, which the 6-foot-9 forward called "great."
From Thursday to Saturday, Morgan spent time in Bloomington and said he got himself familiarized with the program, which he was unable to do during an unofficial visit in June.
He met with coaches, the support staff and spent significant time with the team, mainly with freshmen James Blackmon Jr. and Robert Johnson. Morgan mentioned on Sunday how much he enjoyed the visit and basketball atmosphere in Bloomington, especially "the notoriety that everybody has of the team."
"Everywhere we went, no matter where we were, everybody knew who they were," Morgan said. "And just the players are all really chill. I like that the most, probably."
On the court, as well, Morgan said he could fit into the Hoosiers' system of play.
"I think mostly with the ball screens and coming off the screens," he said. "That part of the whole game is probably what I'm best at. And also getting out in transition, that's probably the best part of the team that I like. It fits perfectly."
Come Wednesday, Morgan said his decision ultimately will come down to player development. Academics aren't an issue, he said, because both schools are strong in that category.
"Getting stronger, getting faster, things like that will be important to me," he said.
And in meeting with Indiana coach Tom Crean, Morgan has learned the two share the same vision.
"He said he wants to get me into a lottery pick, because there's a lot of things he sees on the court that I can do that I don't do enough," Morgan said. "And he said he can bring that out of me."
I'll be making my commitment Wednesday starting at 6 pm in the upper Waynesville gym… I'd appreciate all that came. Thank you ????? #Blessed

— Jay… (@juwanmorgan23) September 8, 2014
Filed to: Juwan Morgan