Big Ten announces 2014-2015 basketball schedule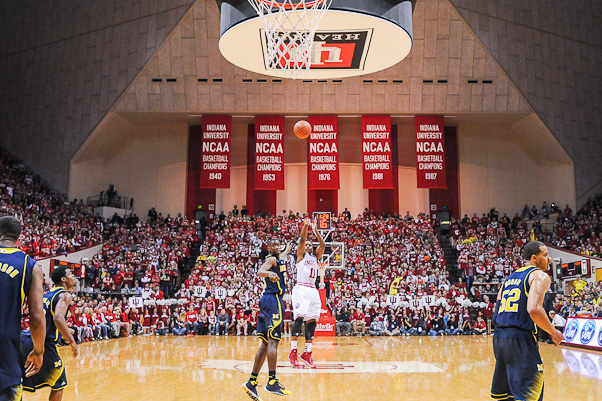 The Big Ten Conference on Thursday evening announced its 2014-2015 men's basketball schedule, which includes the conference's new additions Rutgers and Maryland.
Indiana's 18-game slate opens on New Year's Eve at Nebraska and includes home and away bouts with both the Scarlet Knights and Terrapins, along with Michigan State, Ohio State and Purdue. The Hoosiers face Maryland for the first time on January 22 in Bloomington, and Rutgers for the first time on January 31 in Bloomington. The Hoosiers' two games against the Boilermakers are on January 28 in West Lafayette and on February 19 at Assembly Hall.
Road-only opponents outside of Nebraska include Wisconsin, who the Hoosiers will play on February 3 during ESPN Super Tuesday, and Illinois on January 18. Home-only opponents include Michigan on February 8 and Iowa on March 3, with the game being broadcast on ESPN, as well.
The Hoosiers will close their regular season schedule on March 7, at home against Michigan State.
The 2014-15 season will be the first under the new scheduling format for the Big Ten, as the conference expanded to 14 teams over the offseason. For the eight teams Indiana plays just once this upcoming season, the Hoosiers will play home-and-homes with those same teams in the following two upcoming seasons.
Indiana's entire 2014-2015 Big Ten schedule is posted below, and the non-conference games with known dates thus far is available here on our future schedules page.
Wednesday, December 31, 2014: Indiana at Nebraska
Monday, January 5, 2015: Indiana at Michigan State
Saturday, January 10: Indiana vs. Ohio State
Tuesday, January 13: Indiana vs. Penn State
Sunday, January 18: Indiana at Illinois
Thursday, January 22: Indiana vs. Maryland
Sunday, January 25: Indiana at Ohio State
Wednesday, January 28: Indiana at Purdue
Saturday, January 31: Indiana vs. Rutgers
Tuesday, February 3: Indiana at Wisconsin
Sunday, February 8: Indiana vs. Michigan
Wednesday, February 11: Indiana at Maryland
Sunday, February 15: Indiana vs. Minnesota
Thursday, February 19: Indiana vs. Purdue
Sunday, February 22: Indiana at Rutgers
Wednesday, February 25: Indiana at Northwestern
Tuesday, March 3: Indiana vs. Iowa
Saturday, March 7: Indiana vs. Michigan State
Filed to: 2014-2015 schedule