The Minute After: McGill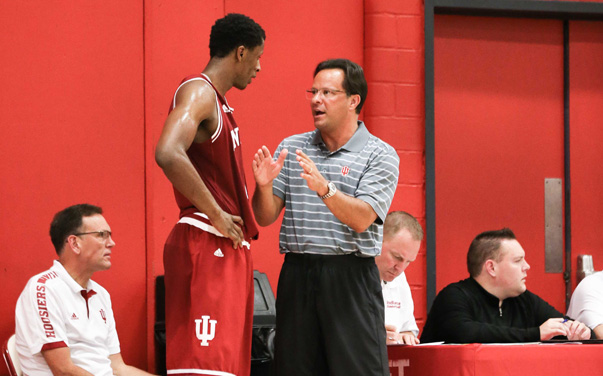 MONTREAL — Thoughts on a 96-69 win over McGill University:
Unlike Sunday afternoon in Saint-Lambert, Quebec and Monday evening in Ottawa, Ontario, Indiana received little in terms of a test as it returned to Montreal for the fourth game of its Canadian tour.
The Hoosiers, who came into Love Competition Hall on the campus of McGill sporting a 2-1 record on their trip, dominated the Redmen, who lacked the athleticism to contain IU's array of perimeter options.
From a team perspective, there was plenty to like in this performance from Indiana. The offense wasn't nearly as good as what we witnessed Monday night against Carleton, but it was still quite solid. The Hoosiers scored 1.10 points per possession with an effective field goal percentage of 54, while limiting the Redmen to .85 points per trip and an eFG percentage of just 43.3.
Indiana also did a solid job grabbing the shots that it did miss as evidenced by its offensive rebounding percentage of 46.1. And while the free throw rate (FTA/FGA) wasn't as high as Tom Crean would like at just 21.3 percent, the Hoosiers did make 15 of their 16 attempts at the stripe.
On the downside of things, Indiana was sloppy with the ball quite often this evening and turned it over 23 times for a turnover percentage of 27.2. Crean said afterward that many of those were unforced and a film session with this young group will show far too many occasions where a ball handler went airborne without anywhere to go. These are the types of mistakes that haunted Indiana a season ago and are exactly the kind of mishaps that can be the difference in tight games when the regular season rolls around.
From an individual standpoint, Troy Williams was aggressive attacking off the dribble today and Crean commented postgame that he was also IU's top deflection guy in the first half. Williams nearly recorded a double-double (18 points, nine rebounds, four assists, three steals) and continues to show more confidence with the ball in his hands.
James Blackmon Jr. led the team in scoring with 21 points and his 3-point shooting (3-of-7) is immediately paying dividends for a team that desperately needed a perimeter threat. Blackmon Jr. continues to show patience and isn't forcing things or pressing offensively at all, which just confirms what we already knew: He's a mature player who doesn't get rattled easily.
Illinois State transfer Nick Zeisloft is the surprise of the trip through four games. A relative unknown for most Indiana fans before he decided to transfer in over the summer, Zeisloft has flown under the radar, but deserves a ton of credit for how he's come out and played through four games. Tonight, he was 6-of-10 from the field and finished with 15 points in 18 minutes.
Sophomore Stanford Robinson had a well-rounded performance with 14 points, four rebounds, four assists and three steals. Most importantly, he only turned it over once. Robinson continues to experiment a bit with his shooting as he's taken shots with both hands over the four games in Canada, but has been fantastic off the bench, a role that could become pivotal come fall.
Last, but certainly not least, freshman Tim Priller returned to the rotation after not playing on Monday in Ottawa and turned in his best overall performance of the trip with eight points in 15 minutes. Defense is still a huge area for Priller to approve upon, but his unorthodox shot was going in against McGill and if it continues to do so, his chance at minutes as a freshman will increase substantially.
All in all, it was tough to draw too many conclusions from a performance like this against a team that was totally outclassed by Indiana's talent level, but it's another feather in the cap for these young Hoosiers in terms of experience, which is the point of these exhibitions.
Indiana now has a quick turnaround and wraps things up tomorrow afternoon with a 1 p.m. EST contest with the University of Quebec at Montreal before heading home to the U.S.
Filed to: 2014-2015 foreign tour, James Blackmon Jr., Nick Zeisloft, Stanford Robinson, Tim Priller, Troy Williams