The Minute After: Carleton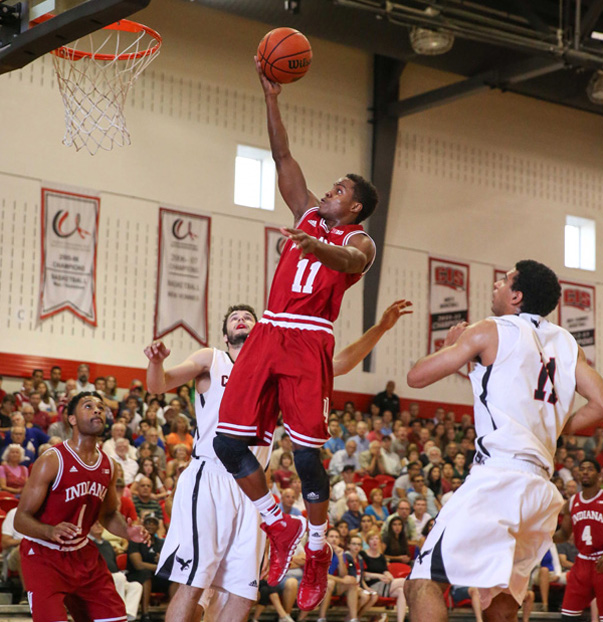 OTTAWA, Ontario — Thoughts on a 95-85 win over Carleton University:
Prior to departing for Canada, Indiana coach Tom Crean warned of potential stumbling blocks for his young team on its five-game tour. And Monday night's opponent, Carleton University, which entered tonight's game with a 294-12 record over its last 306 games along with 10 of the last 12 CIS championships, was the first team Crean mentioned.
The Ravens, after all, beat Wisconsin handily last August and took Syracuse to overtime. Canadian basketball isn't just about the players like Andrew Wiggins, Steve Nash and other who have defected to the United States to play collegiately. Led by strong grassroots programs and university programs like Carleton, the sport is on the rise in the country.
So as Indiana entered the Ravens Nest, as it's called here on campus, the test was a legitimate one despite the fact that Carleton was missing its best player and coach. This was the closest thing the Hoosiers will have to a true road game on this tour and not only did Indiana past the test, it did so decisively.
After falling behind in its first two games, Indiana never left any doubt in this game. The Hoosiers led wire-to-wire and when the going got tough late, Indiana answered the call.
Unlike Sunday afternoon in Ottawa, Indiana guarded the 3-point line against Carleton. The Ravens managed to hit just 8 of their 28 attempts from distance and despite rebounding 44.4 percent of its misses, Carleton just couldn't stop an IU offensive barrage.
The Hoosiers posted a ridiculous 69.8 effective field goal percentage and scored 1.35 points per possession. There were several strong offensive performances that helped account for those figures.
Start with Yogi Ferrell, who bounced back from a tough afternoon on Sunday to pour in a team-high 21 points on 6-of-7 shooting from the field and 8-of-9 shooting from the foul line. Add in four assists to just one turnover and it's hard to imagine a more efficient effort.
Without a post presence, Indiana continues to spread the ball around the perimeter on the trip and find the open man.
One of tonight's main beneficiaries was Illinois State transfer Nick Zeisloft, who scored 14 points on 4-of-5 shooting from behind the 3-point arc and a pair of free throws. The addition of Zeisloft raised some eyebrows amongst IU fans who were unfamiliar with his game and unimpressed by his stats at his previous home, but the early returns are positive.
But it wasn't just Zeisloft doing damage from distance. Freshmen James Blackmon Jr. and Robert Johnson both made two 3s a piece. Blackmon Jr. also got to the line, where he made five of his six attempts, to finish with 19 points. Johnson had 12 points in 20 minutes. Sophomore Stan Robinson tweaked his ankle and had to head to the locker room just before halftime, but returned in the second half and his attacking ways led to nine free throw attempts of which he made five.
Up front, Hanner Mosquera-Perea still hasn't arrived in Canada, and it's unlikely that he will arrive at this point, so Devin Davis is doing his best to fill the void. Carleton struggled to keep Davis from scoring around the basket (13 points) and while his overall rebounding numbers weren't spectacular — he finished with six — the effort was more than adequate on an evening where there were few misses to be had, at least on the offensive end.
Three games in, Indiana is past the toughest part of this trip.
The Hoosiers split a pair with Ottawa and Carleton and now head back to Montreal to finish against McGill University tomorrow and the University of Quebec at Montreal on Wednesday. It's unlikely that either of those contests will present the challenge that Indiana faced tonight, but the fatigue of five games in six days certainly bears watching.
For now, it's a happy bus ride back to Montreal for this Indiana team after coming into a somewhat hostile environment and knocking off Canada's top collegiate program.
Filed to: 2014-2015 foreign tour, Devin Davis, James Blackmon Jr., Robert Johnson, Stanford Robinson, Yogi Ferrell