Notebook: Crean impressed with Nick Zeisloft early on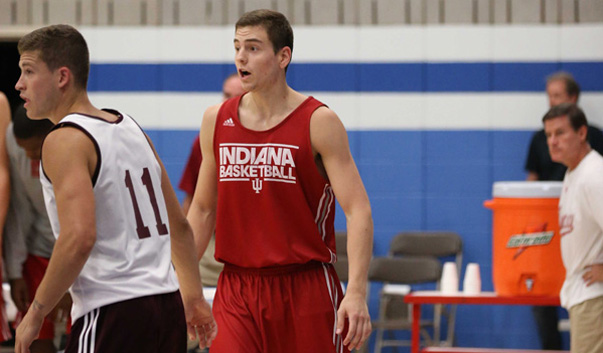 Just before the Indiana men's basketball team was set to leave for their Canada tour on Thursday morning, Hoosiers coach Tom Crean found transfer addition Nick Zeisloft in the gym, working on his game with rising sophomore Stan Robinson.
It was 6:45 a.m. The team was scheduled to meet at 8 a.m.
"That's what you want," Crean said on Sunday afternoon. "No one told them to do that. And that's the level of commitment you want."
Zeisloft, a senior with two years of eligibility remaining, had arrived in Bloomington just days before then after completing his undergraduate education at Illinois State. He had only practiced with the Hoosiers for "a couple of days," according to Crean, before flying with the team to Montreal.
And while he is new to Bloomington, Crean said he still has "extremely high expectations" for Zeisloft. After all, last season he shot nearly 42 percent from beyond the arc during Missouri Valley Conference play and 90 percent from the free throw line throughout the season.
"It doesn't matter if you're 21, 22, 42 or 52, you walk into a new environment, it's going to be different," Crean said. "But we have high expectations for Nick. Extremely high expectations for him. Because like I said, when we started studying his film when this became a possibility, we felt there was a lot on the table left for him. and there is, and we're going to keep pushing him.
"And I think he wants it. He's an extremely hard worker."
Through his first two exhibition games as a Hoosier, Zeisloft has recorded 12 points — on 4-of-8 shooting from 3-point range — and three assists. Crean sees him having a large role in his future at Indiana.
"He'll be a real factor for us," Crean said. "I have no doubt about that."
Defensive struggles in loss to Ottawa
As Crean noted following Indiana's 109-101 loss to Ottawa on Sunday, the Hoosiers ranked in the top two in 3-point shooting defense last season in the Big Ten.
Against Ottawa, the Hoosiers allowed 18 made 3-pointers on 30 attempts and an overall 64.1 effective field goal shooting percentage.
"Because of our 3-point defense, it takes a bit for us to learn we're not an over-help team and that we really don't over-help on the ball nearly as much," Crean said. "But with that being said, you've got to keep the ball under control."
Ottawa's offense produced 19 assists, all the while turning the ball over just 12 times — and just four of them from Indiana steals. And while it was a high-paced game (the exhibitions are being played with 24-second shot clocks), Crean did not excuse the team for its lack of stops.
"We lost it because we got fatigued a little bit defensively, and we didn't get the 3-point shooting under control at the end of the game," Crean said. "And they shot it well the whole game, I see that, but we needed to get a couple stops. This team's got to learn that to be successful you've got to put together multiple stops with multiple scores. And that's how you create separation."
James Blackmon Jr. settling in
Through Indiana's first two games of its preseason tour through Canada, its leading scorer is freshman James Blackmon Jr. After scoring 14 points in Indiana's opening win over Laval, the 6-foot-4 guard scored 20 in the Hoosiers' loss to Ottawa on Sunday.
"Something I knew was going to come was my offense," Blackmon said. "One of the best things I do is score, so I know that will come along."
One thing Crean has challenged Blackmon — and Indiana's other guards — to do is effectively push the ball up the court. Crean said on Sunday he will play whoever can pass the ball up-court most effectively on the fast break as his point guard.
Blackmon has welcomed that challenge, he said. Through the first two games of the trip, Blackmon has recorded four assists and has also been effective on the boards, grabbing nine defensive rebounds as well.
"That's one of the reasons I thought that I should come here: (Crean's) going to push me," Blackmon said. "I can play the point guard and I can show that here, and I've just been getting a lot better at pushing my dribble up."
But, as with all incoming freshmen, there is a learning curve to the college game. And Blackmon learned one of those lessons on Sunday.
"We all thought we could have had it in the fourth quarter when it was 88-88," he said. "We thought we had the game, and that's what we'll probably talk about. Just not letting that slip again, and I don't think it will happen again."
Filed to: 2014-2015 foreign tour, James Blackmon Jr., Nick Zeisloft, Tom Crean