2016 guard Kyle Guy sees explosion in recruitment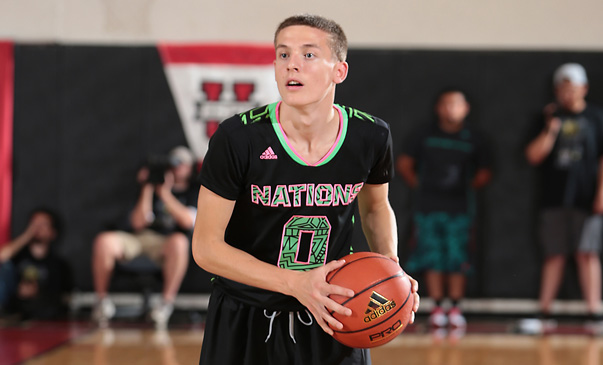 GARDEN GROVE, Calif. — Just two and a half weeks ago, 2016 guard Kyle Guy and his Indiana Elite 2015 squad was in Redondo Beach, Calif., participating in the Battle at the Beach tournament.
There, he spoke of a few schools showing interest, but nothing had significantly changed in his recruitment.
Two weeks later, he was back in southern California. This time, on two days notice, he was participating in one of the most prestigious youth basketball camps in the country: adidas Nations. And plenty has changed in those two weeks.
"This is always a dream for me," Guy told Inside the Hall on Saturday morning. "But I didn't think it would be like this."
When Indiana Elite arrived in Las Vegas from Redondo Beach for the adidas Super64, the final tournament of the adidas Gauntlet held from July 23-27, Guy and his teammates felt confident.
After all, they recorded a 12-4 record in their first three tournaments in the Gauntlet and felt they were being overlooked heading into the the tournament. As Guy, the No. 118 prospect in the 2016 class, said, "we had a chip on our shoulder."
"Everyone talks about Dream Vision for one and Game Elite and all that, and they just overlooked us," he said. "We knew we were going to go in and take care of business."
And they did.
Indiana Elite won the adidas Super64 without losing a game, defeating Dream Vision in the final, as well. And Guy, who is playing a year up, led Indiana Elite to the title, shooting 16-for-31 beyond the arc (best 3-point shooting percentage) and 30-for-62 from the field in the tournament.
"The night after we won it, we went out to eat as a team and watched the game on ESPN, the replay," Guy recalled. "And I had to leave like eight times to talk to eight different coaches.
"And five of them offered."
Within that week following the adidas Super64, Guy was offered scholarships from Iowa, Iowa State, North Carolina State, Northwestern and Virginia.
And on Wednesday, July 30, he was invited to participate in adidas Nations, where he played alongside Rawle Alkins, Payton Pritchard and T.J. Leaf, among others, for Team Wall. It was his last event of the summer.
Guy said he will "probably" take visits soon to Virginia and Iowa, along with the schools within Indiana that are recruiting him — Indiana, Purdue and Butler.
But for now, Guy finally has the time to relax before starting his junior year at Lawrence Central.
And when he looked back from the adidas Nations gym in Garden Grove to the decision to join Indiana Elite earlier this summer back home in Indianapolis, he realizes he has come a long way.
"I'm glad I chose to play with them," Guy said. "It was a good decision."
(Photo credit: Kelly Kline/adidas)
Filed to: Kyle Guy