Kenny Williams looks ahead to visits, outlines plan for trimming list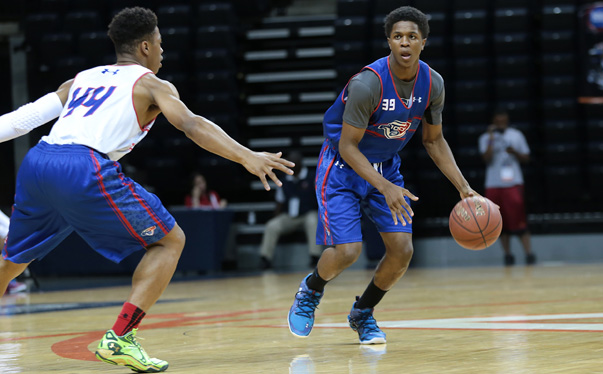 LOUISVILLE, Ky. — His Nike Elite Youth Basketball League (EYBL) career may have ended with a loss in the Peach Jam semifinals, but class of 2015 guard Kenny Williams still has a chance to go out on a winning note in his final AAU event.
Williams, who plays for Boo Williams, averaged 10.0 points and 2.6 rebounds at the Peach Jam, but struggled with his shooting over five games. He connected on just 15 of his 45 field goal attempts.
"I was really cold at Peach Jam, especially from inside the 3-point line," Williams said. "I couldn't really get my midrange going a lot, so it was tough for me to get my offensive game going with those jump shots not falling."
The loss in the Peach Jam, however, wasn't the end for Williams as he's in the midwest this week for the AAU Super Showcase, where he's being scouted by numerous high major schools.
Indiana associate head coach Tim Buckley was in Louisville on Thursday to watch Williams and his Boo Williams teammates win a pair of pool play games over ABC/Bank Hoops and the Oklahoma Wizards.
The Hoosiers offered Williams a scholarship in late May and with two former Boo Williams players already on campus in Bloomington, he's quite familiar with the program.
"It's a big factor to know that I could go in there and be comfortable," Williams said. "I know if I was to go there, Rob would take me in and I'm pretty sure Troy, being from the same AAU program, he would take me in also."
As a junior at L.C. Bird high in Richmond, Virginia, the 6-foot-3 guard averaged 21.3 points and 5.7 rebounds per game. He followed that up with strong performances in the EYBL in the spring and his recruitment has taken off as a result.
In addition to Indiana, he listed Michigan, North Carolina, VCU and Georgetown as some of the schools he's hearing from most frequently.
VCU, which is located less than 20 miles from where Williams attends high school, is a school that Williams views as a fit because of its style of play and the proximity to home.
"My family would get to see me play," he said. "It's so close to home that I can still go home whenever I want to. The only thing I see bad about it is that I don't get to experience living away from my parents, really."
Michigan, which had John Beilein in Louisville on Thursday, has yet to offer a scholarship and the same goes for North Carolina and Georgetown. The Tar Heels had Hubert Davis watching Williams in Louisville on Thursday.
The next step in the process for Williams will begin early next month, when he plans to take some unofficial visits and then come up with a firm list.
"Right now, me and my dad's head, we're probably going to take these two weeks in early August to take visits, take a couple unofficial visits and then that's when I'll end up cutting down my list," he said. "I don't know if I'm going to cut it straight to five yet. I might cut it down to a little bit more and then cut it down to five.
"I should have a solid list by the start of September."
Filed to: Kenny Williams