Brunk recruitment becoming a Big Ten affair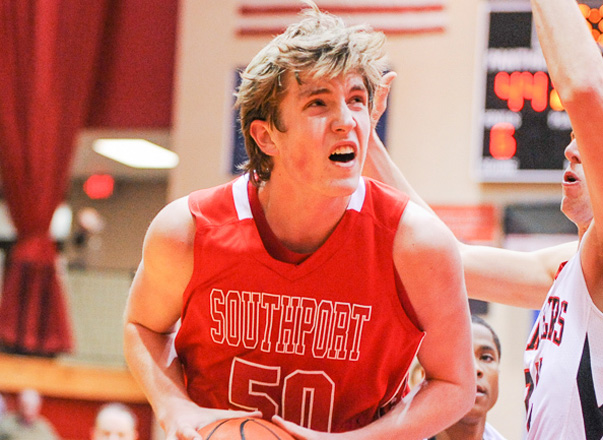 LOUISVILLE, Ky. — As the summer moves along, the recruitment of class of 2016 Southport center Joey Brunk continues to add new suitors.
The 6-foot-9 big man added an offer from Indiana following the first July evaluation period and now two other Big Ten schools have followed with offers.
Brunk entered July with offers from Iowa and Purdue and has added Indiana, Michigan State and Northwestern as a result of his strong play with Grassroots Indiana.
In an interview with Inside the Hall at the AAU Super Showcase, he broke down the new offers from the Spartans and Wildcats.
"Coach (Tom) Izzo thinks I fit in well, playing with my back to the basket," Brunk said. "I can help, I can get people shots from the inside when they double, I can kick it back out and they can play through me. I take what they say and try to use it to get better.
"Coach (Chris) Collins was talking to me on the phone and told me, 'I've won at every level and this isn't going to be any different.' He means business, he expects to win and he wants to turn it around."
At this point, Brunk said he has no leaders in recruitment and is focusing on continuing to grow his game. As a sophomore at Southport, he averaged 15.3 points, 8.1 rebounds, 1.7 assists and 1.4 blocks per game as the Cardinals finished 15-8.
"Everything right now is wide open," Brunk said. "It's just more added motivation to keep working, keep improving. Wherever I go, if I don't get better, I'm not going to play. I'm happy with everything that's happening right now. I'm just going to take it all in and enjoy it and just keep working."
In addition to the Big Ten schools involved, Brunk mentioned Ole Miss and Xavier, who have both offered, as two schools he's in contact with frequently.
As more and more coaches come to scout his games, he admitted it's hard not to notice who is there watching. On Wednesday night, Indiana associate head coach Tim Buckley was at the Super Showcase.
"I notice it and I get a little nervous just because it means something and that I've worked hard," he said. "I just take it all in and just gotta play hard. I notice who it is, but I try to block it out once the game starts and just play my game and just let it all happen."
Since extending an offer on June 15, Indiana has remained in steady contact with Brunk.
"I feel like a priority. They call and text me," Brunk said. "I talk to coach (Tim) Buckley and coach (Tom) Crean. It's been good."
With more than 16 months until he can sign a National Letter of Intent, Brunk sounds like a prospect who is enjoying the process and intends to see it through.
"I still like it. It's not tedious at all," he said. "A lot of kids would kill to be in the position I'm in right now. I've embraced it and I'm just going to take it in, enjoy it and keep working and use it as motivation."
Filed to: Joey Brunk