Class of 2016 Southport center Joey Brunk talks IU offer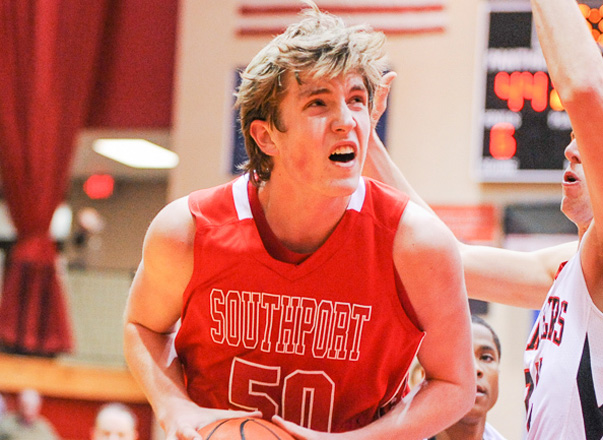 Finding a skilled big man on the recruiting trail is a difficult task, but Indiana is hoping that one of the top post players in the class of 2016 chooses to stay home.
On Tuesday, Tom Crean offered a scholarship to Southport's Joey Brunk, a 6-foot-9 center who is on the rise nationally. In the latest 247Composite rankings, Brunk is slotted as the No. 68 player in the country and the No. 10 center in his class.
"I've had a little bit of contact with them, on and off, as the high school season went on," Brunk said of the Hoosiers. "IU was one of the first schools to text me after June 15, during that period. And then coach Crean was at my game (in Indianapolis) and he's been watching me and he's been closer than what I think.
"He's been watching film and that kind of stuff. And he watched my last game, said he was impressed with my work ethic and how much better I've gotten and thinks that I'd be a good fit."
The last game that Brunk is referencing was last weekend in Indianapolis at the adidas Invitational during the first evaluation period.
Less than two days after his strong showing in that event with Grassroots Indiana, Brunk was having a conversation with Crean, who delivered a scholarship offer.
"I think he envisions me playing the five. The four or the five," Brunk explained. "He thinks I'm versatile like a Cody Zeller. He kind of compared me a little bit to him and thinks I could have a similar role in that the offense could come through me. He thinks I'm a good enough passer to where I could get the ball to other people too through my spot and impact the game in a couple of different ways."
As a sophomore at Southport, Brunk helped lead a major turnaround for the Cardinals. After beginning his high school career at Park Tudor, Brunk transferred to Southport, which improved from 1-19 in 2012-2013 to 15-8 last season.
He averaged 15.3 points, 8.1 rebounds, 1.7 assists and 1.4 blocks per game, according to MaxPreps.com. Brunk said that adding strength has been a major reason that his game has taken off in recent months.
"I think the biggest thing has been my strength development," he said. "I work with a guy a couple of days a week. We do a lot of functional strength, agility and core strength and I think that's been the biggest thing for me because it's helped develop some confidence in my body.
"I'm starting to be able to do things that I couldn't do a week or a month before. I've just kept building on it and I'm just trying to keep developing my skills, too. My best basketball is still ahead of me and I just need to keep growing into my body."
In addition to Indiana, Brunk said he's hearing most often from Ole Miss, Purdue and Xavier right now. He also has scholarship offers from Iowa and New Mexico.
So is staying close to home for college something that potentially interests Brunk?
"It definitely means a lot that an in-state school wants me to do that (stay home)," Brunk said. "I've definitely thought about wanting to stay close to home. But on the other side, whatever is the best fit for me. It's appealing and if it's the best fit for me, that'd be great, but I'm just trying to find whatever the best fit may be.
"I watched IU growing up and the way they used Cody (Zeller) and the way they used Noah (Vonleh) this year, they got Noah the ball inside and let him play to his strengths. I've noticed that, it's a big deal to have two lottery picks in two years. That's a pretty big deal."
Filed to: Joey Brunk