The Inside the Hall Mailbag: July 11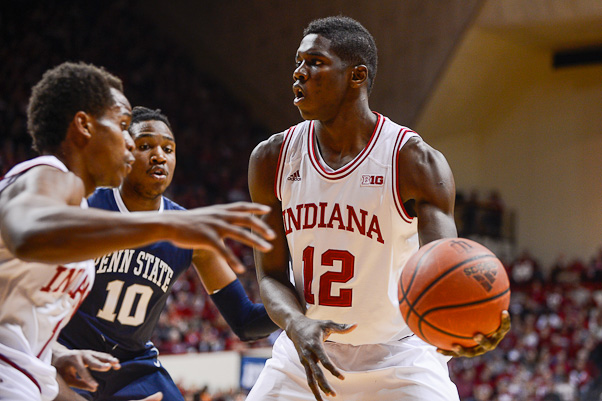 The Inside the Hall Mailbag is a collection of questions tweeted to us via Twitter (@insidethehall), submitted on our premium forum and sent to us via our Facebook page. Submit your questions and we'll answer as many as we can.
kmark22 on the premium forum writes: I know people believe with the loss of Fischer, Jurkin, & Vonleh IU needs big players….is this idea/topic really overblown given how IU plays. Do they really need big men to be successful?
I believe you have to have some sort of presence, even if it's just mainly for defense and rebounding. However, there are very few offenses in college right now that are based on throwing the ball into the post and letting a guy operate with his back to the basket. It's a perimeter oriented game with ball screens and pick and roll dominating the landscape. If you can space the floor, make 3s at a reasonably efficient rate, offensive rebound and get to the line, you can win without a big man who scores a lot.
I think the main thing for Indiana next season is going to be finding a combination of players up front that can defensive rebound and defend without fouling, which is something Hanner Mosquera-Perea and Devin Davis had problems with in limited roles last season. — Alex Bozich
Richard Howenstein on Facebook writes: How do you see Hoetzel fitting in to the lineup? He has length that we need and has an outside shot. Is he a 7th or 8th guy off the bench?
I think he's got a shot to be a rotation player right away if he's able to defend adequately. If you look at it on paper, the "sure fire" rotation guys appear to be Yogi Ferrell, James Blackmon Jr., Robert Johnson, Stanford Robinson, Troy Williams, Mosquera-Perea and Davis. Beyond that, Nick Zeisloft and Hoetzel are probably right there for the 8th and 9th spots.
We don't really know enough about where Collin Hartman is physically to say how much he'll be able to play with any certainty and I've never seen Tim Priller or Jeremiah April play, so the foreign trip should give us a gauge on where those two stand. To answer your question, if Hoetzel makes shots and helps space the floor, he's going to find his way into the rotation in some capacity. — Alex Bozich
@croneleoni on Twitter writes: With so many talented wings and guards at IU, can you give the odds of who could enter the draft next year?
I would think if there's any candidate to possibly consider a jump, it would be Ferrell. And even that seems like a long shot given that not many 6-foot point guards are leaving early for the NBA. I believe Blackmon Jr. will need a couple of years in college at the least to develop physically before the NBA enters the equation and Williams is another guy who may have the potential one day to play at the next level, but there's plenty of development that remains before that's even a discussion. — Alex Bozich
motorcityhoosier on the premium forum writes: I see a lot of forum members predicting that Devin Davis will play minutes at the 5 spot, either sparingly or for significant stretches of each game. Based on size alone (and our limitations therein), I would expect Perea to start at the 5 with April backing him up. Do you really think we'll see Davis play center, and if so, how many minutes per game?
Considering Davis started at the five and played quite a few minutes there in IU's narrow loss at Michigan late in the season, I wouldn't be shocked to see him play there for stretches. I'm not buying into the assumption that April is going to be the backup at the five until I actually get a chance to watch him in live action.
Right now I can definitely see Davis operating as the first frontcourt player off the bench, which means if Mosquera-Perea picks up a couple of fouls early, he could be used at the five. I would think there will also be plenty of situations where Davis and Mosquera-Perea are on the floor together, but Davis playing the five is certainly a possibility that exists. — Alex Bozich
Geoff_85 on the premium forum writes: Where should we expect improvements this year in regard to player development? It looks like Devin Davis and Hanner Perea are going to log significant minutes and some people are talking as if Perea may be drastically improved. Do you see this as a possibility given the improvement he showed last year?
The primary thing that most folks will be looking for is improvement in decision making and limiting turnovers. Given that IU is going to be unconventional this season in that it's not really going to have a deep frontcourt, the ball is going to be on the perimeter quite a bit and IU needs to be efficient there. Obviously, I think you're going to see improved physiques from several guys on the roster if Je'Ney Jackson's recent track record in that area is any indication.
As for the possibility of drastic improvement from Mosquera-Perea, I think he'll continue to get better as he continues to get more reps. He obviously has the physical attributes to grow into a major contributor, but it's all about how quickly that can happen. This is a big offseason for him as there's really no obstacle for him growing his role significantly besides himself. It'll be interesting to see how he embraces the opportunity. — Alex Bozich
madweber on the premium forum writes: Nebraska was a surprise last year in the B1G. Who do you see making similar waves this year given returnees and recruits?
I don't see any team being picked to finish last to make a jump like Nebraska did last season as that would require a prediction that Rutgers won't finish last, which is somewhere I can't go.
I haven't studied it super closely yet, but I think Illinois is going to be a team to keep an eye on. There's a solid nucleus returning with Rayvonte Rice, Tracy Abrams, Nnanna Egwu, Kendrick Nunn and Malcolm Hill along with two transfers in Aaron Cosby and Ahmad Starks. Then you've got top 40 recruit Leron Black, a name IU fans are familiar with, coming in to help in the frontcourt. The Big Ten is wide open in the middle after Wisconsin, but Illinois is a team that could make a move up in the standings. — Alex Bozich
ajbeatty311 on the premium forum writes: With Yogi taking the priority of the outside shots (or least making the majority of them taken), how does his game expand with the shooting JBJ, RJ and MH bring?
Adding two guards like Blackmon Jr. and Johnson should help take some of the pressure off of Ferrell to score and allow him to beat guys off the dribble and find shooters on the perimeter or guys via cuts or lobs like Mosquera-Perea or Williams.
The good thing about Blackmon Jr. is that he's not just a spot up shooter. He can catch the ball, size up his man and then make a play, whether it be a jab step to create space or simply beating his man going to the basket. He's not going to be a guy that you can cheat off of and provide help on Ferrell. The same goes for Johnson.
One problem last year with IU's offense is that there were too many instances where there were players on the floor who weren't a threat to score. That's going to be less of a problem this year which should help eliminate some of the possessions where IU wasn't going to get a shot unless Ferrell created one on his own. — Alex Bozich
Filed to: Twitter Mailbag