Indiana among top three schools for Raymond Spalding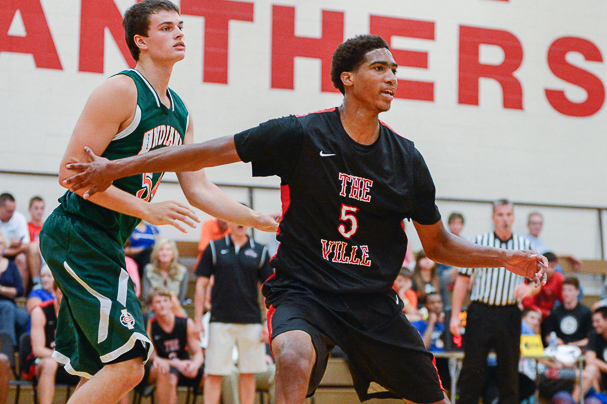 INDIANAPOLIS — If it wasn't clear going into July what kind of priority Louisville Trinity (Ky.) forward Raymond Spalding is for Indiana in its class of 2015 recruiting efforts, the start of the first July evaluation period is putting things into focus.
With high profile events like the Reebok Classic, LeBron James Skills Academy and adidas Unrivaled going on at other venues across the country, Indiana coach Tom Crean was at North Central high school on Wednesday evening and Thursday morning to watch Spalding in the adidas Invitational.
The fact that Crean was in attendance for Spalding's first two games, the only head coach in his top three schools to earn that distinction, wasn't lost on the rising senior.
"It really tells a lot about him and his program," Spalding told Inside the Hall. "He takes basketball to heart over there. He's a great coach. For him to come to my games, the head coach, the head guy, that means a lot. I talk to coach Crean every day. He's becoming one of my best friends. We talk every day about basketball and our families in general. He's a great guy, great coach."
On Wednesday evening, Spalding poured in 34 points and 11 rebounds as The Ville beat UA Grind, 76-67 and he followed that up with 14 points as The Ville beat St. Louis Gateway, 64-43, on Thursday morning.
Crean, along with Xavier coach Chris Mack and assistants from Clemson and Tennessee, watched Spalding on Thursday morning. After the comfortable win over St. Louis Gateway, Spalding talked more in-depth about his relationship with Crean.
"We talk every day about basketball, our families. He has a son that plays baseball," he said. "He's a great guy and he tells me every thing. Besides being a great basketball coach at Indiana University, he's a great father, mentor and leader."
The contact with Indiana is frequent — Spalding says he and Crean exchange text messages at least three times per day — and his message is often centered on just how big of a priority he is for the program.
But the Hoosiers are not alone in their pursuit of Spalding, who is on the rise nationally. He listed Xavier and Louisville, along with IU, as his top three schools, in no particular order. Both schools received unofficial visits from Spalding in June and Louisville offered a scholarship on his visit there.
Standing just a few feet from a group of coaches that included Mack, Spalding broke down what he likes about that program as well as Louisville.
"Xavier University, it's a great school," he said. "Besides basketball, it's a great academic school. I got to talk to their academic services person. He's a great guy, great person. Xavier basketball, it's big over there in Cincinnati. There's not much besides basketball over there. Coach (Chris) Mack and coach Travis Steele, those guys are great over there. They really control the players and they have a wonderful facility and they're starting to build more to it.
"I love the academics (at Louisville) and it's home town. Coach (Rick) Pitino, he really gets guys to the next level, the pro level. And that's what I love about it."
Spalding says he remains open to new schools who may begin recruiting him this month and he's already hearing from one new school that began contact about a week ago.
"I'm starting to talk to Duke a little bit more than I have before," Spalding said. "Coach (Nate) James. Talking to Duke, it's a great university, academics and just a crazy atmosphere over there. They want to get me up sometime to take a visit, but I don't know when I'm going to take a visit yet."
At close to 6-foot-10, Spalding may still be growing, but he said all of the schools are recruiting him to play a stretch floor that can also play away from the basket at times.
"It's a huge focus for me, being a stretch four," he said. "In my development I need to learn how to shoot the ball better. Today I didn't shoot the ball that great, but last night I shot it pretty well and I'm just getting in that daily effort and it really comes along."
The next step for Spalding in the process will likely be to cut his list and look at where he might like to take official visits this fall. In previous interviews, he's mentioned signing in the fall, but that's no longer a certainty at this point.
"It'll be tough to come to a decision because those are three great schools," Spalding said. "The head coaches there are tremendous guys. When it comes down to making a decision, it'll be pretty tough.
"I may wait it out until spring some time."
Filed to: Raymond Spalding