A closer look at the Nick Zeisloft addition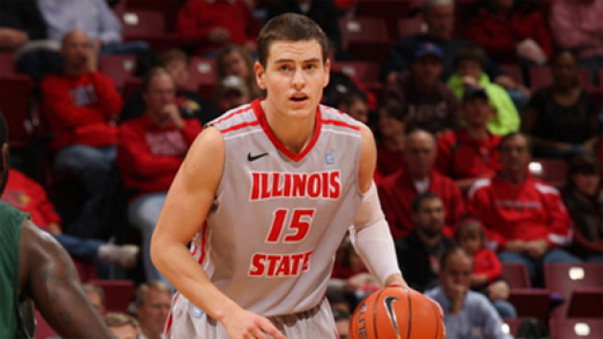 Indiana added a 12th scholarship player to its roster on Monday in Nick Zeisloft, a transfer from Illinois State who will be eligible immediately. The 6-foot-4 Zeisloft, a native of La Grange, Illinois, has two years of eligibility remaining.
So what will Zeisloft bring to Indiana? Here's what IU coach Tom Crean said about his addition in the school's press release:
"The addition of Nick allows us to spread and space the floor even more and play with more pace. More importantly, we are adding a young man that has been raised well and has been well coached throughout his career. He brings a physical and mental toughness that has allowed him to play at a strong level and brings leadership and maturity to our program."
The mental toughness and leadership aspects are obviously important pieces to the addition of Zeisloft, but what kind of statistical and shooting impact will he have for Indiana?
Let's look at his numbers from his first two seasons:

Zeisloft's overall scoring numbers inched up as a sophomore as his minutes increased by about 10 per game and his shooting percentages dipped as his attempts went up. As a freshman, he took 67 shots from behind the 3-point arc and that number increased to 167 as a sophomore. His overall 3-point shooting percentage dipped by almost six percent.
What didn't change much, however, is that his game is very perimeter dominated. As a freshman, 77 percent of his field goal attempts were 3-pointers and that number grew to 86 percent as a sophomore. Zeisloft was a very good free throw shooter as a sophomore, but his free throw rate (FTA/FGA) was only 15.5, so he didn't get there often enough to make much of an impact from the line.
Given Indiana's backcourt options next season, which include Yogi Ferrell, James Blackmon Jr., Robert Johnson and Stanford Robinson, Zeisloft could be a solid complementary piece, provided he is able to play to his strengths.
So where is Zeisloft at his best? According to Synergy Sports, transition and opportunities off of screens yielded the best percentages for Zeisloft as a sophomore.
Over half of his offensive opportunities came in spot up situations, where he made just 33.6 percent of his field goal attempts. He was much better in transition situations (41.2 percent) and off of screens (43.8 percent). Digging a bit further into Zeisloft's effectiveness in transition, he hit 54.5 percent of his attempts as a trailer and also made seven 3s in transition on the right wing. On a team where the pace is likely to be pushed frequently, Zeisloft's could hold value as a transition shooter who gets lost as defenses attempt to mark guys like Ferrell, Blackmon Jr., Troy Williams, Johnson and Robinson.
Another piece of Zeisloft's game which could hold importance for Indiana is his ability to take care of the ball. While he's not a primary ball handler, his turnover rates of 9.8 and 9.7 the past two seasons would have easily been the best on IU's roster. After a season in which the Hoosiers were woeful in terms of taking care of the ball, swapping in Zeisloft for a guy like Austin Etherington, who had a similar usage percentage, is a major upgrade when you consider his turnover percentage of 9.8 versus 25 percent for Etherington.
The final piece, of course, is that Zeisloft has two years of eligibility remaining, which means he'll slide into the junior class that also includes Ferrell and Hanner Mosquera-Perea, essentially replacing Etherington. Had the Hoosiers not added an upperclassmen, the roster would have been even more dominated by youth following the transfers of Etherington and Jeremy Hollowell and the recent departure of Peter Jurkin.
Filed to: Nick Zeisloft