Q & A: Nick Zeisloft talks decision to transfer to IU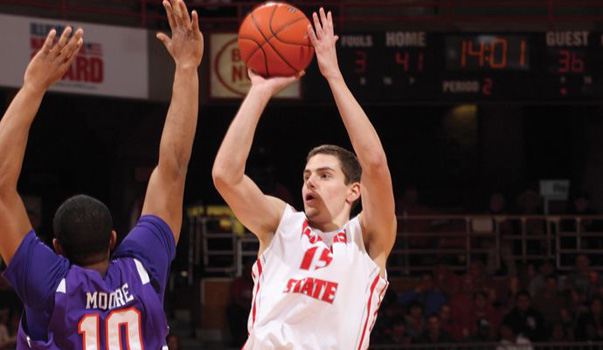 Indiana added a sixth member to its 2014 recruiting class on Monday with the addition of Illinois State transfer Nick Zeisloft.
The 6-foot-4 guard, who averaged 6.9 points and 3.4 rebounds last season for the Redbirds, will have two years of eligibility remaining and will be able to play immediately for the Hoosiers.
Inside the Hall talked to Zeisloft in-depth on Monday evening on a variety of topics and our full Q & A is available below:
Inside the Hall: The process of finding a new school for your last two years, how did you reach the decision that you wanted to pursue something different and how did it lead you to Indiana?
Nick Zeisloft: I decided to transfer in early April. My AAU coach, Steve Pratt, knows coach (Tom) Crean really well. And coach Crean did some studying on me and he was very satisfied in what he saw from the sound of it, from his pitch and stuff. I was very intrigued to play for coach Crean and I'm just very glad it's finally here and official now.
ITH: When you went on your visit, obviously the academic part was a big piece of it, but from a basketball standpoint, what stood out to you the most about what you saw and about the guys who were already there?
NZ: I enjoyed it a lot. The visit was great. I have seen the campus plenty before, but I saw even more of it. The Kelley School of Business is wonderful and playing for coach Crean is even that much better on top of that.
ITH: One of the things that coach Crean talked about in the release was the leadership and the experience that you're going to bring. What kind of impact do you think you can have on what may be the youngest team in the Big Ten?
NZ: I'm looking forward to being able to be a leader for this team and teach guys through my experience that I've had at ISU in my three years already in Division I basketball. And I'm also ready to take on any other role that is needed for us to win at Indiana University.
ITH: I know your dad (Mark) graduated from Indiana. What's he told you about Indiana and what was his reaction to your decision to transfer there?
NZ: He's very proud. I wanted to go to Indiana at a very young age, but basketball took me in a different direction. I'm very glad to finish out my college career now at Indiana because I'm very excited to keep going with it. I understand the tradition of Indiana basketball like no other, all the way back to Bobby Knight.
ITH: Besides the shooting, what are a couple areas in which you feel like you can really help?
NZ: I know I'm a very intelligent player, very smart on the court. And that's definitely something that I bring to a team. And then mental toughness, I understand the mental toughness side of the game. It's not all how big and strong you are or how fast you can run, but how tough you are mentally. I definitely can bring that to this team and will bring that to this team.
ITH: From the academic standpoint, have you decided what path you're going to take in the Kelley School of Business?
NZ: I know that the Kelley School of Business is top notch. There are only a few better nationally. I know it's going to set me up wonderfully for my career after basketball and that I'll be doing my Masters of Science in Finance.
ITH: When do you get started at Indiana? What's your schedule like the next few weeks as far as getting down to Bloomington?
NZ: I'm hoping to get there as soon as I can. I still have a class to finish online after this week. And that's going to determine a lot of things depending on when I finish that. Once that all comes about, I hope to be there working full time with my teammates.
ITH: As far as what you've seen of Indiana from last season and coach Crean has talked about the turnovers last season being an issue, something that caught my ear earlier when you talked about being an intelligent player, what are some things you can bring to help address that?
NZ: Some things with that is just being smart with the ball and knowing your game. I think I have a very good grasp on that just by trying to expand my game to the next level as well. It's a feel thing, but you can also work on it as well. Whether that's in practice, drills and then obviously when it translates over to the games. Taking care of the ball is definitely a big key at any level of the college basketball game today. Turnovers lose you ballgames, especially on the road. You've got to take care of the ball on the road even more so than at home.
ITH: You've grown up in Big Ten country, what's your excitement level to play in the Big Ten?
NZ: It's going to be exciting. Every day, every game is going to be a tough one. There's no let downs in the Big Ten. I've known that growing up and I've known that being from a good conference in the (Missouri) Valley as well. There's no walks in the park at this level.
Filed to: Nick Zeisloft