Peter Jurkin to transfer from Indiana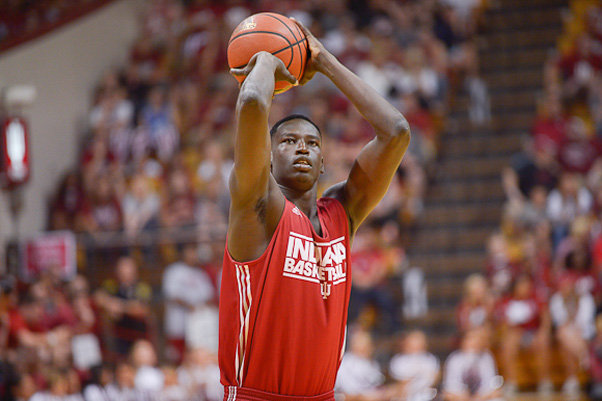 After injuries derailed much of Peter Jurkin's two-year career at Indiana, the 7-foot center has decided to transfer, a source has confirmed to Inside the Hall.
(Editor's note: Indiana has confirmed Jurkin's departure and the full release is available here.)
Jurkin played in just 11 games for a total of 18 minutes in his two seasons at IU but had been sidelined for much of them due to leg injuries. When Indiana coach Tom Crean spoke at Huber Winery earlier in June, he was even unsure whether Jurkin would be able to play in his junior year.
"That's an up and down situation. There's no clear path to that right now," Crean said. "He had his surgery. The poor guy, he never been in any consistent health situation since he's been here and it goes back to his high school days."
Jurkin had dealt with leg injuries even in high school days at United Faith Christian Academy in Charlotte, N.C., but he still averaged 14.8 points and a team-high 8.1 rebounds per game as a senior and was rated a three-star recruit. He was part of Indiana's five-man 2012 recruiting class that featured Yogi Ferrell, Hanner Mosquera-Perea, Jeremy Hollowell and Ron Patterson.
According to the source, Jurkin hopes to transfer in order to find an opportunity to play once again. He has already received his release from IU.
At Huber Winery, Crean questioned whether Jurkin would ever be able to do just that, but he also commended Jurkin for fighting to this point.
"It is very hard for him to overcome that, but he's there, he is going to summer school, he's doing a good job," Crean said. "But at some point, is he going to be able to play or is he not? That is really what it is coming down to.
"We're in year three now. He is a great kid and we want him to be successful, but you have to be healthy to have that chance to be successful."
—
Update: Indiana has confirmed Peter Jurkin's transfer in hopes of more playing time. The full press release is posted below:
Indiana University men's basketball coach Tom Crean has announced that center Peter Jurkin, whose playing career has been limited and hampered the last two years at IU and previously in high school by various leg ailments, will look to transfer to a school seeking more playing time.
"Peter has indicated his desire to try and find a program where he can get on the court more," said Crean. "He has had an uphill battle health-wise since he arrived. He believes he can get to a point where he can contribute at a level greater than what he is able to do here. Our priority is that he can obtain his education and he always is welcome to do that and be part of our program at IU."
Jurkin, a 7-0, 230-lb. center, played 18 minutes in 11 games and scored two points this past season. He was limited to three games in 2012-13 and is eligible for a medical redshirt. He played eight games this past year and earned Academic All-Big Ten honors.
"I want to thank Coach Crean and everyone on the staff for helping me through my injuries and the death of my father," said Jurkin. "I will always consider myself a Hoosier and think it is best if I look at another opportunity to pursue my education and continuing my playing career. Physically, I still have work to do but will hopefully be up to the challenge."
Filed to: Peter Jurkin