Jurkin's playing future at IU remains uncertain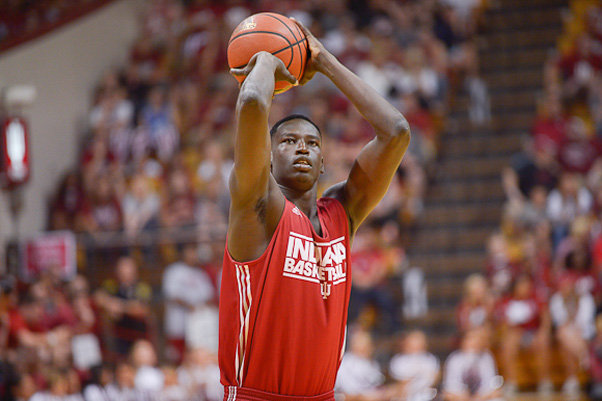 STARLIGHT, Ind. — When Peter Jurkin committed to Indiana in August of 2010 at adidas Nations in Chicago, he was the first class of 2012 recruit to do so.
The native of the South Sudan would be joined, in order, by Ron Patterson, Hanner Mosquera-Perea, Yogi Ferrell and Jeremy Hollowell to form a five-man recruiting class that was ranked in the top 10 nationally by many of the recruiting services.
A three-star recruit out of high school, Jurkin averaged 14.8 points and a team-high 8.1 rebounds per game as a senior at United Faith Christian Academy in Charlotte, N.C.
But nearly two years after arriving on campus, Jurkin has yet to make an impact on the floor for the Hoosiers, who had hoped the 7-foot big man would develop into a reliable shot blocking and rebounding presence with some development and seasoning.
As he heads into his third year on scholarship in Bloomington, Jurkin, a member of the Big Ten's 2013-14 Academic All-Conference team, continues to battle leg injuries and there's uncertainty about his basketball future.
"That's an up and down situation. There's no clear path to that right now," Indiana coach Tom Crean said on Wednesday at Huber Winery. "He had his surgery. The poor guy, he never been in any consistent health situation since he's been here and it goes back to his high school days."
After serving an NCAA-mandated nine-game suspension to begin the 2012-2013 season, Jurkin never broke through into the rotation for Indiana's Big Ten championship season. He appeared in just three games, totaling seven minutes and one field goal attempt.
As a sophomore, Jurkin wore an air cast for most of the season and played in a total of 11 minutes over eight games. Now as Indiana looks ahead to a 2014-2015 campaign in which it will likely play an unconventional style without a true post presence, it appears Jurkin's basketball future is very much in limbo.
"We have never seen Peter be able to get to where he would like to get, where we would like to see him get, where his teammates would like to see him get, because of the health situations," Crean explained. "It is very hard for him to overcome that, but he's there, he is going to summer school, he's doing a good job.
"But at some point, is he going to be able to play or is he not? That is really what it is coming down to. We're in year three now. He is a great kid and we want him to be successful, but you have to be healthy to have that chance to be successful."
Filed to: Peter Jurkin