IU among four schools coming hard at class of 2015 guard Prince Ali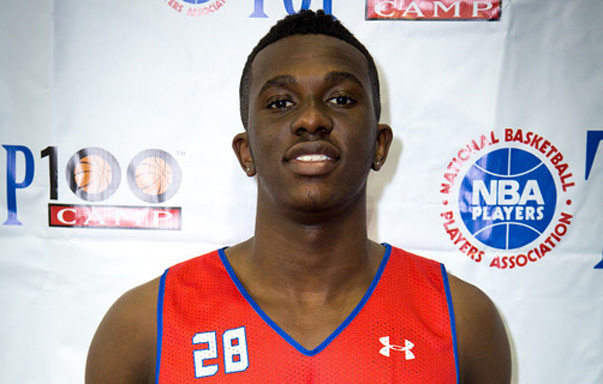 After opting to reopen his recruitment back on May 29, interest in class of 2015 Sagemont (Fla.) guard Prince Ali has ramped up.
Ali, rated the No. 37 prospect nationally according to the 247Composite, had an impressive spring for Southern Stampede on the Nike Elite Youth Basketball League (EYBL) circuit.
So when he decided last month that he committed too soon to Connecticut, it gave schools another shot at recruiting the 6-foot-4 guard who is originally from New York.
Indiana had been interested in Ali prior to his decision to commit to Connecticut and the Hoosiers are right back in the mix. In a phone interview with Inside the Hall from the Kevin Durant Skills Academy in Washington D.C., Ali listed Indiana, along with Connecticut, Michigan and UCLA, as the four schools recruiting him the hardest right now.
"So far it's just been them telling me that they've been watching me for a while and when I committed (to UConn), it kind of threw them off and then when I decommitted, it made them happy," he said. "That's what Tom Crean told me. He told me I play like two of his former players in Victor Oladipo and Dwyane Wade. I remind him a lot of them."
So what does Ali think of being compared to a pair of former All-Americans and current NBA guards?
"I feel like I'm athletic just like the both of them," Ali said. "And when they came into college, they needed skill development, just like I need when I get into college. They had the proper development and ended up making it to that level. I definitely see the comparisons."
In 16 EYBL games, Ali is averaging 21.8 points, 4.8 rebounds and 2.1 assists per game while shooting 45.3 percent from the floor.
The Sagemont School may be familiar to Indiana fans as it's where Will Sheehey played his final high school season before coming to Indiana. Located in Weston, Florida, Sagemont is a private college preparatory school.
"I know Will because he played at Sagemont," Ali explained. "I've got his number and if I ever need to know anything about Indiana, that's the person to ask because he's been there for four years."
Besides UConn, IU, Michigan and UCLA, Ali said a pair of Big Ten schools along with a Big East program are also recruiting him hard.
"Maryland is coming at me hard, Nebraska is coming at me real hard," he noted. "Providence is coming at me. There's plenty of schools coming at me, but those four are pretty much the main schools."
Ali mentioned his relationship with the head coach as a major factor in where he ultimately leads up.
"Every school has their pitch," he said. "Michigan and Connecticut tell me they need a 2015 guard, UCLA tells me they need a 2015 guard that can score and Indiana tells me that I play like Victor Oladipo and Dwyane Wade and Tom Crean thinks he can work with that and they think that I can eventually make it to the NBA.
"I'm looking for a good dude, a good person and a coach that I can relate to on and off the court."
After this weekend's Durant camp wraps up, Ali's schedule will remain busy in July. He'll participate in the LeBron James Skills Academy in Las Vegas during the first July evaluation period and then play in the Nike Peach Jam Finals in North Augusta, South Carolina.
At the Durant Camp, he's receiving the opportunity to learn from the reigning NBA MVP.
"I'm learning that, as high school basketball players, we move kind of fast and we've just got to slow down and really think the game rather than just playing with instincts," Ali said. "Today was day one and we did a lot of pick and roll offense and a lot of pass and screen away. They're teaching us good things that we can use at the next level."
As for visits following July, Ali said nothing has been finalized, but mentioned a trip to Bloomington as a possibility.
"I feel like that's a school I would probably want to go see," he said. "But I don't know yet because things could change in July after the live period. I don't know yet."
Filed to: Prince Ali