Draft watch: Utah Jazz eyeing Vonleh at No. 5?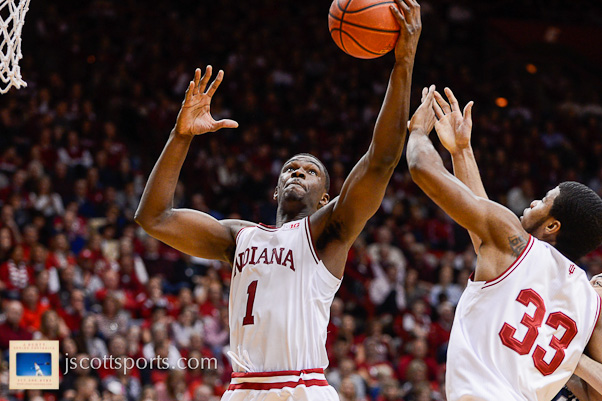 Only eight days remain until the 2014 NBA draft at the Barclays Center in Brooklyn and Indiana's Noah Vonleh, the Big Ten freshman of the year, continues to workout for teams drafting high in the lottery.
In our latest edition of draft watch, we provide the latest on Vonleh's draft stock, look at where he has worked out over the past couple of weeks and more:
Current projections
· ESPN's Chad Ford: (5) to Utah
· Yahoo! Sports Marc Spears: (5) to Utah
· Sports Illustrated's Chris Mannix: (7) to Los Angeles Lakers
· Draft Express: (5) to Utah
· NBADraft.net: (5) to Utah
Completed/scheduled workouts
· June 2: Sacramento
· June 4: Los Angeles Lakers
· June 9: Orlando (unconfirmed by team)
· June 11: Boston
· June 16: Utah
· June 18: Philadelphia (unconfirmed by team)
The Orlando workout was reported by ESPN's Jeff Goodman as one that Vonleh had scheduled, but it does not appear that the Magic are publicizing any of their draft workouts this season. The Philadelphia workout, reportedly scheduled for today, was reported by Marc Spears of Yahoo! Sports.
This list of teams makes sense for Vonleh as it covers draft slots 3 through 8, which is where nearly every projection lists him. Philadelphia owns the No. 10 pick as well, but it's unlikely Vonleh would fall that far. The complete order for the lottery is as follows:
1. Cleveland Cavaliers; 2. Milwaukee Bucks; 3. Philadelphia 76ers; 4. Orlando Magic; 5. Utah Jazz; 6. Boston Celtics; 7. Los Angeles Lakers; 8. Sacramento Kings; 9. Charlotte Hornets (via Detroit Pistons); 10. Philadelphia 76ers (via New Orleans Pelicans); 11. Denver Nuggets; 12. Orlando Magic (via New York Knicks); 13. Minnesota Timberwolves; 14. Phoenix Suns
Latest buzz
· Most of the projections currently have Vonleh headed west to play in Utah and the vice president of player personnel for the team, Walt Perrin, was impressed by his workout in Salt Lake City.
"His left-handed jump hook is pretty good for a right-hander,"Perrin told The Salt Lake Tribune. "He's got a nice drop step into the lane. He's got a nice spin move going to the basket."
· Vonleh, a Boston native, hasn't shied away from potentially landing with the Celtics, who hold the No. 6 pick. Following his workout there, the Haverill, Massachusetts native talked about the possibility of ending up in Boston and what it would mean to him.
"All the workouts were pretty good, but this one just had a little bit more meaning to it because it's my hometown," he said."Not everybody gets a chance to work out for their hometown team. This is a great opportunity."
· As for where Vonleh stands in the eyes of those who cover the draft closely, ESPN's Jay Bilas recently broke down Vonleh and where he projects him to be in five years versus Aaron Gordon and Julius Randle:
"I believe it will be Vonleh," Bilas wrote. "Athletic, skilled, freakishly long (in a good way) and hands the size of Kawhi Leonard — Vonleh has it all. He can step away and shoot it, and he is a high-volume rebounder. As he adds to his post game, Vonleh has the chance to be a complete player in the NBA. Gordon is a better pure athlete who can guard anyone, rebound and get out in the open court, and Randle is an excellent rebounder and the most physically imposing big man in the NBA draft. But Vonleh has the chance to be a special player, so I'll go with him."
Filed to: Noah Vonleh