Five-star center Stephen Zimmerman talks USA Basketball, finalists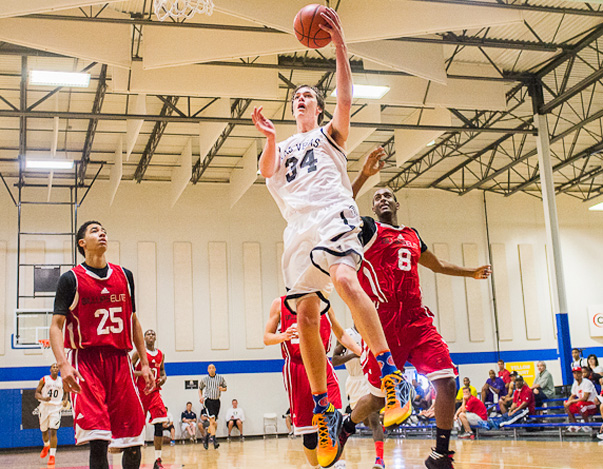 Class of 2015 center Stephen Zimmerman is one of 12 players who was selected last week for USA Basketball's U18 team that will compete beginning tomorrow in Colorado Springs, Colorado in the FIBA Americas U18 Championship.
The 7-foot, 241 pound big man from Las Vegas, Nevada, who is rated as one of the top five players in the country, is viewing the experience as an opportunity to represent his country and grow his game.
"It's a huge honor to be noticed for my play," Zimmerman told Inside the Hall. "I'm very happy to be here with all of these great players and be able to push myself and compare myself to the other bigs that are here and the other players."
The U18 team roster, which was finalized last week, includes a mix of incoming college freshman and rising high school seniors. The group is being coached by Florida's Billy Donovan, Arizona's Sean Miller and Ed Cooley of Providence.
"There are great coaches here as well," Zimmerman said. "They help us out and coach us through this. I don't think you'll find any better competition than being here."
Joining Zimmerman in the frontcourt on the U18 roster are his high school teammate at Bishop Gorman, Chase Jeter, as well as Texas signee Myles Turner.
Battling in workouts and scrimmages with Turner, one of the top players in the class of 2014, is a chance for Zimmerman to measure himself against a player who is expected to be one of the top freshmen in college basketball next season.
"I love playing against Myles Turner," he said. "He's such a great player, he's so long and he works hard. I feel like I can push myself playing against him."
One of the most skilled big men in the country regardless of class, Zimmerman averaged close to 15 points and 10 rebounds as a junior at Bishop Gorman, where he's led the Gaels to three consecutive Nevada Division I state championships.
As he prepares for his senior season at Bishop Gorman and a lengthy career beyond that, Zimmerman says improving his ability to put the ball on the floor is a big focus.
"Ball handling is a big thing," he said. "I'm the kind of big who, sometimes I'll get a rebound and push it up myself, so being able to make the best out of those situations is big."
In late April, Zimmerman cut his list of schools to eight: Arizona, Indiana, Kansas, Kentucky, Louisville, North Carolina, UCLA and UNLV. 
Each of his finalists have been to multiple Final Fours and have won a national championship.
"All of these schools have contacted me a lot and I feel the best and most comfortable with these schools," Zimmerman said. "They're all very successful and hopefully I'll be able to cut it down a little bit more soon."
Filed to: Stephen Zimmerman