Rookie review: Victor Oladipo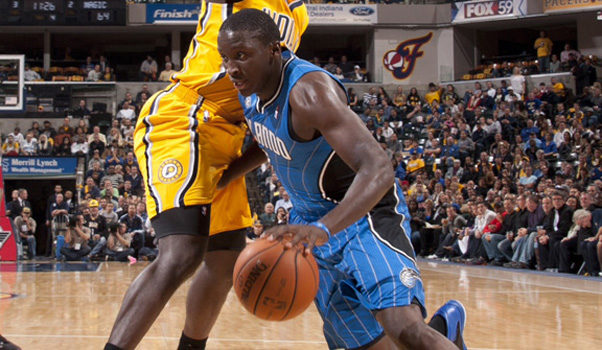 "Rookie review" is Inside the Hall's in-depth look at the debut NBA season for Indiana's 2013 NBA draft lottery picks, Cody Zeller and Victor Oladipo. We'll recap the rookie season of both players as well as look to the future both from a team and individual perspective. Next up: Oladipo. (Previously: Zeller)
Prior to his junior season at Indiana, you couldn't find Victor Oladipo on many 2013 NBA draft boards and when you did, he was listed as a second round pick at best.
So when you call the rise to where he ended up last June "meteoric", there's little exaggeration. Oladipo was the No. 2 overall pick to the Orlando Magic, which was a reward for a brilliant junior season in Bloomington. It wasn't that Oladipo didn't have an impact or a national profile over his first two college seasons, but his third season saw his game elevate to another level.
After last June's draft, Oladipo found himself in the midst of a major overhaul in Orlando, a situation he compared to the one he faced his first season at Indiana. The Magic were coming off a trade of Dwight Howard to the Lakers about 10 months earlier. And still held captive by the albatross contract of Gilbert Arenas, the franchise had little choice other than to place hope in the pieces it acquired for Howard and rebuilding through the draft.
The numbers
– Regular season: 13.8 points, 4.1 rebounds, 4.1 assists, 1.6 steals, 0.5 blocks, 41.9 FG%, 32.7 3PFG%, 78.0 FT%, 13.64 PER, 31.1 minutes in 80 games.
Orlando entered the 2013-2014 season without any realistic playoff aspirations, so putting its young core on the floor for major minutes was a major focus. In terms of minutes played, five of Orlando's top seven players were 24 or younger, with Oladipo (21), Harkless (20) and Tobias Harris (21) all in the top five.
Predictably, the Magic finished 23-59, which was the third worst record in the NBA. For Oladipo, however, the circumstances dictated that he play major minutes from day one. He started 44 games, had a triple-double, six double-doubles and also became the first Magic rookie since Howard to average more than 30 minutes per game.
As is the case with many rookies, turnovers were a problem (256 in 80 games) and Oladipo's shooting percentage still needs work, but his overall numbers suggested he was as ready as any rookie to contribute from day one in the league. That was evident as he was considered one of two primary contenders for the league's Rookie of the Year award all season, a distinction that was eventually earned by Philadelphia's Michael Carter-Williams.
"The amount of minutes he played were pretty good for a rookie," Magic coach Jacque Vaughn said after the season. "He showed that his body could take some pounding. That was a part of his indoctrination into the league."
A look to the future for the Magic and Oladipo
Still in the midst of an overhaul, the Magic have a pair of lottery picks in this month's draft — No. 4 and No. 12 overall — and now have the ridiculous $22.6 million salary of Arenas off of their books, which means the team could also be a factor in free agency.
The Eastern conference is wide open after the top couple of teams, so the opportunity for the Magic to make a jump exists, but recent comments by team founder and executive VP Pat Williams suggest that the team may continue to be conservative in its approach.
At the end of the season, general manager Rob Hennigan used phrases like "not skipping steps," being "methodical" and "strategic" when describing the organization's approach to improvement next season.
Oladipo, for his part, is saying the right things as he enters his first offseason as a professional.
"I just need to continue to get better," he said in April. "I feel like if I do that, I can definitely help my team win. It's all a process, everything is a process."
As for how his role could change next season, a lot of that could depend on what the Magic do later this month in the draft. With two lottery picks, the team will be looking for a pair of players who can come in and play right away, which may lead to a more defined position for Oladipo.
For example, if the team takes a point guard like Dante Exum or Tyler Ennis, Oladipo could play more as a two after spending time as a rookie bouncing back and forth between both guard positions.
Hennigan, however, says the franchise still views Oladipo as a player who will fill multiple roles going forward.
"I think our stance on the infamous question remains the same," Hennigan said in an interview at the end of the season. "He's a guard. He may play some one, he play may some two. We feel he's best served as a guard."
Filed to: Victor Oladipo