Rookie review: Cody Zeller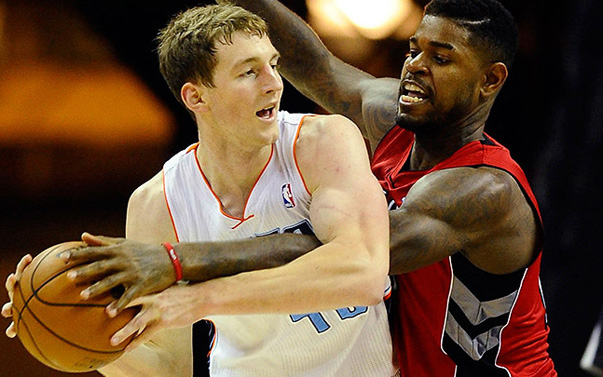 "Rookie review" is Inside the Hall's in-depth look at the debut NBA season for Indiana's 2013 NBA draft lottery picks, Cody Zeller and Victor Oladipo. We'll recap the rookie season of both players as well as look to the future both from a team and individual perspective. First up: Zeller.
In a decision that was a surprise to many, the Charlotte Hornets, known as the Bobcats at the time, took Cody Zeller with the No. 4 pick in the 2013 NBA draft last June. Going into Zeller's sophomore season at Indiana, many had pegged him as a potential No. 1 overall pick, but his stock had fallen somewhat and most projections had him going in the bottom half of the lottery.
But after a strong NBA draft combine showing and encouraging workouts, the Hornets snagged Zeller at No. 4, the first move of an offseason that would also include the signing of free agent Al Jefferson and the re-signing of veterans Gerald Henderson and Josh McRoberts.
Suddenly, the franchise had a team that could compete for a playoff spot in a depleted Eastern conference. And for Zeller, unlike many rookies drafted that high in the lottery, Charlotte's offseason moves, particularly the acquisition of Jefferson, would allow him to be eased into the rotation surrounded by a solid core of veterans.
The numbers
– Regular season: 6.0 points, 4.3 rebounds, 1.1 assists, 0.5 steals, 0.5 blocks, 42.6 FG%, 73.0 FT%, 13.12 PER, 17.3 minutes in 82 games.
– Postseason: 2.0 points, 2.3 rebounds, 0.8 blocks, 0.5 assists, 33.3 FG%, 50.0 FT%, 13.3 minutes in 4 games.
With Jefferson and McRoberts already established in the frontcourt, Zeller was brought along slowly by first-year head coach Steve Clifford and was primarily used as Charlotte's first big man off the bench who provided energy.
After a first half of the season that was viewed as a bit of a disappointment, Zeller began to take off after the all-star break:

As the numbers above show, Zeller's minutes only went up incrementally, but his production increased significantly enough that he landed on the NBA All-Rookie second team. At the all-star break, Zeller was not one of the nine rookies invited to participate in the Rising Stars Challenge on all-star weekend.
"I'm just trying to bring energy to the court on offense and defense. Just trying to be an energy guy and get offensive rebounds and play good defense," Zeller told Inside the Hall in March. "It's fun being a role player for a change, just to be an energy guy and come in and try to make an impact from that way instead of being the mean scorer like I've been in college and high school."
"It's a tough process going from college to the NBA. The game is so much different, both on and off the court it's a big adjustment but I feel like I've made the adjustment pretty well. It's definitely been a fun year for me."
A look to the future for Zeller and the Hornets
The window for the Hornets to continue their ascent in the Eastern Conference is now as the franchise has a dominant big man in Jefferson, veterans in Henderson and McRoberts and a young nucleus that includes Kemba Walker, Michael Kidd-Gilchrist and Zeller.
The Hornets also have a lottery pick in this year's draft (No. 9 overall) as well as the No. 24 and No. 45 picks, plus salary cap space of nearly $17 million, which means the franchise could be very active in free agency.
"This year we have a lot of flexibility, and I've been speaking to that over the last three or four years," team owner Michael Jordan said this week. "Flexibility is very important, and we are going to use every resource to try to better the team."
So what does all of this mean for Zeller?
While the level of expectations for him will rise going into his second NBA season, he's still going to be a complimentary piece on a team that is coming off a playoff appearance and has one of the league's better coaches in Clifford. That should mean the Hornets will continue to bring him along slowly and put him in spots to succeed as big men typically take longer to adjust to the NBA.
At just 21, Zeller needs to continue adding strength, add more of a face-up game and get better on defense. It's clear that Clifford is a major advocate for Zeller's long-term potential, but he also realizes that putting him in the best position to be successful is key to his development.
"People think by throwing them out there, they get better. I don't agree," Clifford said during the season. "I want a role that 1) he earns and 2) that he can play well in. If that's 16 minutes right now, then that's what he needs to be."
Clifford also told The Charlotte Observer in April that learning how to defend without fouling is a major point of emphasis for Zeller moving forward.
"That's a big thing," he said. "He has to be able to contain the ball, contest shots, make it harder on the other guy to get to shots, and do all that without fouling."
(Photo credit: MCT/Getty Images)
Filed to: Cody Zeller