Indiana in pursuit of MoKan Elite's Shake Milton, Juwan Morgan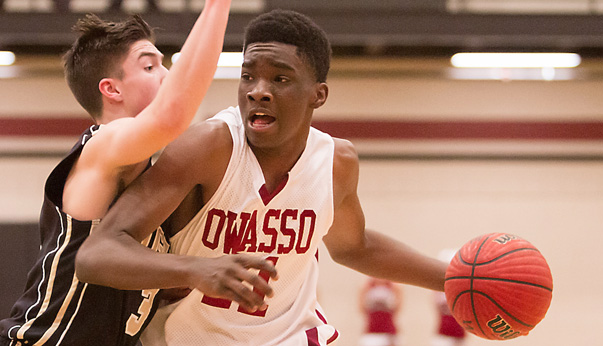 Several names have emerged on Indiana's recruiting radar following April's evaluation period and a pair of AAU teammates, Shake Milton and Juwan Morgan of MoKan Elite, have the eye of the Hoosier staff.
Milton, a 6-foot-4 guard, was offered a scholarship last week and Morgan, a 6-foot-8 power forward, might be next in line for that same distinction.
Indiana associate head coach Steve McClain has successfully recruited the MoKan Elite program in the past, dating back to his days at Colorado when he brought Alec Burks, a lottery pick, to Boulder.
"I think he respects what we do as a program," MoKan Elite founder Matt Suther told Inside the Hall. "So he's always watching our program and identifying kids within our program that he thinks would fit for Indiana."
Milton, a four-star recruit according to the 247Composite, was the Gatorade player of the year in Oklahoma as a junior at Owasso high school.
He averaged 28.0 points, 5.9 rebounds, 3.9 assists and 1.7 steals per game and shot 63 percent on 2s and 88 percent from the free throw line.
"He's just been a late bloomer. He's a kid who is still growing into his body," Suther said. "He has a very high skill level, but he wasn't overdeveloped as a young kid or physically dominant. As he's caught up physically and he's kind of grown into his body, he's really matured on the court. I think it's just been the maturation of him and getting to the point now where people are really starting to recognize him."
Morgan, also a four-star recruit according to the 247Composite, has some similarities to Milton, according to Suther.
"He's a 6-foot-8 power forward, really athletic, can shoot it," he said. "Another kid like Shake in that he's young for his grade and has been kind of a late bloomer. Their situations are very similar in the fact that they've developed late and there's national interest now. Both of them have great families, both are really strong in the classroom."
Based on strong play in the spring with MoKan Elite, the recruitments for both players have taken off.
In 16 EYBL games, Milton is averaging 11.6 points — on 50 percent shooting from the field — to go along with 5.2 rebounds and 4.4 assists per game. Perhaps even more impressive is his assist-to-turnover rate, which is better than 2-to-1 in EYBL play. Morgan is averaging 10.9 points on 69.2 percent shooting in EYBL play to go along with 6.2 rebounds per game.
Milton has offers from Creighton, Houston, Indiana, Oklahoma, Oklahoma State, SMU, Texas A & M, Tulsa and Wake Forest while Morgan, who is from Waynesville (Mo.), has offers from Missouri State and Vanderbilt.
Suther broke down how each guy is viewing the interest from Indiana at this point.
"Shake is really excited about it," he said of Milton. "Right now, there's a bunch of schools that are coming in after the spring. It's probably a little overwhelming for him. He's just kind of taking everything in and staying focused on playing well in July, which is what's most important because all of the schools that are recruiting him, they'll make the final decisions or really make up their mind after the July period. He's just focused on playing well in July and looking at his list of schools and narrow it down from there.
"Both of them are wide open at this point and are focused on playing well in July and kind of seeing where things stand. I know Juwan is excited about Indiana recruiting him. His parents are from Chicago and he's excited."
(Photo credit: Vype)
Filed to: Juwan Morgan, Shake Milton