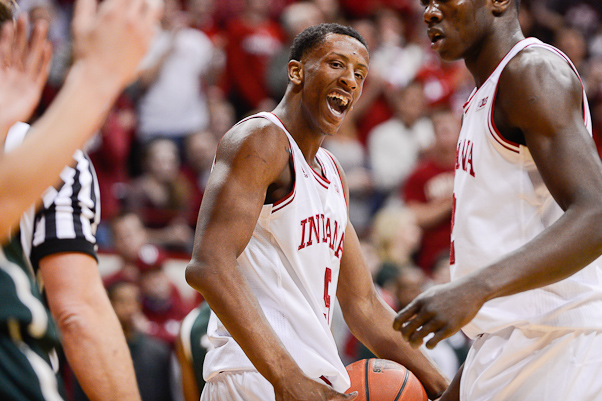 The full 2014-2015 Indiana basketball schedule won't be released until later this summer when the Big Ten finalizes the conference slate, but a good chunk of dates and opponents for the upcoming season have already been revealed.
Here's an early look at what we know so far about the 2014-2015 schedule:
· A fourth year of the Crossroads Classic: For the second time in the event, IU's opponent will be Butler on Dec. 20 at Bankers Life Fieldhouse. The Crossroads Classic will continue through at least the 2016-2017 season, but its future beyond that is unclear, especially if Indiana wants to get involved in another marquee non-conference neutral court series that would require a multi-year agreement.
· Up to the challenge? In Indiana's back-to-back Sweet 16 seasons, the Hoosiers beat N.C. State and North Carolina in the Big Ten/ACC Challenge. Last season, the Hoosiers fell on the road to Syracuse in a rematch of a 2013 NCAA tournament contest. On Dec. 2, Indiana will welcome Pittsburgh to Assembly Hall as its Challenge opponent. The Panthers are pegged as the No. 31 team in Jeff Goodman's preseason top 50 for next season.
· A trip to the Big Apple: The marquee game of the non-conference schedule will come on Dec. 9 at Madison Square Garden when Indiana squares off with Louisville, a perennial Final Four contender under Rick Pitino. It will be the first meeting between Indiana and Louisville since the 2002-2003 season. Kenny Johnson's departure from the Indiana staff earlier this spring to become Pitino's top assistant adds some intrigue to the game.
· The Indiana Classic? It appears Indiana will have an exempt, non-conference tournament with four games played at Assembly Hall. The format will likely be similar to the 2011 event that the Hoosiers hosted in Bloomington that brought games against Chattanooga, Savannah State, Gardner-Webb and Butler. Two of the opponents for the 2014 iteration of the event are SMU, revealed earlier this spring by Mustangs coach Larry Brown, and Lamar, according to The Port Arthur News.
· Expansion brings even less balance to conference schedule: Adding Maryland and Rutgers to the league later this summer might bring a larger national footprint and new television markets, but it'll bring far less balance to the conference basketball schedule. The league is staying at 18 conference games, which means each team will now play five opponents home-and-home and eight league foes either home or away only. The previous format was seven home-and-homes and four single plays, so it's a considerable change.
What does it mean for Indiana next season?
– Home and Home: Michigan State, Maryland, Ohio State, Purdue and Rutgers
– Home only: Iowa, Michigan, Minnesota, Penn State
– Away only: Illinois, Nebraska, Northwestern, Wisconsin
Wisconsin will be the heavy favorite to win the Big Ten and Indiana only plays the Badgers once, but the game is in Madison. Two of the away only games — Illinois and Nebraska — will also be tough considering both teams are expected to be as good, if not better, than they were a season ago. That's balanced out a bit by drawing Iowa and Michigan only once with those contests at Assembly Hall. The home-and-home is a pretty fair mix as well with a couple of elite programs in Ohio State and Michigan State, the two new additions to the league and Purdue, a traditional rivalry that won't always be played twice each year.
Filed to: 2014-2015 schedule