Class of 2016 guard Quentin Goodin very high on IU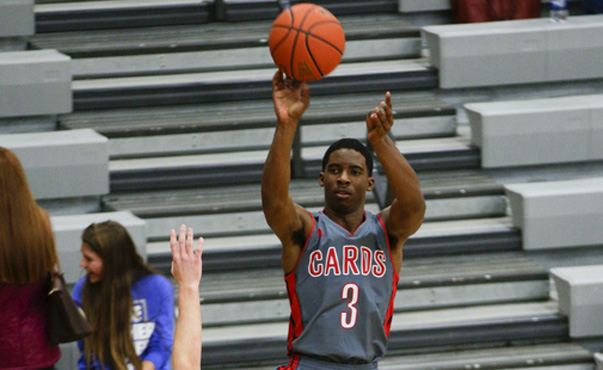 When Yogi Ferrell committed to Indiana in November of 2010, the Hoosiers solidified a major need at the point guard position for the foreseeable future.
Ferrell has started in all 68 games he's played in since arriving at Indiana in the fall of 2012. But with his career in Bloomington now halfway over, the search for a potential replacement in the 2015 or 2016 class is a necessity.
The Indiana staff made an early move to prioritize class of 2016 Taylor County (Ky.) guard Quentin Goodin, the No. 54 player nationally in that class according to the 247Composite.
IU's pursuit of Goodin has remained steady since offering a scholarship in May of 2013 and that consistency has the Hoosiers in a good position ahead of June 15, the first day coaches can begin unlimited contact with class of 2016 prospects.
"We're very high on Indiana. There's no doubt about it. We are," Goodin's father, Chris, told Inside the Hall on Friday. "They really made him feel like he was definitely a priority at their school. They really made him feel like, 'we really want you.'"
As a sophomore, the 6-foot-3 Goodin averaged 20.9 points, 6.9 rebounds, 5.8 assists and 2.9 steals as Taylor County finished 26-7. He was named second team all-state, all-5th region and to the 20th district all-tournament team.
Goodin has already been on multiple unofficial visits to Bloomington, including last February's win over Michigan in which Ferrell scored 27 points and the Hoosiers upset the No. 10 Wolverines.
While some prospects are looking at June 15 as a date on which they can get a better grasp of which schools have serious interest, that's not necessarily the case within the Goodin family.
"The thing for us is, we just like to know which schools are really interested," Chris Goodin said. "And there are schools that have stayed in pretty constant contact whether it be through me or through our high school coach. There have been schools that have stayed in constant contact and we know who they are. And those are the people we really value their relationships and opinions and we're really pretty high on their situations school wise."
Goodin's father was quick to point out that Indiana was among those schools and also mentioned Ohio State, Michigan, Tennessee, Western Kentucky, Wake Forest, Vanderbilt, West Virginia and Butler as some of the other schools who have been in recent contact.
Later this week, Quentin and his father will take unofficial visits to Columbus and Ann Arbor. The Michigan visit will be for the school's college practice camp, which will include several of the program's top recruiting targets.
"We're just looking forward to going in and doing some one-on-one's with the coaching staffs. Trying to get to know those guys and trying to let those guys get to know us," Chris Goodin said. "(We want to) find out exactly what it is that they're looking for as far as the point guard position, what they're looking for as far as Quentin is concerned and get the chance to see their facilities and maybe have an opportunity to see how their operation is run."
The two in-state schools for Goodin, Louisville and Kentucky, have shown varying degrees of interest to this point. The Kentucky staff watched Goodin several times during the high school season and Louisville has shown some interest recently after the hiring of Kenny Johnson, who took over his recruitment following the departure of Kevin Keatts.
So far, neither school has offered a scholarship.
"They're still quite a bit of interest there as far as Quentin is concerned," Goodin's father said. "We'll just see how it materializes."
This spring, Goodin had the opportunity to play in Nike's Elite Youth Basketball League (EYBL) for the first time after previously playing with Hoop Dreams, a smaller program based out of Lexington.
In the EYBL, Goodin played with the St. Louis Eagles, who are led by Jayson Tatum, a consensus top five recruit in the 2016 class. The Eagles finished just 5-11 in EYBL play, which wasn't good enough to qualify for July's Peach Jam, but it was a great learning experience for Goodin, who averaged 8.2 points, 3.9 rebounds and 2.2 assists per game.
"It was really good for him. He got battle tested playing up in the 17's," Chris Goodin said. "That was tough in itself. And also playing with a guy like Jayson Tatum who is a high quality, high character, high profile, elite player, that was good for him, too.
"He's never really been a high volume shooter, he's never really felt like he has to take a bunch of shots, so that didn't really bother him a lot as much as not being as consistent as he wanted to be when he did get his opportunities to take his shot."
(Photo credit: Lexington Herald-Leader)
Filed to: Quentin Goodin