A look at combine measurements, NBA draft stock across the Big Ten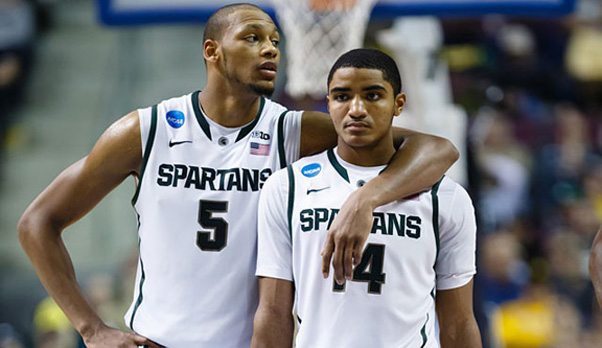 Thursday marked an important day in the NBA draft process as nearly all of the top prospects gathered in Chicago for the combine. While most of the elite prospects declined to participate in drills, every prospect got official measurements and also met with the media and teams in attendance.
Here's a look at the combine measurements for each Big Ten player at the NBA draft combine:

The Big Ten is currently projected to have four first round picks (Vonleh, Harris, Stauskas, Payne) with guys like Robinson, Ross and Mitch McGary, who is not in Chicago, possessing the potential to land late in the first round.
Here's a look at where each Big Ten player stands on Chad Ford's most recent top 100 rankings:
· Vonleh: No. 7 (top 10 pick)
· Harris: No. 10 (top 10 pick)
· Stauskas: No. 12 (lottery pick)
· Payne: No. 17 (mid-first round pick)
· Robinson: No. 31 (late first round pick)
· Ross: No. 35 (late first round pick)
· McGary: No. 40 (second round pick/undrafted)
· Craft: No. 55 (second round pick/undrafted)
· Marble: No. 64 (second round pick/undrafted)
· Keith Appling: No. 74 (second round pick/undrafted)
Combine notes
· According to Ford, Payne comes out of Thursday as a winner because of how well he measured. The Michigan State big man was tied for the third-best standing reach and the third-best wingspan, which, when coupled with his ability to stretch the floor with his perimeter shooting, should vault him up draft boards.
· Vonleh also measured well with the second-best wing span, the sixth-best standing reach and the best hand length and width. The Big Ten freshman of the year won the measurement battle with his primary competition in the lottery: Kentucky's Julius Randle and Arizona's Aaron Gordon. According to Ford:
When choosing between an above-average power forward and two undersized ones, size tends to edge the others out.
Which, if true, could potentially put Vonleh into play as a top five pick.
· Harris seemed a bit concerned about his height measurement during his media breakout session. "It was funny. My agent and I were talking about it a little bit. I was measuring at about 6-foot-4 and a half with shoes on. I don't think I had two inch soles on my shoes. I don't know what's going on with that. At least I'm not playing barefoot, I guess."
The 6-foot-2 and a half measurement certainly caught the eye of Draft Express, which wrote:
Harris' measurements have ranged anywhere from 6-4 to 6-6 with shoes over the years, so the combine measurement certainly comes as a disappointment for NBA teams and the Spartans shooting guard.
Whether it has any true impact on Harris' stock moving forward remains to be seen, but it will certainly be something to watch over the next month.
· One of the major questions Robinson was looking to answer going into Thursday was his shooting, which it appears took a major step forward per UMHoops:
One of the biggest questions facing Glenn Robinson III is how well he can shoot it at the next level. Robinson took a big step toward answering those questions when he shot 31-of-50 during the spot-up shooting portion of the NBA Draft Combine. Robinson's 31 made spot-up jumpers were best among small forward prospects. He was also 16-of-18 on off-the-dribble jumpers and was 25-of-39 when shooting on the move from 15-feet.
· Teams may be looking at Stauskas as a guard with the ability to play either position, which Ford wrote about after watching him in a workout last Tuesday:
While he wasn't a primary ballhandler at Michigan, he showed the ability to initiate the offense this past season. Based on what I saw in drills, I think he's got a chance to get into the conversation with Marcus Smart and Tyler Ennis. He isn't a pure point guard, but neither is Smart. And his ability to shoot off the bounce means he's going to have the ball in his hands a lot, regardless of what position he plays. We have Stauskas ranked No. 12 on our Big Board, and if teams are convinced that Stauskas can play some point, he could end up passing Ennis on draft night.
· Craft, who will get a shot at the NBA either via a late second round selection or a free agent contract, shot the ball well on Thursday. Per Eleven Warriors, he hit "55 of 102 (53.9 percent) shot attempts from NBA three-point range, college three-point range, 15 feet and the free throw line."
Filed to: Noah Vonleh