April on official visit: "They welcomed us in"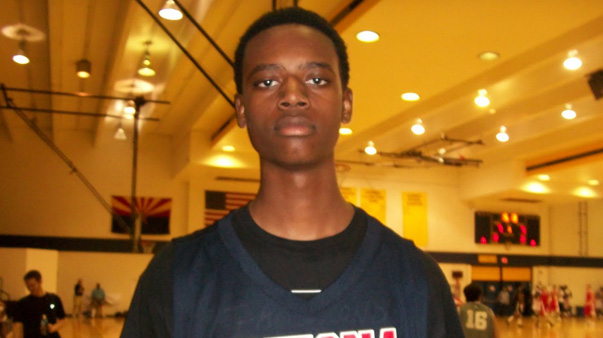 It didn't take long for future Indiana big man Jeremiah April to feel at home in Bloomington.
April, who made an official visit over the weekend to check out his college choice for the first time, said one of the highlights of his trip was the opportunity to get a feel for his future teammates.
"They welcomed us in," April told Inside the Hall on Monday evening. "We had some of the same things in common and we got along really well."
According to the Westwind Prep (Ariz.) center, he and Tim Priller, who was also making his first trip to Bloomington,  had a chance to go bowling and also go to the movies with several members of IU's team.
Both players were surprise commitments last month for the Hoosiers, who were in need of frontcourt help following the midseason transfer of Luke Fischer and Noah Vonleh's departure for the NBA.
One of the first things April got a chance to see upon his arrival was Assembly Hall, Indiana's historic arena and home to the largest student section in college basketball.
"It was great to see all of the history and tradition in there," April said. "When you step in, you just get a feeling of 'wow,' it's a pretty crazy feeling. It just makes you want to play there when you step in."
In addition to a tour of the basketball facilities, campus and meetings with the coaching staff, April was also able to work out with his future teammates in Cook Hall.
"It gave me a lot of confidence," he said. "I felt like I did pretty good. I felt pretty confident out there. I just want to come back, work and get better. Just having every thing there (in Cook Hall) makes you want to work hard."
Both April and Priller were checked out by an IU team physician while in Bloomington and were also measured for height, weight and wingspan. April said he came in at 6-foot-11 and 1/8 with a 7-foot-1 wingspan and weighed 230 pounds.
He said strength and conditioning coach Je'Ney Jackson gave him a good idea of what to expect upon his arrival on campus, which is scheduled for early June.
"Just work on my core work and flexibility," April said. "He gave us a little routine to do before we get back to Indiana so we'll be ready."
One of April's primary goals prior to his freshman season is to become more comfortable in the post and also to add some weight to prepare for the rigors of the nation's most physical conference.
"I think it will come with the weight training, but getting bigger, I probably need to put on 10 or 15 more pounds," he said. "Also becoming more physical. I'm pretty confident in my shooting, floor vision and passing. I just need to get used to being that down low presence at the next level."
Like Priller, April is unranked by all of the major recruiting services, but he isn't concerned with those who have questioned whether he can help Indiana next season. Instead, he's focused on what he can control, which is getting better.
"I definitely use it as motivation," April said. "I don't really pay too much attention to what people say, but it's out there, so I know."
Filed to: Jeremiah April