The Inside the Hall Mailbag: May 12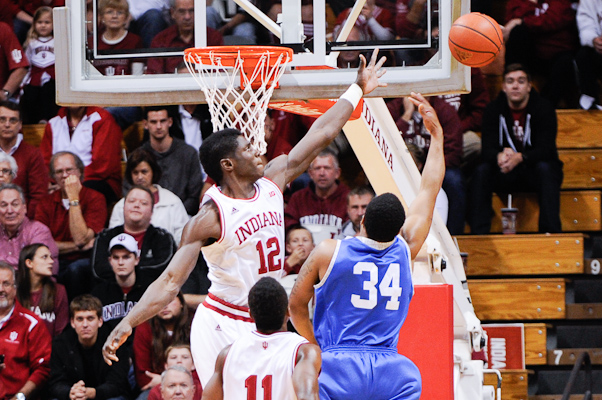 The Inside the Hall Mailbag is a collection of questions tweeted to us via Twitter (@insidethehall), submitted on our premium forum and sent to us via our Facebook page. Submit your questions and we'll answer as many as we can.
Millared on the premium forum writes: It seems to me the IU Nation is all in on Hanner Perea to be the main man in the middle next season. With Noah's departure, Luke's transfer and our recent inability to land another big, it's not like we have many options. I would like to hear ITH's take on HMP moving forward. What can we expect from him? Can he stay out of foul trouble? It sounds to me the jump we are hoping for is very Oladipo-ish. And I'm not sure if it's achievable.
The staying out of foul trouble piece is obviously huge given that Mosquera-Perea averaged 6.1 fouls per 40 minutes as a sophomore. At 6-foot-8 or maybe 6-foot-9, he's the closest thing Indiana has right now to a big man capable of making an impact. Davis obviously is another player to watch, but he's smaller and not someone you'd ideally want to use primarily at the five. The information I have on Jeremiah April and Tim Priller is obviously limited, but I'm going to assume they'll be behind Mosquera-Perea on the depth chart.
As for what we can expect, I'm not one for trying to project his numbers moving forward based on such a limited sample size. As a sophomore, he averaged just 7.7 minutes per game, so even if he jumps up to 15 or 20 per game, that's a significant leap forward. Expecting an Oladipo-ish jump isn't at all realistic, but Indiana certainly needs Mosquera-Perea to protect the rim reasonably well, finish plays around the rim and grow into a solid rebounder on both ends. He's not going to be a guy that you post up and throw the ball to with any regularity, so most of his points are going to come in either pick and roll situations or from offensive rebounds. — Alex Bozich
modar42 on the premium forum writes: Do we lead for any recruits in 2015 and if so who?
That's a tricky question and it may not be one that we can answer with any confidence until after the July evaluation periods. Very few kids come out and name a leader, so in most cases, you're just making an educated guess based on conversations with the recruit, his coaches or someone close to the recruitment.
Most recruits are going to say positive things about every school recruiting them, so one of the main things to look for is how often the recruit has been to campus. It's one thing to say a visit is planned, it's another to actually make it to campus and visit. May and June are typically a somewhat busy time for visits and obviously July is huge for making evaluations and uncovering new targets. Not to dodge the question, but the next couple of months should tell us quite a bit and don't forget that IU still has to name a successor for Kenny Johnson, who left for Louisville last month. — Alex Bozich
kmark22 on the premium forum writes: Looking at the recent 2016 recruiting updates it seems Indiana has hit the midwest hard, is the Midwest the new DMV? Did Kenny Johnson take the DMV with him?
The midwest appears to be pretty strong in 2016, so it makes sense to hit the area hard. I wouldn't jump to conclusions on anything with regards to the DMV just yet. It's an area ripe with top talent and no school is going to be able to "lock down" the area. Obviously Johnson was an asset there, but Indiana had success recruiting the area before he was added to the staff and I think you can expect to see the staff continue to recruit the area because there's talent to be had. — Alex Bozich
schoosier on the premium forum writes: Any idea of when IU's schedule might be out?
Typically the full schedule is released in August or September, which is typically just shortly after the Big Ten releases its schedule. The past few years, the non-conference games have trickled out over the summer as many of the schools that IU has faced in recent seasons have, in the past, released their schedules in June or July. We keep track of all of that information at this link as it becomes available. — Alex Bozich
townie12 on the premium forum writes: Any news on the (assistant) coaching search? Is it possible that the position will go unfilled next season?
There haven't been any notable updates to this point and I think Tom Crean is going to take his time and make sure he finds the right fit. The timing of Johnson's departure wasn't ideal because of its proximity to the only spring evaluation period, but it wouldn't have made sense to rush and make a hire just to have someone in place for that three-day period. There's no chance the position will go unfilled. — Alex Bozich
mcoghlan on the premium forum writes: Of the incoming freshman, who do you think will have the biggest immediate impact and who do you think will have the biggest long term impact?
I think the answer to both questions is the same: James Blackmon Jr. Not to take anything at all away from Robert Johnson because I believe he's going to be a fantastic player who is capable of becoming an All-Big Ten guy in Bloomington, but I think Blackmon Jr. will be an impact scorer and shooter from day one and I think he'll be around a couple of seasons at least. So I'd feel comfortable saying he'll have the biggest impact both immediately and long term. I think the summer will be important for Blackmon Jr. in that he'll need to improve his strength to prepare for the physicality of the Big Ten, but in terms of being able to score efficiently from day one, he'll have a huge impact. — Alex Bozich
jerad95 on the premium forum writes: What are your early thoughts about next season? Do you see an improved team that will move the ball better, shoot better and play better together or will our lack of height and interior inexperience on defense offset this?
That's a great question and on paper, IU should have fantastic perimeter play, but there are some serious question marks on the interior. The shooting should obviously be better with the additions of Blackmon Jr., Johnson and potentially Max Hoetzel, if he can work his way into the rotation. The turnover problem will need to be improved considerably, but Indiana is still going to need some type of production from its frontcourt. It doesn't necessarily need to be scoring, but defending without fouling and defensive rebounding are going to be crucial in determining just how good IU can be next season. — Alex Bozich
rmclelan on the premium forum writes: Who do you think best replaces the rebounding void with Noah Vonleh's departure to the NBA? Do you think it will be an individual effort on the parts of Hanner Perea, Troy Williams and Devin Davis, or will the team focus collectively on defensive rebounding? Do you think Indiana guards will effectively rebound the basketball to help offset any lack of consistent frontcourt rebounding next season?
I'm not sure Vonleh's rebounding void will be replaced. He was an elite rebounder who is going to be a top 10 pick in June's NBA draft. Collectively, all three of the guys you mentioned are going to have the opportunity to step up and fill some of the void and Mosquera-Perea and Davis are probably the keys to leading the effort, at least on the defensive glass.
Williams will actually be the leading returning rebounder on the roster and if he plays the four with any regularity, he's got a chance to average six or more per game with increased minutes. Additionally, Indiana is going to need guys like Johnson, Blackmon Jr., Stanford Robinson and Yogi Ferrell to get in there and mix it up on the boards. — Alex Bozich
tj21 on the premium forum writes: There seems to be a pattern that a few of the better players that are transferring do not visit IU prior to making a decision after expressing interest. We have seen a few of these, what is your take on this situation? Is it a situation or am I jumping to premature conclusions?
Every situation is different. With the transfer situations, Anthony Lee only took one visit (to Ohio State) after saying he would visit several schools. Many thought Ryan Anderson would head to Arizona to get closer to home after spending three seasons at Boston College, so it really wasn't a huge surprise that he didn't pick IU, but the way he canceled the visit was a bit of a curveball. I don't think either situation is anything to be concerned about. Obviously right now, fans are looking for good news as it's been a rough offseason and it's understandable that things like this get brought into question. What will be more interesting to watch is how IU's 2015 recruiting develops this fall. I think it's important for IU to get a couple of solid frontcourt commitments signed in November to solidify things in that regard moving forward. — Alex Bozich
NervousWreck on the premium forum writes: When can we expect the 2014 roster to be complete? Meaning, when's the likely deadline for when the last scholarship would be filled or unfilled with a new recruit?
It's hard to say for sure as there are obviously still players who are unsigned or potentially waiting on test scores still out there, but at this point, it seems like the roster is likely set. — Alex Bozich
@BlackMatt5 on Twitter writes: How crucial will Stan's development be this summer? I can easily see Robert Johnson and JBJ combined stealing his minutes.
It's a big summer for Robinson, as it is for everyone on the roster. He obviously needs to improve his shooting as he finished his freshman season at 60 percent from the foul line, 47.7 percent on 2s and 16.6 percent on 3s. The free throw numbers improved as the season moved along, but as a player who gets to the basket and gets fouled, you'd like to see the number rise to around 75 percent. The turnovers, too, are a concern as a turnover rate of 22 percent is clearly a number with room for improvement. Robinson also needs to continue to grow as a defender. If he does that, it's going to be hard to keep him off the floor. He already drew plenty of crucial defensive assignments as a freshman and I'd expect that to continue next season. — Alex Bozich
Filed to: Twitter Mailbag