Q & A: 2016 five-star IU target T.J. Leaf updates his recruitment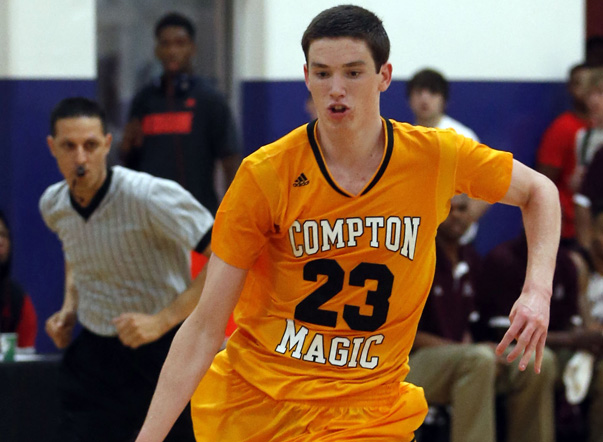 Back when Indiana first offered 6-foot-8 2016 forward T.J. Leaf in September 2013 during an unofficial visit, the young prospect just about to begin his sophomore year at Foothills Christian (California) High School said the offer from the Hoosiers would be "hard to say no to."
Since then, Leaf, who is nearing 6-foot-10, has visited Bloomington twice more — on Nov. 8 for the season opener against Chicago State, and again in January for the Big Ten home opener against Michigan State.
Inside the Hall spoke with Leaf late Thursday evening, as the No. 21 prospect in the 2016 class gave an update where things stand on his recruitment and continued improvement on the court:
On his sophomore year at Foothills Christian:
High school season went well. I'm a little disappointed with the end — we lost in the semis — but it was a good year. I played pretty well all year (he averaged 26.5 points, 12.6 rebounds, 7.3 assists, 3.8 blocks and 2.0 steals per game) and we had a pretty tough schedule, but overall I think it was a pretty good year.
On what he worked to improve on during the high school season:
I think just being able to be a straight wing — still being able to post up and everything — but being a wing, being able to handle, doing all the aspects of the wing position instead of being half and half. I can be a wing and still post up and get a smaller guy on me.
On what he hopes to achieve on the AAU circuit this summer:
I think just continuing to work on my strength, and then just quickness and dribbling are the most important things for me to start working on.
On how his growth continues to affect his game:
If you're 6-10 and you can dribble and shoot and all that, I think it puts that much more emphasis on your game and it's harder for a lot more people to guard you, obviously. I'm still growing, and sometimes your knees are bugging you a little bit, but I mean it's great all the time. I'm starting to get healthier, everything is going up.
On which schools are recruiting him the hardest right now:
Indiana, UCLA, Michigan, San Diego State, Cal, Arizona, a lot of other schools. Arizona State, that would be the majority.
On if he has any new offers to report:
Oregon and Arizona State, I think those are the only two.
On if he has any other visits planned:
I'm not sure. Something might come up, but at this point I'm not even sure.
On his thoughts about Indiana:
Obviously they have a great basketball program. They didn't have that good of a year this year, but they'll definitely be back on top of it this year, and if not this year then the next year, for sure. So I mean they're always going to be one of the top basketball programs. And I mean Bloomington, the whole area and the gym, everything, it's a really good experience out there.
On if he has a timeline for a decision:
No, I mean it could be a month, it could be a year and a half. I really have no clue.
On what he is looking for in a school:
I think a coach and a team that likes to get out on the court and run a little bit. A coach that's going to play me on the wing, someone that has a reputation of getting guys to the pros, obviously — because that's my ultimate goal — and somebody that can get you better while you're at that program. Somewhere that you can continue to get better and you don't peak — you just continue to get better and better the whole time.
(Photo credit: adidas)
Filed to: T.J. Leaf