Recruiting notebook: Multiple visitors on campus today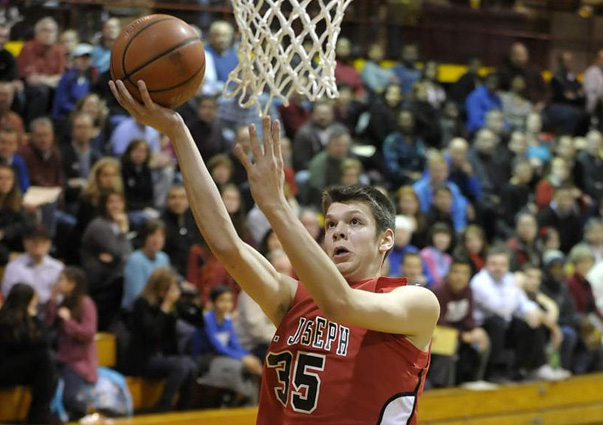 The spring semester is wrapping up this week in Bloomington, but recruiting continues as the Indiana coaching staff is expected to have several visitors on campus beginning today.
A class of 2015 prospect, Carmel guard Ryan Cline, and a class of 2016 big man, St. Joseph (Ill.) forward Nick Rakocevic (pictured), are both expected to take unofficial visits today.
Two future Hoosiers, center Jeremiah April and forward Tim Priller, are also expected to begin their official visits today and remain on campus until Saturday.
It will be the first trip to Bloomington for both players, who committed last month.
Priller has already signed his Letter of Intent with Indiana and April is expected to sign his this weekend, according to Westwind Prep (Ariz.) coach Jai Steadman.
Cline is expected to participate in open gym and recently picked up an offer from Purdue while Rakocevic, who has offers from Wisconsin, Miami (FL), Creighton and Illinois, told us over the weekend in Fort Wayne that he planned to be in Bloomington today.
West Virginia transfer drawing significant interest
West Virginia transfer Eron Harris, an Indianapolis native who was an All-Big 12 honorable mention selection as a sophomore, is drawing major interest after receiving his full release from the Mountaineers earlier this week.
Harris, who played at Lawrence North and for Indiana Elite, has interest from just about every high major school in the midwest, according to his former Indiana Elite coach Mike Fox.
The 6-foot-2 guard averaged 17.2 points, 3.5 rebounds and 1.6 assists per game as a sophomore, but will sit out the 2014-2015 season due to NCAA transfer rules. He will have two seasons of eligibility remaining.
UMHoops has a solid breakdown on Harris, including a shot chart showing off just how effective he was from the perimeter at West Virginia (42 percent on 3s).
Other notes
· Boston College transfer Ryan Anderson, who didn't make his scheduled visit to Indiana earlier this week because of finals, is currently on an official visit to Arizona. Anderson has already visited Iowa State.
· Indiana inquired about class of 2015 De Pere, Wisconsin guard Brevin Pritzl following his strong showing last weekend at the Spiece Run-N-Slam in Fort Wayne, according to Mark Miller.
· Both Rivals and Scout released their final class of 2014 rankings recently and James Blackmon Jr. remained a five-star prospect with Rivals at No. 22 overall. Blackmon Jr. is a four-star in the Scout rankings at No. 33 overall. Robert Johnson is a four-star according to both services coming in at No. 47 on Scout and No. 48 on Rivals.
· Class of 2016 Owensboro Apollo (Ky.) guard Eli Wright is expected to visit Indiana next month.
· Class of 2015 Temecula (Calif.) guard Justin Simon committed to Arizona on Monday. Simon, rated the No. 31 prospect nationally according to the 247Composite, was offered a scholarship by Indiana following the April evaluation period.
(Photo credit: Tracy Allen/For Sun-Times Media)
Filed to: Eron Harris, Jeremiah April, Nick Rakocevic, Ryan Cline, Tim Priller