Run-N-Slam Q & A: class of 2015 guard Jalen Coleman updates recruitment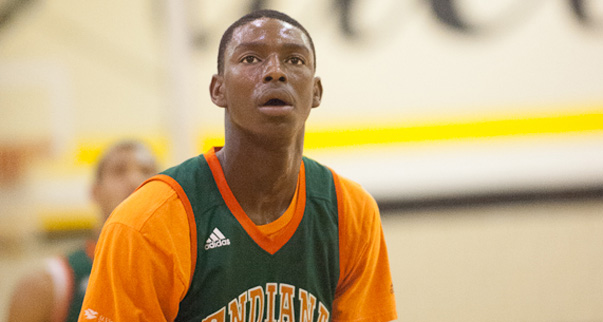 FORT WAYNE, Ind. — Jalen Coleman emerged as an Indiana recruiting target as a freshman and the Hoosier staff has continued to pursue the talented class of 2015 combo guard from La Lumiere Prep.
The 6-foot-3 Coleman is playing with All-Ohio Red this spring and summer and Inside the Hall caught up with him over the weekend at the Hensley Memorial Spiece Run-N-Slam at Spiece Fieldhouse for the latest on his recruitment:
On the schools expressing the most interest right now:
IU, Purdue, N.C. State, Providence, UCLA, Arizona, Michigan, Michigan State, all of the Big Ten.
On his high school season at La Lumiere:
It went well. Our team played throughout the season, we improved. I feel like statistically, we improved also. That's always a good sign.
On how different it was from playing at Cathedral:
It's a higher level. We played against the best in the country. It's as close as you can get to college. Basically, it was a good transition for me. It made it a little bit more difficult, but that's the reason why I went there.
On being away from home:
You've got to get adjusted to that, but it's just like college and that's the reason why I went down there to make it easier for my transition from high school to college.
On which schools are trying to recruit him the hardest:
I would say I'm more easily accessible to schools that I'm closer to like Notre Dame and places like that just as I was in Indianapolis to IU.
On what he's trying to improve during the spring and summer:
Just seeing the floor better, IQ increasing and I'm still working to stay consistent with my shot and being more versatile. Driving to the rim and being harder to guard.
On whether he has a timeline for narrowing his list:
No, I don't have a timeline. I haven't had too much time to go back and home and talk about it with my parents.
On when he'll talk with his parents:
This summer I'll probably think more about it and it'll be a lot more organized.
On whether he noticed which schools were watching him during the April evaluation period:
I didn't really notice. When you're in a game, you're focused on that.
On Illinois:
Coach (John) Groce, coach (Jamall) Walker, great coaching staff. I like their players and everyone around them. I feel like that would be an easy transition as far as having a family-like coaching staff.
On Michigan:
I talk to Michigan and it's a great school, great academic school. I feel like that would be an easy transition because they have great academics, great basketball, player development. They're one of the best schools for the last five years, ten years, like statistics wise that shows they improve in all aspects, so I like that.
On Indiana's recruiting message and the Hoosiers being the first offer he received as a freshman:
I always take that into consideration, the fact that they were the first school to offer and trusted in my development, trusted me as a kid first. That means a lot from a coaching staff to a player, to a kid at the time. They've watched me develop and that means a lot.
On what he likes about Tom Crean:
He's so easy to talk to. He's definitely a person I could see myself playing for. He's a great coach, great development. They've got players that go to the league and some of their players finish (school) in three years. There are pros and cons to all schools.
Filed to: Jalen Coleman