The Inside the Hall Mailbag: April 24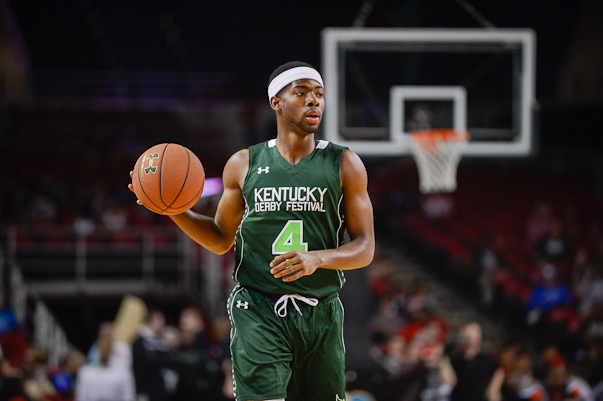 The Inside the Hall Mailbag is a collection of questions tweeted to us via Twitter (@insidethehall), submitted on our premium forum and sent to us via our Facebook page. Submit your questions and we'll answer as many as we can.
@AllDay_Ambrose6 on Twitter writes: With our top recruits all having a 3-point shot, which we lacked last year, where do you see all three of them fitting into the rotation?
I see James Blackmon Jr. sliding into the starting lineup immediately and I can also see Robert Johnson pushing Stanford Robinson for a starting spot. Blackmon Jr. can flat out score and his arrival is going to take some of the pressure off of Yogi Ferrell. Johnson can help some at both guard spots, but he is also wired to score, so if he's making shots consistently and playing defense, he'll also be hard to keep off the floor.
Max Hoetzel is much harder to judge at this point because I've only seen him live in an all-star setting where very little defense was being played. Right now, IU has 11 scholarship players for next season and the health of Collin Hartman is something we won't know much about until the fall. Hoetzel has a great attitude, believes he belongs and can make perimeter shots. I think that bodes well for him challenging for some early minutes, but it's too early to say how many at this point. — Alex Bozich
Real Assembly Hall on the premium forum writes: Will any of the games played on the Montreal trip be televised or streamed? Could this trip be considered a dual effort of getting pre season experience in, and also establishing a presence to create an avenue for future recruiting in Canada?
I can't answer whether anything will be televised or streamed. The only details we've got at this point, via reports from Jeff Rabjohns and Zach Osterman, are that IU is going to Montreal in August. I imagine that full details would be announced once all of the plans are finalized. I would be surprised to see any television or streaming coverage, though.
As far as the question of it being a dual effort, I think it's a lot more about getting the preseason experiences in and more importantly, the practices that accompany it. Obviously, if it can help expand the IU brand in the area, that's great, but this is about the experience for what will once again be a young team that needs it. — Alex Bozich
HoosierFan76 on the premium forum writes: With Kenny Johnson leaving, who do you think are the most likely guys on the list of candidates to replace him?
Going back to when Kenny Johnson was hired, no one really had him on any candidate lists and I'm going to assume that Tom Crean is going to take his time with this hire, as he should. Here's why: Off campus recruiting ends until July after this weekend, which is the only spring evaluation period for recruiting. It's obviously not practical to have someone in place for this weekend, so IU will likely have director of basketball operation Rob Judson on the road in Johnson's absence to do evaluations.
After this weekend, IU can still contact recruits and host prospects for visits, but there's obviously a window in which to find a capable replacement before July recruiting begins. I'm sure names will surface, but it's way too early in the process to even speculate where things are headed and if the search is anything like the one that yielded Johnson, it may not even be someone on the radar at this point. — Alex Bozich
schoosier on the premium forum writes: When do you see this incoming class arriving in Bloomington and what is their immediate training regime when they get there? (Classes, pick up games, weight training, etc) Individual programs or team stuff?
Both Hoetzel and Johnson said they'd be in Bloomington around June 17, which will allow them to attend classes in the second summer session. I assume the timeline would be similar for Blackmon Jr. and Jeremiah April.
As for the regimen when they arrive, they'll work out with other teammates, get started on strength and conditioning with Je'Ney Jackson and also be able to work out with coaches for a set period of time each week. — Alex Bozich
tj21 on the premium forum writes: What is your view of the chemistry of how this years freshmen will fit into the mix? It seemed to be an underlying current last year. Is this fixed, have you seen any indication its improved? Seeing some of the team at the Derby Classic was a good sign to me, what is your opinion?
From what I know about Blackmon Jr., Hoetzel and Johnson, I don't see any of them having an issue of fitting into the mix. I'm also not sure chemistry was a major issue last season. Any time a team doesn't meet expectations, that's one of the first things that will be examined, but I didn't really see any major warning signs that something was really off. I'll caveat that by saying that IU's on court communication wasn't nearly where it needed to be last season, so if that's what you were referencing in terms of chemistry, I can certainly see the argument.
It's always a good sign when you see current players showing up at an event to watch future teammates. In the case you are referencing, Robinson and Troy Williams made the trip to Louisville last Friday to watch Hoetzel and Johnson at the Derby Festival Basketball Classic, an event they played in last year. I think anytime players can get to know each other well away from basketball and build strong bonds, it's something that can carry over to the floor. — Alex Bozich
@bradton23 on Twitter writes: Any update on when Josh Cunningham will be announcing? Everything pointed to early this week.
I've heard nothing concrete and judging by the number of times this decision has been changed or delayed, this may just be a case where everyone has to take a wait and see approach. The schools you hear mentioned the most with Cunningham right now besides IU are Bradley, St. John's and South Carolina. The latter two are his most recent visits. — Alex Bozich
@DrB365 on Twitter writes: Will Peter Jurkin become a contributor this season, and if not does that say more about him or coaching development of him?
Unless he's healthy, which he hasn't been so far during his time in Bloomington, the safe answer to this question is no. I don't think it says anything about coaching development if a player is hurt and can't play nor do I think it says much about the player. Jurkin has had leg issues going back to high school and unless he's healthy, he's not going to be a factor on the floor. — Alex Bozich
Olde Hoosier on the premium forum writes: Who do you think our starting five will be and who will become the sixth man?
Let me preface this by saying that it's late April and we're not even sure if the roster as it currently stands is going to be IU's roster for next season. Now that we've got that out of the way, I'll go with Ferrell, Blackmon Jr., Robinson, Williams and Hanner Mosquera-Perea with Johnson as the sixth man. Right now, that's how I see it. Given that we're nearly six months from IU playing a game that counts on its record for next season, I'm going to reserve my right to change prediction this in a future mailbag. — Alex Bozich
@mgdoss79 on Twitter writes: Do you think Jeremiah April will make an impact next season and if not can Hanner be the guy we need him to be?
I can't speak to what IU fans can expect out of April because I've never seen him play. All I have to go by are the comments of his high school coach, which were mostly positive and the national recruiting services, which don't have him ranked.
As for Mosquera-Perea, I think his offseason might be the most pivotal of any player on the roster. He's not a true five, but he's likely going to have to guard that position next season in Bloomington. For me, there are three major areas where he needs to show improvement. First, and most importantly, he needs to be able to defend without fouling. In limited minutes last season, he committed 6.1 fouls per 40 minutes. That number needs to be at four or less, in my opinion. Second, Mosquera-Perea had a turnover percentage of 25.7. For a player that IU only needs to catch the ball and finish plays, that's simply too high. Third, Mosquera-Perea's instincts and feel for the game have to get better. This comes from living in the gym. His athletic talent is undeniable, but the best players in any program live in the gym and dedicate themselves to constant improvement. — Alex Bozich
Filed to: Twitter Mailbag