Q & A: Class of 2016 guard Kyle Guy talks recruiting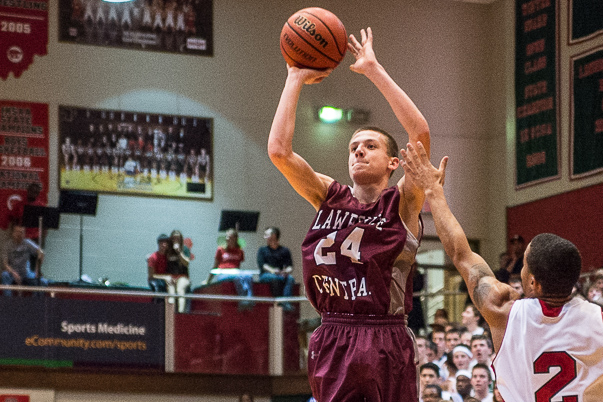 INDIANAPOLIS — 6-foot-2 guard Kyle Guy isn't hesitant to challenge himself.
As a sophomore at Lawrence Central, he dealt with double teams and face-guarding all season. Just two weeks ago, it was revealed he would be leaving his former AAU team to join Indiana Elite 2015 and play a more competitive, national schedule.
This past Saturday, Inside the Hall caught up with Guy, the No. 76 player nationally in his class according to the 247Composite, at the Indyball Shootout after his first two games with his new team. Guy spoke about his new AAU team, his recruitment and one part of his game not many people know about:
With it being your first couple of games with Indiana Elite, how do you think they went?
I thought we played really, really well, especially the first game. We looked really good together, offense was looking really smooth. Second game we got a little out of sorts with the other team playing really aggressive, but I thought we handled it really well.
Why did you decide to move to Indiana Elite?
I always try to play with the best and against the best, especially against the best. And this team plays a hell of a schedule, and they're one of the best teams in the country, so I just felt like this was right spot for me.
Having just finished your sophomore season at Lawrence Central, how do you feel that went?
I'm probably never satisfied just because I know I can always get better. I'm always working to improve and I played really well because I felt there's a target on my back this year — I had a lot of double-teams and face-guarding and whatnot. But I thought I handled it pretty well.
How has your recruitment been going, as well?
It's been good. Really good. I call coaches weekly; try to at least. There's a couple new schools in the picture: Memphis, Vanderbilt and Oregon.
Have those new schools offered yet?
They have not offered yet. My only offers right now are Indiana, Indiana State and Purdue.
What were your thoughts on how Indiana's season went?
I thought Tom Crean did pretty good. He got them back on the map. But I thought he did very well and the team did very well.
Where do the Hoosiers fit into the overall picture of your recruitment?
Same as every other school. They all have the same chance.
What attribute about your game do you value most?
I'll never get out-worked. I've got a bigger heart than anybody.
And what do you feel you do particularly well on the court? What do you need to work on most? 
I always improve on every aspect of my game, there's not one spot besides probably lifting a little bit. My frame's just not — I can't gain weight like that, but I'll get there. But definitely my pull-up jumper and the way I see the floor are some of my strongest attributes.
Last question, what is one thing not many people know about you?
I've dunked on six people. 6-5 being the tallest. No 7-footers, but I'm getting there.
Filed to: Kyle Guy