"Lethal" Wilkes shows off versatility at Indyball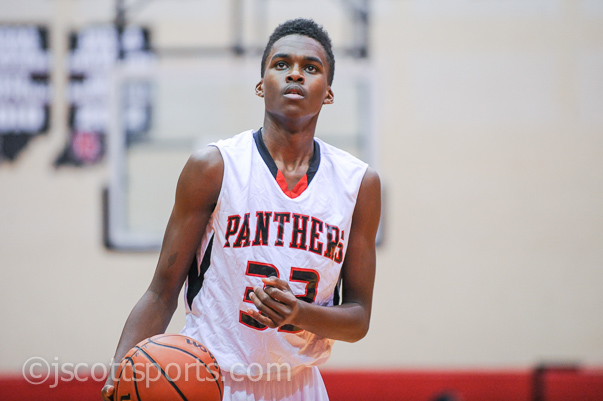 INDIANAPOLIS — Long before Kris Wilkes played his first high school game at North Central, in August 2013, the current freshman received a scholarship offer to play basketball at Indiana. His AAU coach, Mike Peterson of Indy Hoosiers, called him "lethal."
And that translated to the high school game in his first season with the Panthers. There, the 6-foot-7 (and nearing 6-foot-8) forward was second on the team in scoring with 9.4 points per game and also recorded 3.3 rebounds per game, per MaxPreps.
Now, his first high school season is complete and the No. 14 prospect in the 2017 class (according to the Future150) is back playing with the Indy Hoosiers. Inside the Hall caught up with Wilkes on Saturday at the Indyball Shootout, the first AAU tournament of the season, after they defeated Circle City Elite by a 73-34 score in a pool play game at North Central. Wilkes finished with 20 points and 12 rebounds.
"I felt really good," Wilkes said. "I felt like a lot of things were going my way."
For Wilkes, though, basketball is just part of the equation as to what makes him unique. It's not just his athleticism that causes people to rise from their seats in anticipation of an alley-oop dunk. It's not just his ever-improving jump shot. Wilkes said he takes pride in his school work. He said he has well over a 3.0 GPA.
And on top of all of that, he also is in his school's orchestra.
"I play the bass," he noted.
Colleges began to take notice early on. Michigan, Purdue, Xavier and Kentucky have all been in touch with him, Wilkes said. But as of right now, Wilkes has one offer: Indiana.
Wilkes visited Indiana multiple times over the course of the 2013-2014 season. And even though he realizes it's early in the process, he said Indiana is in his top five. "Easily," he added.
"It's a good atmosphere," Wilkes said. "I like the crowd, I like how they all come to the games and support them. It's a good environment."
It's no coincidence Wilkes is getting so much attention early. Throughout the weekend, he showed off his upside that should translate to more interest as the spring and summer move along. For those who don't know much about Wilkes, the "lethal" tag fits quite well.
"I just try to let the game flow to me," he said. "I try to help my team out, get rebounds. I try to score when I know I can and I'm working on my jump shot. And I like helping my team out by being a team leader.
"Whatever it takes for us to win."
Filed to: Kris Wilkes