Boston College transfer Ryan Anderson to visit Indiana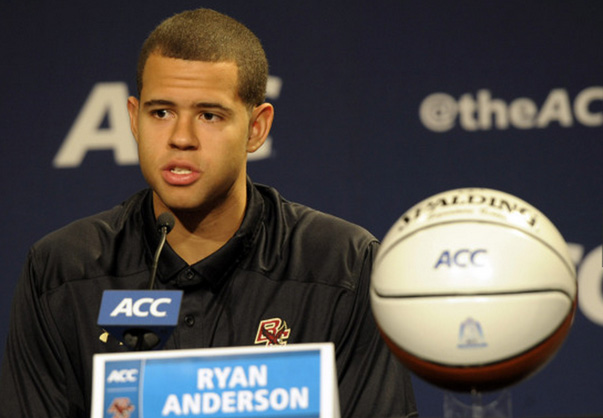 Boston College transfer Ryan Anderson will visit Indiana on May 5, he announced today on Twitter.
The 6-foot-9, 216 pound forward, who averaged 14.3 points, 7.3 rebounds and 1.4 assists per game as a junior, has one year of eligibility remaining, but is expected to sit out the 2014-2015 season and play his final year in 2015-2016.
Per reports, Anderson is expected to have right shoulder surgery on Tuesday and then be out for four to six months.
"For everybody asking, I'm sitting out a year to get healthy and stronger then I will play the following year," Anderson said April 8 on Twitter.
Anderson is also expected to visit Iowa State (May 2) and Arizona (May 8). He is a native of Lakewood, California.
I would be happy at any of these schools!! Order doesn't matter but here are my visits… May 2- Iowa state May 5- Indiana May 8- Arizona

— Ryan Anderson (@_AndersonBC12) April 14, 2014
(Photo credit: Sam Sharpe-USA TODAY Sports)
Filed to: Ryan Anderson