On Selection Sunday, Indiana awaits word on NIT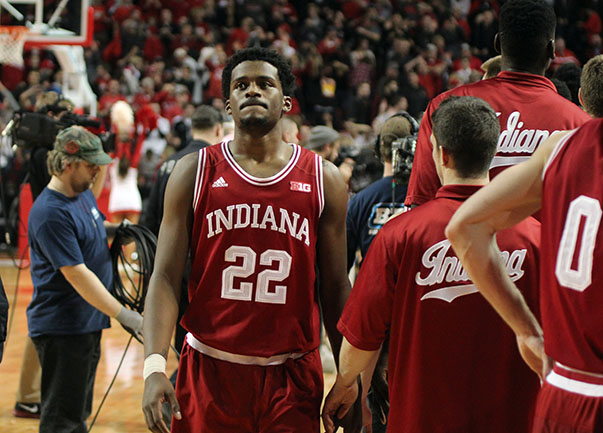 A year ago today, Indiana was preparing to play Wisconsin in the semifinals of the Big Ten tournament at the United Center in Chicago. The Hoosiers were a lock for a No. 1 seed in the NCAA tournament after winning the Big Ten outright for the first time in 20 years.
Today, Indiana, picked to finish no worse than sixth in the Big Ten back in September and ranked No. 24 in the preseason coaches poll, may be on the outside looking in for a bid to the National Invitational Tournament
Even with 17 wins, including four over ranked opponents, the Hoosiers may be left out of the NIT.
That was an unthinkable scenario a couple of weeks ago after IU knocked off Iowa and Ohio State at home, but after dropping its final three games, Indiana is no longer a lock for inclusion.
As regular season conference champions continue to fall in conference tournaments, the number of at-large NIT bids continues to shrink.
As of Saturday, one NIT projection at the Bracket Matrix included Indiana while another, compiled by NYC Buckets, did not.
In the aftermath of Thursday's loss to Illinois in the Big Ten tournament in Indianapolis, Indiana's players and Tom Crean both expressed a desire to continue playing despite a disappointing season.
"We're not going to back to the NCAA tournament but I think we still can finish our season strong," redshirt sophomore Austin Etherington said on Thursday.
Whether or not IU makes the NIT, a critical offseason looms in Bloomington.
And in the days since IU's loss to Illinois, it hasn't been off to a positive start as Yahoo! Sports reported that freshman Noah Vonleh is leaning toward leaving early for the NBA and Collin Hartman suffered a torn ACL in a workout on Saturday.
The coming weeks and months will tell the story of the roster Indiana will have going into the 2014-2015 season.
The Hoosiers will welcome a pair of elite backcourt talents in James Blackmon Jr. and Robert Johnson to pair with Yogi Ferrell, one of the top players in the Big Ten.
The frontcourt situation, assuming the reports of Vonleh's departure are accurate, is less certain as Hanner Mosquera-Perea and Peter Jurkin would be the only two players on the roster listed at 6-foot-9 or taller.
But before anything else plays out, Indiana will await its postseason fate tonight at 8:30 p.m. ET on ESPNU when the NIT field is announced.
"I hope we get to continue to play," Crean said. "It would be an honor to keep playing. And I'd like to see us continuing to get better."
Filed to: National Invitational Tournament