Hoosiers' "roller-coaster" season stagnates in loss to Illini in Big Ten tournament opener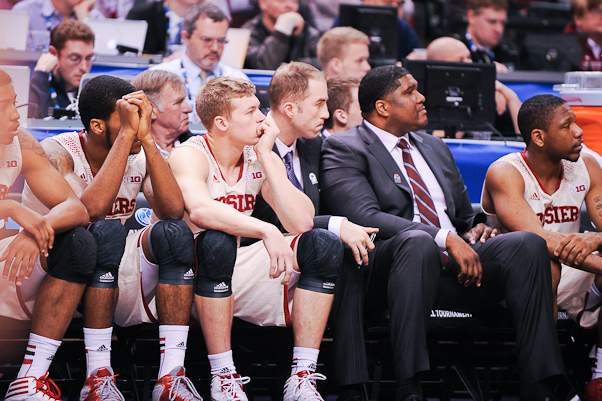 INDIANAPOLIS — Noah Vonleh sat in his locker with his head slumped. Troy Williams, sitting next to him, held his hands together and rarely looked up. Plenty of their teammates were doing the same. They were defeated.
Just minutes earlier, the Hoosiers were in the midst of a battle with Illinois in the opening round of the Big Ten tournament with the game within one point. The Illini (19-13, 7-11) won, 64-54, ending the Hoosiers' (17-15, 7-11) remaining hopes of an NCAA tournament bid.
The mood in the locker room was silent, deflated, but they heard celebrations from across the hall. It was Illinois, celebrating its win over the Hoosiers.
"It's frustrating," senior Will Sheehey said. "Obviously we know that we're capable of winning these games, but we've got to work hard to do that."
The theme of the game was all too familiar: turnovers prove costly, and a second-half collapse costs the Hoosiers.
From the start — their first two possessions — Indiana turned the ball over. It finished with 16.
It struggled getting its post presence established — it finished with two first-half points in the paint and allowed the Illini to rebound 30 percent of their misses in the 40 minutes of game time.
But the Hoosiers were in the game, trailing by just two points at halftime — a 30-28 score. And they started the second half on a 10-3 run, as well.
"We just had to make sure we got stops on defense," Sheehey said. "We started getting good shots later on, but it all starts with defense."
And then Indiana stagnated.
Though the Illini didn't do anything different on defense, Sheehey noted, they didn't have enough ball movement to attack their zone. They went 0-for-7 for a 4:14 span after leading 38-33 at the 13:53 mark of the second half. They trailed 47-40. But Indiana came back once again, the score at 53-52, Illinois, with 3:13 left.
The following possession, Illinois' Rayvonte Rice missed a layup. At the other end, Nnanna Egwu blocked a Noah Vonleh jumper. Tracy Abrams, who already had 16 points, was left wide open for a 3-pointer from the left wing. He drained it.
Indiana would respond with a missed Austin Etherington 3-pointer from the right baseline and fouled Abrams on the following possession. After he made both free throws for his 20th and 21st points of the night, the game was out of reach.
"Once we got late into the second half we forced shots," Williams said. "You've just got to be more smart about that."
And the Hoosiers retreated to their locker room, once again bombarded by the same questions they had faced all season.
Was it inconsistency? Yes. What went wrong? They got quiet. Did they give their best effort against the Illini? According to sophomore Yogi Ferrell, that answer is no.
And perhaps just that is the main cause for frustration for the Hoosiers, which, as Ferrell said, have had a "roller coaster" of a season.
"Maybe we just don't know how to overcome adversity," he said.
"Bottom line is we can play better," Indiana coach Tom Crean said in his press conference. "You have to match the toughness and the competitive spirit every time that you play."
With Thursday's loss to the Illini, the Hoosiers have to wait until Sunday to find out which postseason tournament awaits. And it's clear, now, it won't be the NCAA tournament.
As far as whether the Hoosiers think they can come out prepared for the NIT, though, if they are invited?
"I don't think it will be hard to get motivated," Ferrell said. "I think a lot of these guys feel like they didn't give their all today, so we want another shot at it."
Vonleh not talking NBA draft decision
After the loss, Vonleh was asked if he has given any thought to entering the 2014 NBA draft, in which he is projected to be a top-10 pick.
Vonleh shrugged the question off, saying that he did not want to talk about the subject.
He finished Thursday's game with just six points and five rebounds in 32 minutes of action.
Filed to: 2014 Big Ten tournament