Notes, quotes from Crean on Big Ten coaches teleconference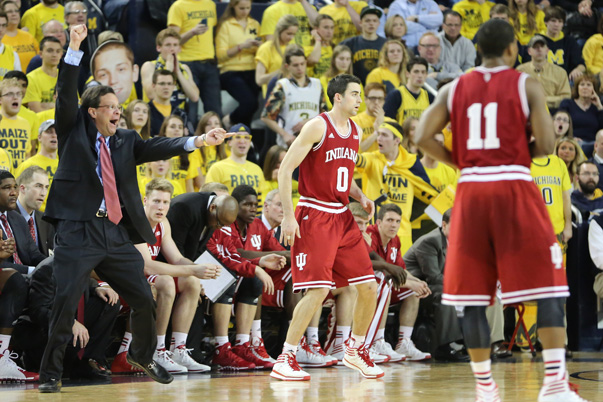 The Big Ten held its weekly coaches teleconference on Monday morning to review the final week of conference play and to look ahead to this week's Big Ten tournament at Bankers Life Fieldhouse in Indianapolis.
Here are some notes and quotes from Tom Crean's appearance:
· Prior to the call, the conference announced that Indiana's Troy Williams was named the league's freshman of the week and Nebraska's Shavon Shields and Michigan's Nik Stauskas were named the league's co-players of the week.
· Opening comments: "We're getting ready right now full-tilt for Illinois. We have great respect for them and really, with the exception of their game with Michigan last week, they have been playing great basketball over the last month. I don't think there's any question that they are playing with excellent confidence. Their defense is at a high level and they are really, really playing with tremendous energy. We're going to have our work cut out for us at any point in time with anybody in this league, but certainly going into this game, we have great respect for what they are doing and how they are progressing and that's where we sit."
· On what Illinois is doing so well on the defensive end towards the end of the season: "I think they are just trying to control tempo. They are much like Ohio State in that they create a lot of turnovers with the way if you're loose with the basketball. If you drive it into traffic, they make you pay for that. They are very strong defensively. They are opportunistic with their running game. The bottom line is that they are making it hard for you to get good looks and they expose you if you over-handle. And they are rebounding at a high rate. Those are the things that stand out the most to me."
· On preparing your younger players for the format of the Big Ten tournament: "I don't think you do a lot of things differently. You are really building up for these points with where their bodies are at and keeping it as fresh as possible. The most important thing is that you don't ever look ahead. It doesn't really matter what team you have going in. If you look ahead to day two, you could be done on day one and you don't want any part of that. You have to be so locked into what is in front of you.
"So everything for us is totally get ourselves better and get ready to play Illinois. Then, in the short turnaround like that, if you're successful, then you are just looking at making sure that you go back and remind your guys of certain things. The most important thing is that you get better during the week, that your individual improvement is as strong as your team improvement. You stay focused with that and that you put everything into the team that you're playing because that's what the season is like. So I don't think we'd get away from that at all no matter what time it is."
· On relying on Will Sheehey to guide the team through stretch of Big Ten tournament games: "I think you do that. But I think it's all in how you have your format. We do a lot of walk-throughs, which is really what this time of year becomes more of if you're in a tournament setting, because there's so little practice time. But certainly you want that and Will's leadership is something that they need no matter what. They need it from Yogi (Ferrell) and guys that are playing significant minutes and that have been in that situation. But the most important thing right now is that no matter what is being said, the major thing is is this team locked in to what they need to do to be better. You follow game plans. You stay locked in to the couple of different things on both ends of the court that are imperative for your team that you're playing. The most important things is that there's a strong intensity, that it's a really good environment conducive to getting better and, at the same time, that it's competitive. That's what your focus is on more than any one individual or any one aspect of it."
· On what has sparked Illinois's end-of-season surge: "I think the game at Penn State really got them in a good spot because they changed the lineup and some of the younger guys like Kendrick Nunn and Malcolm Hill came in and did a fantastic job.
"Kendrick Nunn is playing outstanding. For a guy that people at the beginning of the Big Ten season may not have been as locked into, I think you are now. I don't think there's any question about that. But at the same time, guys like Rayvonte Rice, Tracy Abrams, (Nnanna) Egwu, (Joseph) Bertrand, (Jon) Ekey, the leaders of their team, are playing at a pretty good level too. So I think the bottom line is they know how to win. They know what it takes to win. They know what their defense is capable of. They're getting good shots. Kendrick Nunn, with more minutes, provides just a little bit more explosiveness to their game that creates things for other people. The way he plays is he is a very, very high-energy type of player and a lot of similarities, in my mind, to Victor Oladipo. Kendrick's offense is ahead of where Victor's was at the same age. No question about it. Bottom line, they just keep improving just like everybody else in this league is trying to do."
· On what has stood out with Troy Williams's offense in recent games: "I think he is just letting the game come to him. He's attacking the basket and his footwork is good right now, which is the most important thing, because it's usually very good in practice but sometimes he gets sped up a little bit in the games. He's doing a good job without the basketball, which is really important. I think the key is that he continues to not try to take the ball into traffic and try to make something happen that's not there but to look for the ball, to move well without the ball, to use the entire court.
"He's a guy that can run the floor at a high level. He's a guy that can play out of the corners and the wings. He's getting better at handling the ball. I think that's the most important thing. He's getting better because his skill level continues to go up because of his work ethic. I think that's the one thing that's really jumped. He is spending more and more time on the court away from practice and getting better that way, which I think is really important. He's got a really good spirit and he's gaining confidence all the time and we hope it can keep up the rest of the season."
Filed to: Illinois Fighting Illini, Tom Crean, Troy Williams