The Minute After: Michigan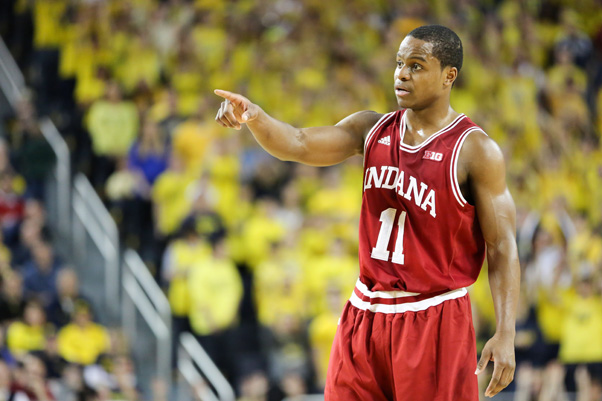 Thoughts on an 84-80 loss to the Wolverines:
In their final Big Ten contest of the 2013-2014 season, Indiana showed exactly what it was this year: A talented, yet flawed team that just never showed enough consistency to make it to the Big Dance as an at-large squad.
Indiana's offense was terrific in this one. John Beilein never tossed a packed 2-3 zone at the Hoosiers, and so Indiana was able to play with confidence and to its strengths. It was easier for Yogi Ferrell to move around in the half court. He scored at the rim and from beyond the arc (4-of-8) and the attention he drew helped him set up his teammates (eight assists, tied for a season high) en route to 16 points. Troy Williams and Will Sheehey cut off the ball for scores as Ferrell found them. Sheehey chipped in two from distance for six of his 17 points, as IU shot 38.9 percent from 3-point range. Williams had a number of highlight dunks, none more emphatic than a first half slam over Jordan Morgan. He finished with 16 points. It was another strong game for the freshman, adding to his late-season offensive surge.
Stanford Robinson, who's struggled at the line this season, hit all nine of his attempts for most of his 13 points. The Hoosiers notched an effective field goal percentage of 66.3 percent and scored 1.21 points per possession. In most games, this is enough to grab a victory. But Indiana also did what it's done pretty much all season: turn the ball over in wild, silly ways. After just three turnovers in the first half, the Hoosiers coughed it up 12 times in the second half and ended the game with a 22.7 turnover percentage. There were bad passes, poor dribbles, travels — no good, horrible decisions abound. They played too fast and without poise.
It allowed the Wolverines, who, don't forget, own the top offense in the conference, to come roaring back from their six-point halftime deficit to punch a lead out to 11 with 4:55 to go. It seemed they would run away winning this one. But Indiana never turned the ball over during the final five minutes as the offense continued to hum. A Stanford Robinson score tied it up at 75-all with 1:29 to go. But on the Wolverines' ensuing possession, Nik Stauskas, who was much more effective in this one (21 points), broke down the defense, got Devin Davis to commit and stop his drive to the rim. This left Glen Robinson III open in the corner. He splashed the trey to put Michigan up three. Indiana would get within two after a Noah Vonleh 3-pointer with six seconds to go, but Stauskas sealed it with two late free throws.
Michigan scored 23 points off Indiana's turnovers — 18 of which came in the second half — and notched 15 off second-chance opportunities by rebounding 34.5 percent of its misses. It also had a strong offensive performance as it ended the contest with 1.32 points per possession.
It was all just enough to sneak by the Hoosiers as the confetti rained and the nets were cut down.
Filed to: Michigan Wolverines