What to Expect: Michigan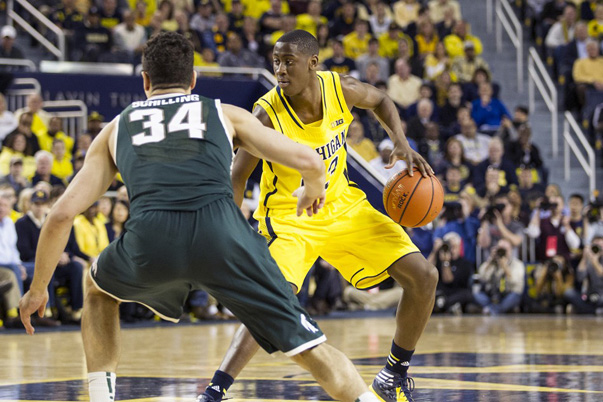 Indiana closes out the regular season with a trip to Michigan, which clinched its first outright Big Ten championship since 1986 on Tuesday with a relentless beatdown of Illinois in Champaign. The Wolverines are 22-7 overall, 15-3 in the conference and are ranked No. 12 in the latest Associated Press top 25 poll.
The game will be broadcast at 6 p.m. ET on ESPN and on the IU radio network:
As I wrote recently in the premium forum, Indiana's up and down season can be summed up perfectly by this fact: The Hoosiers are 4-1 against Michigan, Iowa, Wisconsin and Ohio State and 2-4 against Penn State, Northwestern and Nebraska.
At their best, Indiana can play with anyone in the conference and at its worst, it can lose at home to Penn State and Northwestern. Chalk it up to youth, turnovers, poor shooting and offensive play, an inability to close out second half leads or a variety of other theories that have been tossed around throughout the season, but 30 games in, Indiana has been defined by inconsistency.
Saturday's opponent Michigan, which Indiana has beaten four of its last five tries, will be looking to avenge its first conference loss back in early February and a painful home loss a season ago that cost the Wolverines (and two other teams) a shared Big Ten title with the Hoosiers. So while it may seem like there isn't as much to play for on both sides after Michigan wrapped up the Big Ten title earlier in the week and the Hoosiers saw their at-large hopes fade away with Wednesday's loss to Nebraska, the revenge factor could certainly be prevalent.
PERSONNEL
Michigan's season looked to be heading in the wrong direction after preseason All-American Mitch McGary was ruled out indefinitely with a back injury following the Stanford game (he didn't play) on Dec. 21, but the Wolverines responded by reeling off 10 straight wins before falling 63-52 in Bloomington on Feb. 2.
In fact, there was little drama in the Big Ten race this season because Michigan was the best team from start to finish. While McGary and Glenn Robinson were the recipients of much of the preseason praise, sophomore Nik Stauskas is the engine that makes the Wolverines go. He'll be the Big Ten player of the year when the awards are announced next week and for good reason: He's averaging 16.8 points with an effective field goal percentage of 60.5 in Big Ten games. Stauskas has never played particularly well against Indiana, but he's been a nightmare for the rest of the conference.
Sophomore Caris LeVert isn't given the recognition nationally that he deserves, but his 13.6 points, 4.7 rebounds and 2.8 assists per game in league play all rank second on the team. His emergence has been a major storyline in Michigan's run to the league title. Freshman Zak Irvin plays behind LeVert and Stauskas and can fill it up from the perimeter (43.1 percent in Big Ten games on 3s).
It's been a bit of a disappointing sophomore season for Glenn Robinson III, who probably cost himself a lot of money by choosing to return to school when he was likely to be a mid-first round NBA draft pick last June. Robinson III has yet to develop a consistent perimeter game (21.4 percent on 3s in Big Ten games) and given his athleticism, there's really no reason that he should be fourth on Michigan in total rebounds in league play.
Freshman point guard Derrick Walton has started 16 of 17 conference games and is making 45.5 percent of his 3s and 80 percent of his free throws with an assist to turnover ratio of more than 2-to-1. Sophomore Spike Albrecht serves as his backup and is hitting 37 percent of his 3s in Big Ten games. More than 67 percent of Albrecht's shot attempts come from behind the 3-point line.
Up front, senior Jordan Morgan and junior Jon Horford have filled in admirably in McGary's absence. Morgan's stats have never been gaudy, but he's a solid defender and rebounder (19.5 DR% in Big Ten). Morgan is making 71.4 percent of his 2s in league play. Horford is the Big Ten's best defensive rebounder from a percentage standpoint (27.1) and like Morgan, makes the most of his limited offensive opportunities (68 percent on 2s).
TEMPO-FREE PREVIEW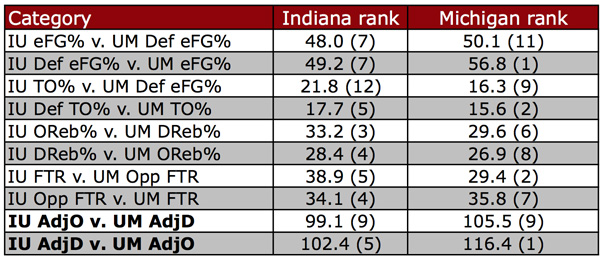 Indiana won the first meeting largely because it shut down an offense that has otherwise dominated the Big Ten. Michigan managed just .95 points per possession in Bloomington and an effective field goal percentage of 43.3. Both are season lows for the Wolverines in league play.
The shooting performance of Yogi Ferrell, who hit seven of his eight attempts from 3-point range and finished with 27 points, was also a major factor. Since neither performance will likely be repeated, Indiana is going to have to shoot as well as it can and avoid turning it over anywhere near it's average in conference play (21.8 percent) to stay close.
Michigan's offense is on fire as of late as the Wolverines have posted the following points per possession totals over their last four games (all wins): 1.29 against Michigan State, 1.11 against Purdue, 1.11 against Minnesota and 1.34 against Illinois.
WHAT IT COMES DOWN TO
You never truly know what to expect from Indiana, but the computers are fairly certain that Saturday could be one-sided. The Pomeroy projection likes the Wolverines by 12 with just a 12 percent chance of an IU victory. Sagarin is even more bullish on Michigan, with that model installing the Wolverines as a 12.5-point favorite.
Saturday's game could be the first meeting between the two teams in less than a week as all signs pointing to Indiana ending up in the 8-9 game of the Big Ten tournament and Michigan already wrapping up the No. 1 seed for next week in Indianapolis.
Despite its recent dominance of the series, Indiana, which only has two Big Ten road wins to its name this season, will need to play a near perfect game to go into Ann Arbor and capture its eighth conference win and grab momentum heading into the conference tournament.
Filed to: Michigan Wolverines