The Minute After: Michigan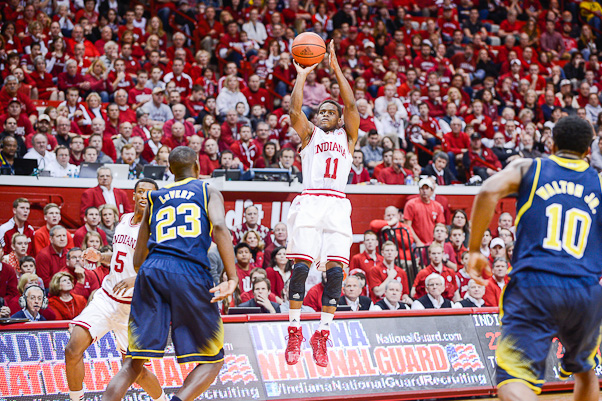 Thoughts on a 63-52 win against the Wolverines:
The time, team and place were right.
Michigan, a program that's struggled in Assembly Hall under John Beilein, took the court this afternoon winners of 10 straight and holders of a perfect 8-0 mark in conference. A loss was bound to happen soon. From the opening tip, Indiana made it known that loss would come today.
Yogi Ferrell's performance was one to remember. He was fire from beyond the arc, hitting 7-of-8. On only 10 shots, he scored 27 points. But his work on the other side of the ball was equally impressive. While he gave up size to Nik Stauskas, his quickness allowed him to faceguard the projected lottery pick and potential Big Ten player of the year. It confused and frustrated Michigan's league-leading offense. Stauskas never really got involved (1-of-6, six points). He was a non-factor.
It was a stroke of genius from Tom Crean during a game a chorus of boos rang down on him for a stretch of the first half when Jonny Marlin and Jeff Howard entered and Indiana's lead quickly evaporated. Hoosier fans have griped about Crean's substitution patterns all season, and this was them standing up and shouting "no!" loud and clear. Marlin and Howard were yanked at the next stoppage of play, never to return again save for Howard coming in with less than a minute left and the game sealed.
Evan Gordon has a bum middle finger and his role has evaporated some with the emergence of Stanford Robinson. (He was also sick and not cleared until this morning.) But the fifth-year senior made his presence known in important ways today. Gordon scored with brilliance in transition (eight points) and made smart decisions on defense.
As the season wears on, it's becoming a bit clearer that Noah Vonleh's offensive repertoire — though impressive for a kid his age — maybe isn't quite as advanced as we thought. As Bill Raftery put it on the broadcast, Vonleh's game is a little "green." Still, Michigan played man-to-man defense for most of this one and it allowed Indiana some more space to get him the ball and get him involved. Vonleh got nine shots attempts and posted a double-double (10 points, 12 boards). The freshman was also big on defense, coming up with two shot blocks.
The man-to-man defense also helped IU's offense as a whole, giving them a little more room in general to run their action and sets. There's just less struggle when teams don't zone up and pack it in against the Hoosiers. They scored 1.14 points per possession this afternoon, their highest mark since the Wisconsin win (1.17), another game where the opponent threw a lot of man-to-man defense against them.
While Indiana turned it over on 23.7 percent of its possessions, it wasn't a disastrous number in the 30s we saw against Nebraska. It was also balanced out by good defense (.94 points per possession for Michigan, who had been averaging 1.185 points per possession in conference), a 39.1 percent offensive rebounding mark and strong shooting (62.7 effective field goal percentage).
After the win, Indiana's moved into one analyst's eyes as one of the first four out of the NCAA Tournament. The Big Ten is a weird wild world this season. And the Hoosiers, after a tremendous performance against a top 10 team, ain't dead yet.
Filed to: Michigan Wolverines