A look at Will Sheehey's top moments at Indiana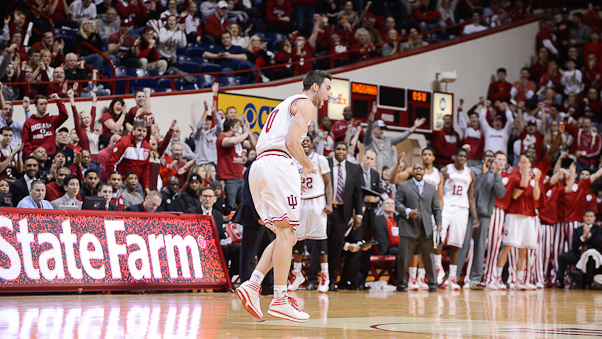 Will Sheehey will be honored tonight at Assembly Hall after IU's home Big Ten finale against Nebraska, but before the Stuart (Fla.) native addresses Hoosier fans with a speech, here's a look at some of his more memorable moments in Bloomington:
An impromptu jam session:
Before ever taking the floor for an actual game, freshmen Will Sheehey and Victor Oladipo put on an unplanned dunk session in Cook Hall and the cameras were rolling to capture it:
Sending it in over Iowa's Melsahn Basabe:
In a season where the Hoosiers finished just 12-20, it's hard to pull out a ton of highlights, but this was certainly one of them.
With IU leading Iowa 41-39 at Assembly Hall with just over 14 minutes to play, Sheehey took flight on fellow freshman Melsahn Basabe and finished with authority. It was a perfect example of the demonstrative attitude that Sheehey would exhibit over the course of his Indiana career:
Dropping 21 on Butler:
Butler captured the adoration of fans and media from around the country with back-to-back runs to the national championship game, but the Bulldogs would find themselves on the wrong side of things on Nov. 27, 2011 in Bloomington.
Sheehey delivered 21 points, a career-high at the time, in a 75-59 beatdown of Butler. The win was the sixth straight to open the season for Indiana and a sign of things to come for the Hoosiers.
Clutch 3's in win over No. 1 Kentucky:
It won't go down as his best shooting night, but Sheehey's 10 points in IU's 73-72 over No. 1 Kentucky on Dec. 10, 2011 came at critical times within the game.
After finishing the first 20 minutes with just two free throws, Sheehey hit two 3-pointers in the second half and each one extended IU's lead to 10. The first came with 15:56 to play to make it 45-35 IU and the second came with 9:03 remaining to make it 63-53.
The "Wat Shot" is the most memorable moment of the night, obviously, but this was a true team win for Indiana and Sheehey was right in the middle of it.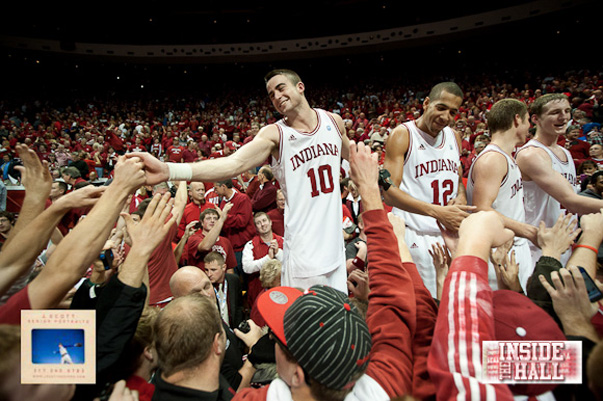 Sheehey sends IU to the Sweet 16:
This moment speaks for itself. With Indiana tied at 61 with VCU at the Rose Garden in Portland, Sheehey recovers a ball lost by Oladipo and hits a mid-range jump shot, his signature, to send the Hoosiers to the Sweet 16:
A huge game against North Carolina:
By this point in Sheehey's career, it's no surprise that he lives for the big moment. And with Indiana ranked No. 1 and North Carolina in town for the Big Ten/ACC Challenge, he erupted for 19 points and five rebounds off the bench as the Hoosiers crushed the Tar Heels, 83-59.
But in his postgame comments, a selfless Sheehey instead shovels the praise on Oladipo, his close friend and classmate.
"Well if you go back and watch the game film of this game, there is one guy that brought it tonight and that was Vic," Sheehey said. "From the get go he was going to the boards, he was getting deflections, he was making stops and when you see one guy out there bringing it you've got to bring it too. So you've got to remember this game as Vic's game."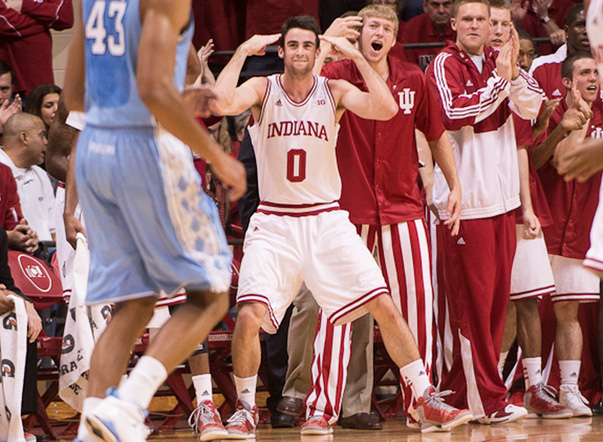 Flexing on the Boilermakers, twice: It wasn't enough for Indiana to simply beat Purdue last season. The Hoosiers obliterated the Boilermakers twice and Sheehey was front and center leading the charge.
In West Lafayette, he scored seven points and got under the skin of the Paint Crew by flexing a muscle and then followed that up with 22 points in a rout at Assembly Hall.
49 points in a pair of wins over ranked opponents:
Sheehey is saving his best basketball for last as he's scored 49 points over Indiana's last two games, including a career-high 30 points in a win over No. 20 Iowa last Thursday night.
Ryan summed it up perfectly in The Minute After following IU's most recent win over Ohio State: "This was the second-straight game Sheehey (8-of-12 shooting) turned into an efficient volume shooter. There's no question there's a piece of last year's player back on the court, and the Hoosiers are the better from it. He's showing more emotion and fire; he's swearing when he comes off the court after picking up a third foul. He's also playing that defense he was known for last year, shutting down Aaron Craft on three straight late possessions to help seal the victory."
Filed to: Will Sheehey