The Minute After: Ohio State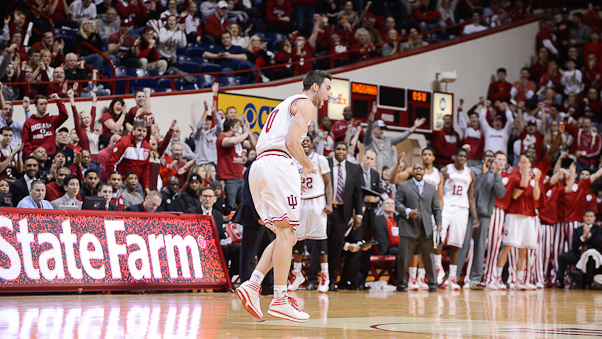 Thoughts on a 72-64 win over the Buckeyes:
The Buckeyes threw punch after punch in the second half, trying their best to break through, seize back the lead and leave Bloomington with a victory.
But the Hoosiers, without Noah Vonleh (who was out with a foot inflammation), would counter again and again. No second half collapse here, just Indiana doing what it's done best this season: Beat a ranked team at home during a national broadcast. Another one goes down on Branch McCracken Court, and this may have been Indiana's finest performance of the season.
The shots weren't falling early for the Hoosiers. Ohio State jumped out to a 20-12 lead on a Lenzelle Smith Jr. free throw at the 7:54 mark. But Indiana would turn it up and make an important 21-5 run to close the half up eight (33-25). The Hoosiers moved the ball, pushed the pace and got scores at the cup. Yogi Ferrell, Will Sheehey and Troy Williams all converted on layups on three of Indiana's next four possessions. That fourth possession featured two free throws from Jeremy Hollowell and it was quickly tied up at 20.
Indiana brought it at the other end as well, not allowing the Buckeyes to score after that Smith free throw until a Shannon Scott layup at the 3:11 mark.
Seniors Sheehey (18 points) and Evan Gordon (nine points) made sure the door remained closed in the second half. IU's most-tenured players came up big during a crucial stretch when LaQuinton Ross (19 points) was nearly unstoppable, making play after play in the paint and the Hoosiers having no answer for his smooth length. For almost an eight-minute stretch (11:30 to the 3:33 mark) of game clock, Gordon and Sheehey accounted for 10 of Indiana's 12 points. Gordon drove and scored and hit two threes. Sheehey had a trey of his own and a jumper.
This was the second-straight game Sheehey (8-of-12 shooting) turned into an efficient volume shooter. There's no question there's a piece of last year's player back on the court, and the Hoosiers are the better from it. He's showing more emotion and fire; he's swearing when he comes off the court after picking up a third foul. He's also playing that defense he was known for last year, shutting down Aaron Craft on three straight late possessions to help seal the victory.
Hanner Mosquera-Perea (eight points) also came up big in the closing minutes. He scored on two nice pick-and-roll opportunities in the final three and a half minutes, including an and-1. This was after he showed some nice polish on a turnaround in the first half.
Just like the Iowa contest on Thursday, the Hoosiers had their supporting cast step up. It made the difference again in this one.
The turnovers (24.3 TO%) and offensive rebounding (just a 15.3 OR%) weren't great, the latter of which could have probably been helped by a Vonleh appearance. But the Hoosiers made the plays when it mattered. Sometimes that's all you need.
What might we be looking at if Indiana just took care of Northwestern and Penn State at home? But the past is gone, future opportunities still to come.
IU's present, though, is looking better than ever this season.
Filed to: Ohio State Buckeyes