Q & A: Cody Zeller reflects on IU career, talks 2013-2014 Hoosiers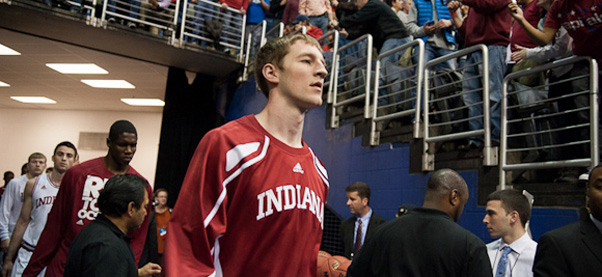 Cody Zeller was a program-changing recruit for Indiana.
In his two seasons in Bloomington, the All-American forward led the Hoosiers to 56 wins and an outright Big Ten championship before entering the 2013 NBA Draft, where he was the No. 4 overall pick by the Charlotte Bobcats.
Inside the Hall had the opportunity recently to talk at length with Zeller about his rookie season and about his time at Indiana. In part one of a two-part series that will appear this week on the site, Zeller reflects back on his collegiate career as a Hoosier:
Inside the Hall: Going back to your time at IU, what would you say was your favorite memory from your time as a Hoosier both on and off the court?
Cody Zeller: Wow, that's a tough one. I can't think of one. I definitely miss playing in Assembly Hall in front of the Hoosier fans. It was always so loud every game. It's so easy to play hard just because you've got so much adrenaline and you kind of feed off the crowd. So I definitely miss playing at Assembly Hall. The campus was always fun off the court. There was always something to do and a lot of people hang out with. There was always something going on so I do miss the college campus a lot.
ITH: How much do you keep in touch with your former IU teammates these days?
CZ: Quite a bit. I didn't get to know the younger guys as well, but I still talk to Austin (Etherington), Will (Sheehey) and Jeff (Howard) and those guys and all the guys from last year as far as Vic (Oladipo), Christian (Watford), Jordy (Hulls), Derek (Elston), all those guys. We keep in pretty good touch. I think it's tough for all of us, the first year out of college. Obviously I'm not playing overseas like Jordy and Derek and Christian, so I think it's even tougher on them. I think we're good for each other because we're kind of going through similar situations with being away from Bloomington and playing our first year professional. We definitely stay in touch, all of us.
ITH: It's got to be a good thing too for all of you to have that support system with each other …
CZ: Yeah, definitely. Like I said, a lot of us are in similar situations so there's not too many people you can go to that are in similar situations. You can obviously look to friends and family, but they're not the ones playing every night. They're in the same situation, so it's good to be able to talk to those guys.
ITH: How close are you following this year's team? What are your thoughts on them?
CZ: I've been able to watch a fairly decent amount of the games. Obviously they're playing better recently and it's tough for them with how many guys we lost from last year. It's always tough, but I think they've been doing alright, especially lately.
ITH: What do you think this team does especially well that maybe last year's team didn't do as well? Or what differences do you see in this year's team and last year's team?
CZ: I don't know. I'm not around it every day to see the big differences. I feel like I'm a fan now instead of in it every day like I was. So it's tough to compare. But I think they've got a lot of young guys so I think they're starting to figure out what wins. Just the details and the small things that make the big difference the younger guys are starting to realize that now later in the season.
ITH: I know a few days ago you tweeted about how happy you were for Will after his 30 point game against Iowa. Can you talk about why he was such a good teammate?
CZ: Will was unbelievable. He was one of my favorite teammates there to play with through high school, college or the NBA just because he's got an edge about him. He'll run through a wall for the team, he'll do anything for the team. Opposing players hate him, but he's one of those guys who you love to have on your team but other teams hate to play against him just because he plays so hard. He's willing to put his body through anything for the team whether it's diving for a loose ball or defending the best player on the other team or playing the four or five spot. He'll do whatever the team needs to get a win and he's always a lot of fun to play with.
ITH: Tomorrow is senior night and I know you weren't able to go through it because you had the opportunity to go the NBA, but how would you have approached the senior speech?
CZ: Oh, man. I don't know, but I wish I did have the chance just because there were so many great people that helped me and I do have a lot of people to thank just because of how great my two years there were and how much Indiana means to me. Obviously, I've thanked them in a text or call, but it's different than doing it in front of 17,000 people and being able to recognize those people for the impact they've made on my life and my basketball career.
ITH: Have you been back to Bloomington since you've left and what's it like coming back as a former student?
CZ: I was back for the (NBA) All-Star break, but it was only for a couple of days and I didn't do hardly anything. I just saw some family and a couple of friends and caught up with some teammates and stuff. I didn't do much, but it's definitely fun being back in Bloomington and at the same time, it was just a quick weekend so it was kind of a tease being there for only a little while.
Part two of our Q & A with Zeller, which focuses on life in the NBA and his rookie season so far, will be published later this week.
Filed to: Cody Zeller