Hoosiers prepare for nation's No. 2 defense in battle with Buckeyes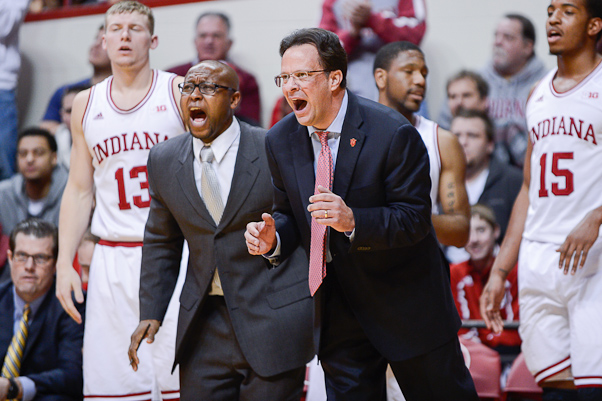 Just three days ago, Indiana got to play the game it wanted — a high-paced, high-scoring affair with a willing opponent. On Thursday night, the Hoosiers ran through No. 20 Iowa in the fastest-paced game of the Big Ten season (83 possessions per team) in a 93-86 win.
This afternoon in Assembly Hall, the Hoosiers won't get that luxury again.
This time, they are slated to play No. 22 Ohio State (22-7, 9-7), a team that boasts the No. 2 defense in the country and hopes to pressure the Hoosiers (16-12, 6-9) into their 13th loss of the season.
"They are tremendous, defensively," Indiana coach Tom Crean said. "They attack the dribble, they do a great job of getting into the elbows and they'll come off their man and they can cover a lot of ground. They're very, very experienced and they use that experience to create havoc."
Perhaps no single player represents the challenge facing the Hoosiers than Buckeyes senior point guard Aaron Craft, who comes into today's game with a 4.6 steal percentage — the 14th best individual rank in the country. Craft, who has forced 17 turnovers in six career games against the Hoosiers, has long been regarded as one of the nation's top defenders. Crean has long called him one of the NCAA's best players, too.
But Craft isn't alone in the Buckeyes' aggressive and experienced defense that ranks No. 1 in the Big Ten in efficiency (0.96 points per possession allowed) and opponents' turnover percentage (20.8). In fact, junior guard Shannon Scott steals the ball at a higher rate than Craft at 4.7 percent — good for ninth-best in the nation.
And though no other player on the Buckeyes has a steal percentage higher than 1.5 percent, the Hoosiers — who are the worst in the Big Ten at turning the ball over (22.0 percent) — believe the challenge extends far beyond just Scott and Craft.
"We know that they're a very aggressive team, defensively, and that's one thing we have planned for," sophomore Austin Etherington said. "We saw the way they've played other teams, we've watched film from last year to see how aggressive they are. And that's the one thing that we know what to expect coming into the game."
So, the Hoosiers know what might be coming. But handling it is another story.
Indiana has struggled with turnovers all season — from questionable passing decisions to rushed offensive plays, it has posted only three performances this Big Ten season with turnover percentages below 15.0 (twice against Northwestern). And against an Ohio State squad that thrives on exactly what the Hoosiers struggle in, taking care of the ball becomes that much more critical on Sunday, Crean said.
Though he has said it plenty of times before this season, Crean said the Hoosiers will simply just have to be "very smart and very strong with the ball." And as has been proven time and time again for the 2013-2014 Indiana squad, that isn't necessarily a given.
"The big thing is to keep the ball moving, keep the bodies moving and use the entire court," Crean said. "We can't stress it enough that we have to be strong with the ball and don't drive the ball in a crowd and allow them to be at their best.
"You have to make quick passes, early passes and keep your head up."
Weather, most likely, not an issue
Regardless of the weather, today's game between Indiana and Ohio State is likely to be played. As long as players, officials and proper operations staff can safely make it to the arena, Big Ten precedent is that the game will be played, according to an IU spokesman.
The Buckeyes arrived in Bloomington Saturday afternoon and referees traveled to Bloomington late Saturday night, where the scheduled forecast has IU receiving four to seven inches of snow, in addition to prior ice and sleet accumulation, today through Monday morning.
Filed to: Ohio State Buckeyes