Q & A: Jared Jeffries talks return to Assembly Hall, NBA career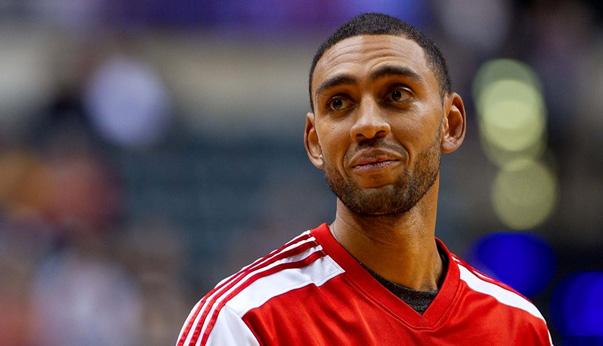 Returning to Assembly Hall for the first time in 12 years, former Indiana forward Jared Jeffries (2000-2002) was introduced as the honorary captain for the Hoosiers game against Ohio State on Sunday afternoon.
Before the game, though, he spoke with Inside the Hall about his return to Bloomington, his 11-year NBA career and his fishing show, Modern Fishing with Jared Jeffries:
Inside the Hall: What's it like being back in Assembly Hall, after all these years?
Jared Jeffries: It's a great experience, man. I'm so excited for the game tonight. I can't wait. I think that it's the right time and it's my first time back in Assembly Hall in 12 years. I'm psyched to be here for a game. I mean, I've been here for practices and I've played pick up games and stuff like that, but having the chance to come back for a game like this, bring my daughter here and have my parents here to see it, I'm excited about it.
ITH: How did the opportunity come up to come back as an honorary captain?
JJ: I'm scouting games now for the (Denver) Nuggets, and I kind of picked this game to come to early on in the season. It worked out well that Indiana could do this presentation for me, so it's kind of been a perfect storm that I'm back here today.
ITH: What's it like coming back to Assembly Hall, for you? A lot of nostalgia?
JJ: It is. The success we had here, the good times we had here, I'll never forget that. I think there is some kind of nostalgia, having the chance to enjoy those environments when I was here at school.
ITH: Looking back at your time at IU, what would you say was your most favorite memory as a Hoosier?
JJ: You know what, really for me, it was the first time I came out on Assembly Hall's court. I mean the first time, for a game, that I ran out here and I realized my whole life, going to Indiana, watching Indiana basketball, and now I was a part of it. I wanted to make myself a part of the history of what this team and what this university has done.
ITH: What lessons did you learn during your time here in Bloomington that you helped take to the NBA?
JJ: You know what it really was, we just had to play hard and compete. Here, I think the teams we had, we weren't real talented but we played hard and we competed. And I think that taught me no matter what happens during the course of your season, you play hard and you compete.
ITH: Talk about your NBA career. How much did you really enjoy that during your 11-year career?
JJ: It was awesome. You play 11 years in the NBA, you did something right. The ups, downs, rights, wrongs aren't any different. I had a great career and I left it in a position where I could pick my own destiny from here on out.
ITH: Now with the whole fishing show, how did that entire opportunity come up?
JJ: I was hunting with Brad Miller, and I was on an alligator hunt with Brad, and his production company was like, "Do you want your own show?" And I was like, "Yeah, I'll do it." And it's been going great. I think by next season, we'll be the number one fishing show on Outdoor (Network) so we'll see.
ITH: Did you grow up fishing?
JJ: Yeah. I grew up fishing around here (in Bloomington) and it's just worked out great. I've been saltwater fishing for the last 13 years in Florida, and I've got my own show now. That's all I did in the offseason. I always picked places where I'd like to go out and fish and that's where I got really good.
ITH: Have you been able to travel around the world because of it?
JJ: I've traveled everywhere, everywhere.
ITH: Where have been some of your favorite places to travel?
JJ: The south Pacific. I've been to New Caledonia, Vanuatu, those small islands out there. And I love it. I love the people out there, no cell phones work, you just go out there and fish.
ITH: Are you able to bring your family with you on these trips? How important is that?
JJ: Yeah, they come out there. They've been to New Zealand with me and New Caledonia. It's huge, man. It's huge to have the chance to go out and fish and experience those things with your family. See it, be around it. (My daughter Eva) loves fishing. She caught a bunch of fish this summer with me. We love it.
Filed to: Jared Jeffries