Five takeaways from Indiana's win over Iowa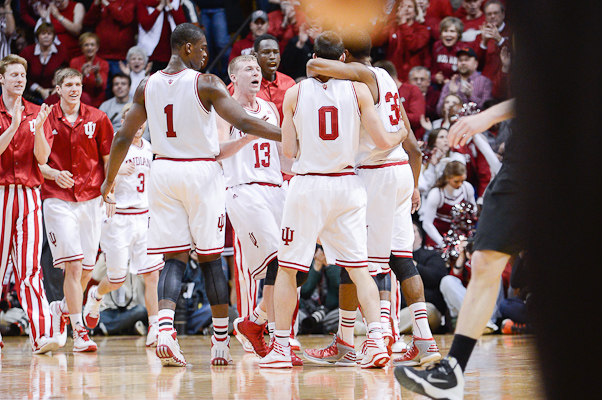 Indiana's up-and-down season continued on Thursday night as the Hoosiers knocked off another ranked opponent at Assembly Hall. The latest victim was No. 20 Iowa, which jumped out to an early lead but couldn't stop IU thereafter in a 93-86 loss.
Here's a look at five takeaways from the win over the Hawkeyes:
· Sheehey shines in career night: It's not fair to call this Sheehey's best overall game ever at Indiana (he told us so himself in the postgame press conference), but offensively, it clearly was. The senior has taken his fair share of criticism this season as he's navigated a major shift in his role, but last night, Sheehey played with extreme confidence. He moved away from the ball and beat the defense down the court repeatedly, which resulted in a ton of easy looks.
He finished with 30 points, eight more than his previous career-high and hit 11 of his 13 2s. More importantly, on a night where Yogi Ferrell and Noah Vonleh didn't contribute a ton offensively, Sheehey morphed into the go-to-guy, even if it was for one night only. Afterward, rather than talking much about himself, he gave his teammates the credit.
"I think Yogi threw two or three over-the-top passes, Stan (Robinson) finds me on back cuts all the time," he said. "I mean, really I was scoring without the ball in my hands and these guys found me. So a night like this really just shows the kind of teammates we have."
· Bench comes up big: Indiana hasn't received consistent production from its bench for most of the season, but the Hoosiers had 42 bench points against the Hawkeyes from five different players.
The most notable was freshman Stanford Robinson, who poured in a career-high 17 points and senior Evan Gordon, who added 12. Robinson hasn't started the past three games, but after a strong first half, he was rewarded with a second half start and responded with 10 points after intermission. Gordon had a rough first half with three turnovers in 10 minutes, but hit 7-of-8 free throws in the second half and also banked in a clutch 3-pointer.
Also of note: The energy and engagement of Jeremy Hollowell, who had seven points, four rebounds, two steals and no turnovers in 16 minutes. When he's rebounding and playing defense, Hollowell usually finds success offensively and that's exactly what happened last night.
· Embrace the pace: It was a bit surprising to see Indiana get into a track meet with Iowa, but the plan was successful for a couple of reasons. First, Iowa did a poor job taking care of the ball (21.8 turnover percentage, their highest mark in a Big Ten game this season), which led to 18 Indiana points.
Second, as easily as the Hawkeyes were scoring at times at the rim, particularly in the first half, Indiana was getting the ball out off makes and scoring just as easily on the other end. Indiana hit some timely 3s, but for the most part, the looks they were getting were in the paint and they finished with little resistance.
"(Our) defense wasn't great. You can't go on the road and turn it over 18 times and expect to win," Iowa coach Fran McCaffery said. "We're fine with the pace. We like to play at that pace but clearly they played better tonight at that pace."
· Iowa fails to capitalize on size advantage: With a stable of big men that includes 7-footer Adam Woodbury and two power players in Gabriel Olaseni and Melsahn Basabe, you had to figure that the Hawkeyes had a decided advantage they would try to exploit. Basabe scored 14 points, but Woodbury and Olaseni combined for nine points, 10 rebounds and eight fouls in 29 minutes.
The Hoosiers were able neutralize Iowa's advantage in the paint in part because of how well they were switching defensively, particularly in the second half.
"We had to make some real adjustments in the second half defensively, and we played very small, and we did a lot of ball out switching, as I'm sure most of you saw," Tom Crean said. "There were times we were just switching everything, and we had three guards in, which we used to do that in the past couple years, but that was not anything we've really tried to spend a lot of time on this year. But it just had to happen.
"So we've got Yogi and Evan and Stan fighting Basabe and White and Woodbury and Olaseni down in the paint, and they took the punches. They just kept going."
· The "what-if" scenarios are bound to generate discussion: Indiana's third win over a ranked opponent is going to generate a revived discussion about IU's postseason scenarios heading into Sunday's game with Ohio State, one of two remaining games at Assembly Hall.
The Hoosiers currently sit at 16-12 overall and 6-9 in the Big Ten and while the NIT appears a certainty, IU can make it interesting if they can get on a run to close out the regular season. The reality right now, however, is that close losses to Illinois, Northwestern, Penn State, Minnesota and Nebraska all loom large. Had the Hoosiers been able to close out a couple of those games, the season would look completely different. All IU can do now is, as cliche as it sounds, "take it one game at a time" and see where things stand heading into the Big Ten tournament.
Filed to: Iowa Hawkeyes, Stanford Robinson, Will Sheehey