Robert Johnson shines on senior night at Benedictine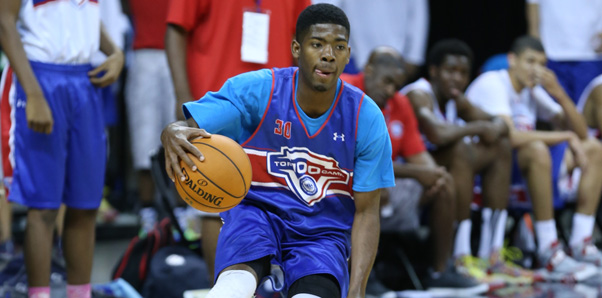 Wednesday evening held a lot of importance for future Indiana guard Robert Johnson.
The 6-foot-3 Benedictine Prep (Va.) standout was one of six seniors honored at senior night for the Cadets and on the court, Johnson led his team to its 23rd win, an 81-64 triumph over Pope John Paul the Great (Va.).
Johnson scored a game-high 26 points and added 12 rebounds and five assists with Tom Crean and Kenny Johnson in attendance at Memorial Gymnasium.
He hit 10 of his 18 shots from the field, including 4-of-7 from behind the 3-point arc.
"Robert had the challenge of being the only returning starter this year from a state championship team that graduated four division I guys," Benedictine coach Ryan Marable told Inside the Hall. "He has embraced that challenge not only statistically by carrying much of the scoring and rebounding loads while guarding the other teams best player night in and night out, but also by providing leadership and guidance to our guys on a daily basis in practices and games."
Through 27 games, Johnson is averaging 24.4 points, 6.2 rebounds and 3.1 assists.
His efficiency has also been impressive as the future Hoosier boasts an effective field goal percentage of 54.7 and has just 59 turnovers despite shouldering a heavy load as both a scorer and distributor.
Perhaps even more importantly is the leadership role that Johnson has embraced as a senior which could make an immediate impact in Bloomington this summer when he arrives on campus.
"In terms of our program over the last two years, Robert has represented our school with class and character while on and off the court," Marable said. "His positive attitude, work ethic and character is contagious and will be harder to replace than his basketball ability, but we are all so proud that he will be able to represent our program and school in the future at Indiana and beyond."
Filed to: Robert Johnson