Amid distraction, IU readies for rivalry game at Purdue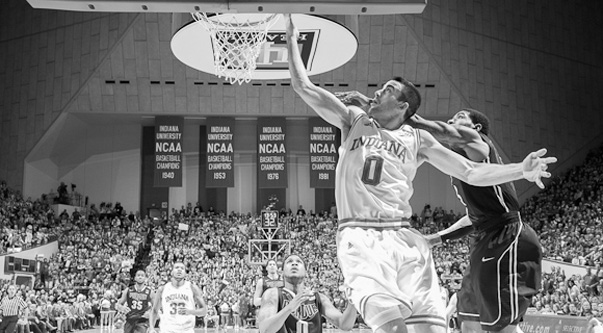 In the span of 36 hours from Wednesday night to Friday morning, Indiana's men's basketball program experienced an 11-point collapse in the final 2:26 to lose to Penn State at home and learned news of the arrest of sophomore forward Hanner Mosquera-Perea.
After what has been, arguably, the most rocky three days in the past three seasons for the Hoosiers, at 4 p.m. today, Indiana will play its Big Ten, in-state rival. And though both teams have struggled this season, pride is on the line when the Hoosiers (14-10, 4-7) face Purdue (14-10, 4-7) in West Lafayette this afternoon.
"The ability to move on from setbacks, distractions and doubts are what fuel you to get better and improve," Indiana coach Tom Crean said via his Twitter account on Friday evening. "That's where our team sits. Our guys are learning that you have no choice but to move on to the next task no matter how you're feeling. Resiliency is a skill."
Less than two weeks ago, yet seemingly so long ago, the Hoosiers were celebrating an upset after a dominating victory over No. 10 Michigan in Bloomington. They were 14-8 overall, 4-5 in the Big Ten and within striking distance of a potential NCAA tournament bid.
Since then, though, Indiana has been on a downhill slide, blowing double-digit leads in two straight games to teams with sub-.500 Big Ten records and experiencing the first arrest of a current player since Sean Kline in December 2001. Mosquera-Perea was arrested early Friday morning for operating (a vehicle) while intoxicated.
All distractions aside, there is, in fact, a major basketball game today. One that involves two teams that know each other very well, despite how different each team's roster is from the year prior.
"Players on both teams have known each other a long time," sophomore Yogi Ferrell said. "It's fun to play them but you realize every game becomes the most important game of the season.
"I think we are a team that can bounce back. We came to practice the last two days."
In the Boilermakers, the Hoosiers face an opponent that has struggled in its own rite. Purdue has lost five of its last six games and the Boilermakers have the Big Ten's ninth-worst offense and eighth-worst defense in conference play.
Perhaps one of the lone bright spots for the Boilermakers has come from 7-foot sophomore center A.J. Hammons, who has played at least 25 minutes in seven of their past eight games and has grabbed at least seven rebounds in seven of those contests. The Boilermakers rank No. 1 in the Big Ten in offensive rebound percentage and in the top half for defensive rebound percentage.
But in a league that is unforgiving when a team has an off night, Purdue has struggled. Not much of that really has an impact on today's game, though, when its rival arrives in Mackey Arena for tipoff and a fresh 40-minute slate, surrounded by crazed fans.
"You know that you are going to get 40 minutes of incredible hard-nosed competitiveness from them," Crean said in his pre-game conference call on Friday. "They bring a lot of issues to the table, which they always do, and you have to go in there and play very hard and be very competitive."
And with all that has transpired over the past three days, perhaps what Crean is asking for from his team isn't necessarily that easy for it to accomplish. Indiana has been given a dose of adversity. Today's game certainly could add to that swing (it would also give Purdue its first win over Indiana since Feb. 23, 2011) or give the Hoosiers a chance to overcome it in their only regular-season matchup with the Boilermakers this season.
Regardless, the intrigue surrounding this game makes for a compelling matchup. And come 4 p.m., the Hoosiers will be back in action.
"The bottom line is you have to move on through your disappointment and get right back on top of your game and learn from it, make the adjustments and corrections and work hard on the fundamentals and move forward," Crean said. "That is exactly how the program is run and that is exactly how it has been run and that is the attitude they take.
"And they know we have another tough task in front of us with Purdue."
Sheehey at 999 career points
Should senior Will Sheehey score today, his first point will be his 1,000th in his career.
He would be just the 47th player in Indiana University history to achieve that feat. In his six career games against the Boilermakers, Sheehey has averaged 11.8 points per game, most recently netting a career-high 22 points against them on Feb. 16, 2013.

Filed to: Purdue Boilermakers, Tom Crean, Will Sheehey