Hoosiers ready for 'more experienced' Penn State squad; Sheehey nears 1,000 career points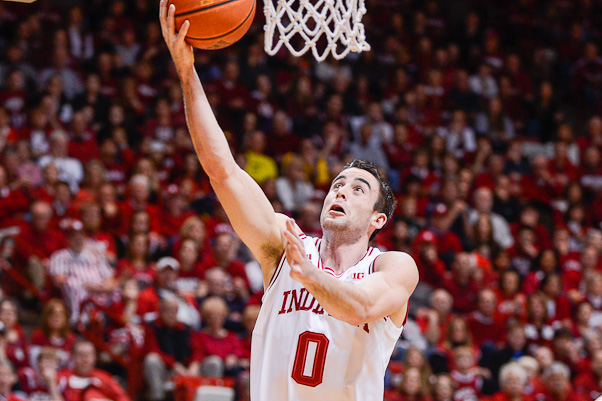 Just over a month ago, Indiana received one of its biggest scares to to date this season when the Hoosiers trailed by 15 points to a then 9-7 (0-2 Big Ten) Penn State squad on Jan. 11.
Indiana went on to win that game in University Park, Pa., 79-76: its only road win and one of just three wins decided by single digits this entire season.
Tonight at 7 p.m. in Assembly Hall, those two teams will meet again, as the Hoosiers (14-9, 4-6) will look to stop a Nittany Lions squad (12-12, 3-8) that has won three of its past five games after starting the conference season with an 0-6 mark.
"You can't look at this team and judge them on percentages," Indiana coach Tom Crean said. "You have to judge them on ability and their ability to create havoc on offense and defense. This is still a team that has the same people that we played against at the beginning of the Big Ten season and they are that much more experienced now."
When taking an in-depth look at the Nittany Lions through their first 11 Big Ten games, they have indeed struggled — especially defensively — according to the numbers. Their defense ranks 11th in efficiency (1.08 points per possession allowed), last in 3-point shooting defense (37.3 allowed) and again, last in defensive rebounding (opponents rebound 35.7 percent of their misses).
The offense, according to the numbers, isn't much better either, as Penn State ranks in the bottom half of the conference in efficiency (0.99 PPP), effective field goal percentage (44.8) and assist-to-field-goal ratio (39.6 percent), among other categories.
But after starting the season losing seven of their first 19 games by nine points or less, the Nittany Lions have found a way to win, regardless.
"They've got a lot more confidence," senior Will Sheehey said. "They've been winning games. They're playing great. They're a balanced basketball team, everybody on the team can score and everybody can make plays. They're a tough team."
Part of the formula to that, Crean said on Monday, has been the Nittany Lions' commitment to simply play hard for third-year head coach Pat Chambers and the emergence of sophomore forward Brandon Taylor as a third scoring threat.
On Jan. 23, 12 days after its loss to Indiana, Penn State won its first Big Ten game of the season in a four-point home victory over Nebraska. At Ohio State the following week, the Nittany Lions came back from an 11-point deficit with less than eight minutes to go to defeat the Buckeyes in overtime. And at home against Purdue just two Sundays ago, the Nittany Lions posted a nine-point win over the Boilermakers.
The constant in those wins has been Taylor: In addition to their main scoring threats in graduate student Tim Frazier and junior D.J. Newbill, Taylor has averaged 15 points per game in their wins. And with two players in Frazier and Newbill who are already proven scorers — both average at least 16.2 points per game — the emergence of Taylor has allowed their games to open up, as well.
"If there is one guy who is continuing to flourish, people would think it is Tim Frazier and D.J. Newbill and they are," Crean said. "But Brandon Taylor is playing extremely well for them also."
"Taylor's a big key to them," sophomore Austin Etherington added. "When he scores, they do really well."
Only a month ago, Indiana needed a late baseline 3-pointer from Etherington to seal a victory against the Nittany Lions. And despite their 3-8 record in conference play, it doesn't mean much to the Hoosiers.
Penn State has their full attention.
"We've got to take all the steps necessary to get a stop on defense and take a good shot on offense," Sheehey said. "We've got to make sure we don't play the scoreboard. I think that we might have done that in the past, so we've got to make sure we don't do that."
Sheehey nearing 1,000 points
One thing to keep an eye out for tonight: Sheehey enters the game with 987 career points, just 13 shy of the 1,000-point mark.
Should Sheehey be able to achieve the feat, the Stuart, Fla., native would become the 47th player in Indiana University history to do so. He currently ranks at No. 47 in the school's all-time scoring list behind Jared Jeffries, who scored 1,008 in his career at IU from 2000 to 2002.
In Sheehey's four seasons at Indiana, though, he has never scored more than 12 points in a game against Penn State. Tonight will be his eighth and perhaps final matchup against the Nittany Lions.
Filed to: Penn State Nittany Lions, Will Sheehey